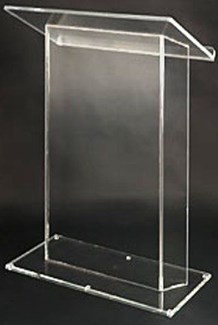 Preaching is on my mind. We are about to begin some preaching research at LifeWay Research.
Last week, I had lunch with Michael Dudiut from Preaching Magazine and we talked about preaching. Earlier, he had interviewed me for one of their podcasts. So, I have preaching on the brain.
Preaching has become a polarizing topic in evangelicalism. There are so many people yelling that their form of preaching is the only right way: because it is biblical, or because it is relevant, or because it is - whatever.
In the midst of all of this there has been a growing concern about plagiarism in churches. It even made the cover of the Wall Street Journal and the New York Times. Some preachers have been fired for passing off the sermons of others as their own work. Justin Taylor brings his usual keen insight here.
Of course, some say that using sermon resources that are intended and even sold to be used for that purpose is not plagiarism (in other words, Rick Warren gives you permission to use his sermon without crediting him, etc.).
Warren explains here:
When I was planting Saddleback Church, other pastors' sermons fed my soul - and eased my preparation! I hope the sermons here will do the same for you. Whether you use the outlines and transcripts for sermon ideas or listen to the preaching to fine-tune your delivery, I'll be thrilled if your ministry becomes more effective. And if you have a sermon idea that might be helpful to me, feel free to share it! As pastors, we're all on the same team. Let's help each other out - and when we get to Heaven, we can rejoice together over the people who were saved as a result!
Steve Sjogren, a great brother with a heart for pastors, wrote an article about preaching and advocated using the sermons of others. Lots of folks got ticked about it, including some friends of mine. James Merritt stepped into a similar bru-ha-ha at my recent denominational meeting and got whacked around a bit.
One of my former NAMB co-workers took a bit of a beating over at Said-at-Southern.
All three of these guys are trying to help pastors, but some are not sure that is the best way.
But, it was Adrian Rogers, former pastor of Bellevue Baptist Church in Memphis, TN, used to say, "If my bullet fits your gun, go ahead and shoot it." (Rick Warren is widely quoted with saying the same, but it has more punch to see Jerry Vines say it about Adrian Rogers.)
Let me say up front that I am not a preaching expert, but I have my views. And they have evolved over time. I used to preach other people's messages, particularly in the busiest seasons of church planting, and I don't think that was sinful, dishonest, or plagiarism. Yet, later, I decided that this practice was not spiritually healthy for me or for my church. It amounts to a kind of lip-syncing that not only robs a church of a truly prophetic voice, but also a pastor of his own necessary development. In the end I found that my church and I both grew more deeply when we wrested through the word of God in our faith community, not just sharing what someone else wrestled through in theirs.
A few years ago I took a ride in Rick Warren's SUV. He got in his side and then I climbed into the passengers seat -- "climbed" literally because all of his books were piled up on the floor at my feet. He was preparing to preach on sex and marriage and the floor was a mixture of commentaries, books, and articles. I was impressed with his preparation and still today want to see where his preparation leads him, but I have also found that there is value in taking that journey of preparation myself.
I once explained some of my journey on this here:
I've preached a lot of sermons that were more about my opinions than God's Word. Sure, they were based on biblical principles ("love your wife," "don't worry," "work hard") but not grounded in the biblical story of redemption. Then, Donna (my wife) told me, that after all our years together, she felt that she did not know the Bible well. As her pastor, I had taught her how to be a godly person, but not how to understand our God revealed in the Bible.

The need for biblical preaching has never been more urgent. Biblical preaching is more than common sense truth with biblical proofs taken out of context. Instead, it is letting the agenda and shape of Scripture determine the agenda and shape of the message. I've learned that I have not taken it seriously enough--and I think I am not alone.
So, when Sermon Central asked me to serve as a member of their Advisory Council, I was intrigued. When they indicated that they were asking people to take a Preacher's Pledge, I thought it was a great way to have the best of both worlds: start with what the Word says and then see how others have communicated it. I do think that sermon outlines are like commentaries for many preachers. And I think it is a good thing that all these resources are available to generate ideas, etc. But, I think it is a GREAT thing that the leading source of on-line sermons now wants you to pledge to make the Bible the focal point of your preparation.
Some would say, "Well, it is a shame they have to ask for such a pledge..." I prefer to focus on the fact that they are being part of the solution.
The Preachers Pledge is here:
I will make the Bible my primary resource in sermon preparation and preaching.

I may use other resources such as commentaries and websites to enhance, not replace, my personal interaction with Scripture.

As I study I will strive to accurately understand and honestly apply God's Word, allowing Him to uniquely proclaim His truth in a relevant way through me.
Why don't you drop by and take the pledge?... then share your message with others so they can see how God spoke to you through the text as they prepare their own message.
One more thing: let me encourage you not to call something plagiarism that is not.
According to the Oxford English Dictionary, plagiarism is,
the theft of ideas (such as the plots of narrative or dramatic works) or of written passages or works, where these are passed off as one's own work without acknowledgement of their true origin; or a piece of writing thus stolen. Plagiarism is not always easily separable from imitation, adaptation, or pastiche, but is usually distinguished by its dishonest intention.
Notice especially that last sentence. Much of what makes something plagiarism is the intention behind the act. In one of the many books on preaching in my library (the "Simple Sermon" series of over thirty volumes), W. Herschel Ford introduces his own sermons, saying,
The messages in this book are sermons that I preached over the many years that I was in the pastorate. I have compiled them from the notes I made before they were preached.

I do not know where I found the material contained in these sermons. I may have borrowed it, as a whole or in part, from other preachers. I simply do not remember. But if this is the case, I apologize right now and hope I may receive forgiveness, and that our combined efforts will win souls and glorify God.

Preachers and Christian workers everywhere are to feel free to use these sermons as their own. (from the foreword, W. Herschel Ford, Simple Sermons on Heaven Hell, and Judgment, Zondervan, 1969), italics added.
So, I do not think it is best to use someone else's messages. As a pastor, God has called you to share His word with the people he has entrusted to you. But, I think calling preaching someone else's message plagiarism is unhelpful. This is plagiarism.
So, one day, if you've been sick, or an emergency came up, or if you are just stuck, it is not sinful to follow Jerry Vines lead and preach an Adrian Rodgers sermon. Just don't make it a habit and let people know your source.
At the end of the day, your people need to hear God's word FOR THEM and from the shepherd God has given them -- you.
The Exchange is a part of CT's Blog Forum. Support the work of CT. Subscribe and get one year free.
The views of the blogger do not necessarily reflect those of Christianity Today.