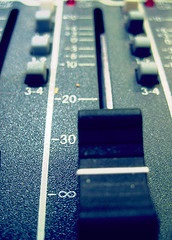 Barna Research recently completed two studies ( here and here) related to Protestant churches and the use of technology. For example, "two-thirds of Protestant churches (65%) now have a large screen projection system in their church that they use for services and other events." From the use of video clips during worship to websites and podcasts our churches continue to explore the relevance and usefulness of technology.
Of note in Barna's research is that a church's size and theology seems to be related to its use of technology. Simply put, smaller churches tend to use less tech than larger churches, and theologically liberal churches tend to use less tech than the more theologically conservative. Interesting.
Every church accomplishes its mission with the aid of technology. Even if a church is completely off the grid and avoids all forms of electricity it is technology that gives that church its printed Bibles. Churches are not fighting over the use of tech in general, but as new forms of technology are developed many churches are too quick to adopt or reject such cultural artifacts without much thought. There is no virtue in being the cool, high-tech church, or in being the low-tech, minimalistic church. It would do us well to ask ourselves a series of questions when it comes to the use of technology in our churches. For example:
Does the tech help to magnify the gospel, or does it become the focus?
Does the tech help develop real community (shared lives) or help create an artificial one?
Does the tech help overcome natural, or cultural barriers that can interfere with worship and church life?
Does the tech serve a real purpose, or is it just for show?
David Kinnaman, lead researcher on the technology study of social networking said,
Church leaders have to strike the delicate balance between the spiritual and cultural potential of tech tools without surrendering to the false promise of these tools. Having the means of reaching the masses - for instance, through podcasting - is a good thing. Yet, nothing matches the potency of life-on-life discipleship. In this respect, social networking and blogs can be effective tools to intimately connect with a small, natural network of relationships. The key is using the technology in a way that is consistent with your calling and purpose, not just an addictive self-indulgence.
Look, I love technology. If you've been to a conference with me you've probably seen me thumbing away at my Blackberry. Technology is (mostly) a good thing. But we must be thoughtful about it. It is unwise to blindly dismiss or accept the implementation of technology in our ministries. We must determine if and how these new innovations will assist us in fulfilling the mission of God. Again, Kinnaman said,
...technology can empower and engage people, across generations, socio-economic segments, and physical boundaries. Young people, for instance, think of themselves as creators of content, not merely consumers of it. Technology, in essence, gives them a voice and fuels their search for calling. Whether or not you welcome it, technology creates an entirely new calculus of influence and independence. The stewardship of technology as a force for good in culture is an important role for technologists, entrepreneurs, educators, and Christian leaders.
[image courtesy of Nancy Wombat.]
The Exchange is a part of CT's Blog Forum. Support the work of CT. Subscribe and get one year free.
The views of the blogger do not necessarily reflect those of Christianity Today.