This morning I spoke at New Life Christian Church. You probably have never heard of the church, but I think it is probably one of the five most influential churches in North American church planting. It was number 13 on our "Top 25 Multiplying Churches" list (see the article here).
New Life Christian is an Independent Christian Church. I have blogged about their group before after a lunch with a key leader from the movement.
They have three campuses, Mclean, Haymarket, and Centreville. The church was founded in 1993 and the Centreville congretation meets weekly for two services in the Westfield High School auditorium. I spoke in Centreville on Psalm 1 looking at God's definition of prosperity and success.
The pastor, Brett Andrews, is just a great guy with a great passion for church and church multiplication. The church so influential in church planting partly because it is the sponsor of Passion for Planting. (This is the organzation that runs my website www.newchurches.com.) And, Passtion for Planting is the main force behind the National New Church Conference.
I got to know Passion for Planting while I was working at NAMB. (NAMB recommends them here along with some other helpful service providers.) Todd Wilson is the leader of Passion for Planting and a person I have learned to appreciate and trust.
Todd has become a good friend. (We grilled out on Saturday night.) Although Todd may be the most significant church planting leader in America today, he works hard to stay behind the scenes... and I could not find a picture of him. His heart is church planting, but he is one of the least ego-driven people I know. (Since I cannot find a picture you will have to trust me that he looks just like George Costanza from Seinfeld--even his mother sometimes gets them confused on the television.)
I always enjoy being in a new church setting. First, they tend to meet in places that are a challenge to set up... like a high school. Here is a photo of me and the girls about to go into the high school being transformed into a church.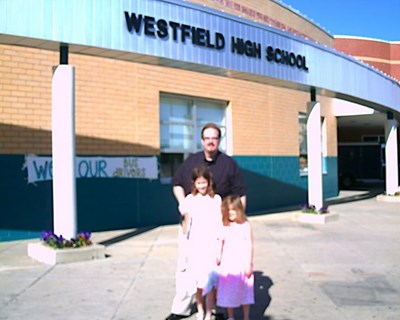 You can usually spot them by the trailer. (It is in that trailer that everything gets stored and transported.)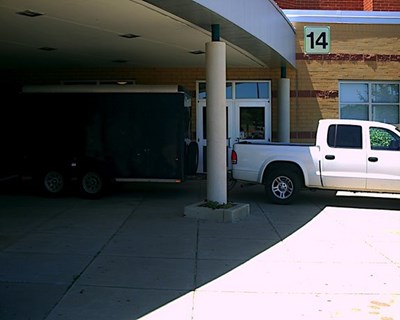 Everything is portable. From the equipment: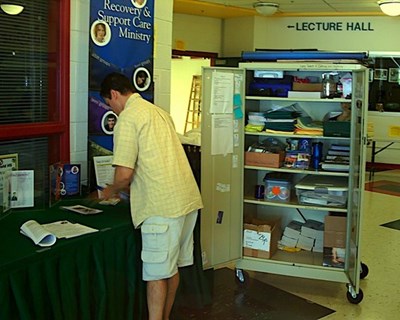 To the children's registration: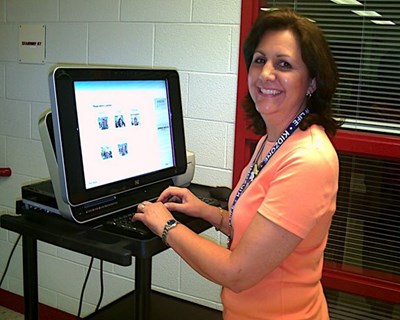 To the worship equipment (in this case, including a harp):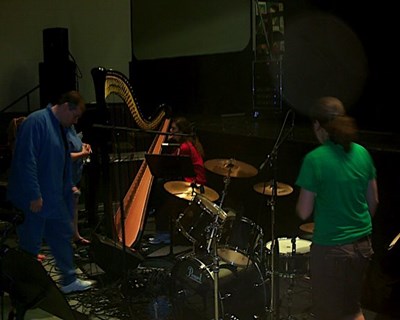 And it has to be hauled in...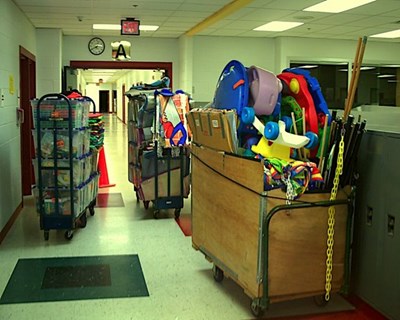 Then hauled out every week...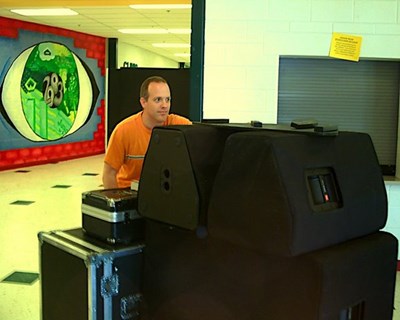 New Life does a great job being a portable church... which is not an easy task. I wrote about the challenge of "rental fatigue" in a past book. When you think of new churches, pray that God will use their extra efforts to keep people engage in God's mission.
Here is what I wrote on rental fatigue:
Rental fatigue
New churches normally rent facilities for a limited period of time. At first, they usually rent for Sunday morning worship only. These rented facilities are dramatically different from traditional church buildings whose furnishings remain in place from service to service. When renting space, "rental fatigue" develops. This describes the weariness experienced by the core group from having to set up and tear down week in and week out over a long period of time. This challenge may not sound ominous, but finding volunteers willing to get up at 5:00 or 6:00 every Sunday morning for two to three hours of setup wears people out quickly. Unless specific church members sense such activity as their calling and receive great satisfaction from doing it, fatigue can erode enthusiasm quickly.
Value of portability. Overcoming rental fatigue is challenging but not impossible. The planter's first step might be to commend portability by various means of communication--from the pulpit, through newsletters, and if possible, by the testimony of laypersons who have experienced its value personally. The planter may want to underscore the importance of portability because the church is still in formation. Bill Easum and Pete Theodore's new book, The Nomadic Church, provides helpful direction on how to cast a compelling vision for building-less churches. In the same way that Israel utilized a portable tabernacle during the forty wilderness years and well after, so the new congregation can be a portable church.
Good stewardship. The planter can help church members understand portability as good stewardship. Many people benefit from pastoral reminders to invest money in church staff members and in efforts to reach the unchurched, rather than in building or buying a facility. Refocusing members on priorities for reaching the community through stewardship of resources will help members center on such priorities for many years to come. By the time the church does build, members will have matured to the point where they view the building as a tool for ministry.
Call out workers. Many people cannot teach or lead in worship, but they can set up chairs or the audio system--and will enjoy doing so. Involving them in set-up efforts is important not only to make everything ready for worship, but also to cultivate their participation and their faithfulness in service. Although the pastors or core group leaders could perform the task, involving others who have no other church job enables them to feel that they are making a valuable contribution. Leaders should praise these people publicly and privately for their faithfulness in this important ministry. Such persons are "body parts" in Christ who, though seemingly of lesser value, actually become more valuable through their service to the kingdom.
Nomad churches
Although the thought surprises our building-centered values, some congregations actually find a "nomadic" existence--moving to new meeting sites as needs change--a way of life. This approach to church planting has become increasingly popular, particularly in expensive urban settings. The reasons for such developments are understandable.
No available acreage. Land in some urban settings is prohibitively expensive. In other areas, churches find that purchasing land on which to build is legally impossible because very old--occasionally even dilapidated--buildings have received civil protection as historic landmarks. This most frequently occurs in the northeastern United States, where many communities guard their colonial heritage. Some open land in urban areas is off-limits to development for houses and churches as a matter of wildlife protection. In still other places, religious, political, or social pressures may prevent a new congregation from purchasing land or from putting up a building.
Available but insufficient. Even if land is available, it may not be large enough to meet needs. Generally, since churches need one acre for every 150 persons, a projected congregation of fifteen hundred will need ten acres of land. Manhattan Island, in the heart of New York City, contains no available tracts that size. (Redeemer Presbyterian meets on the campus of Hunter College in Manhattan.) Northern Virginia offers virtually no land for purchase today. Even if available, land costs may soar to a price of millions of dollars for one acre.
New paradigms for new times. If evangelicals are to be successful in reaching North American urban centers in church planting, we must abandon the thinking that ten acres of land and a brick building are essential in order to be successful. A true New Testament church can meet on the sixteenth floor of a high-rise building just as surely as any First Presbyterian Church can meet on the county seat town square. With the birth of the twenty-first century and the changes it has ushered in, we must redefine good stewardship in the context of land purchase and buildings. We need new paradigms for new times. For those who are not called or convinced by a house church model, we still have to abandon a building centered model if we are to reach this new reality.
And, one last picture.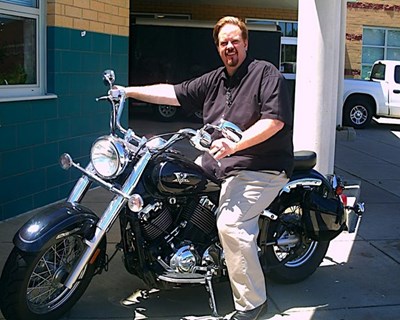 Since today is the annual "Rolling Thunder" parade, I jumped on my Harley and joined the fray (and if you look closely, there is no key, I did not lift the kickstand, and I am not sure it was even a Harley... grin).
It was great to be with friends at New Life... I am grateful for their work and ministry... and honored they would have me share in their church today.
The Exchange is a part of CT's Blog Forum. Support the work of CT. Subscribe and get one year free.
The views of the blogger do not necessarily reflect those of Christianity Today.