Why sit in a room and talk to three classes of Polish college students to discuss culture, politics, and faith? Well, for one reason, the students learning English has often never spoken to a native speaker. For another, it can be a bridge to share some really good news.
Our Poland group spent one day teaching at Jagiellonian University. the oldest university in Poland.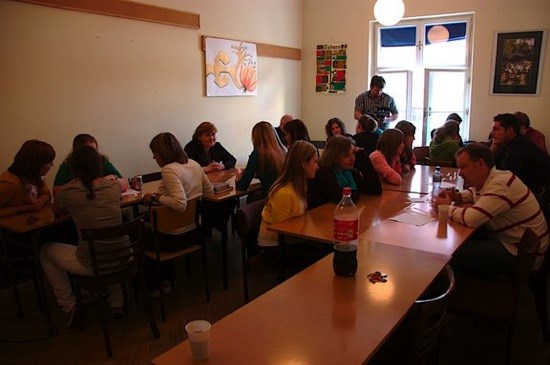 Teaching English as a "second language" has become a strategic opportunity to connect students to the gospel in America and many other countries. Classes and conferences continue to emerge as opportunities. People want to learn English and it is a great way to begin spiritual conversations. We ended each of these classes with an invitation to a coffee house on Friday (today) where they could hear music, connect, and practice more English.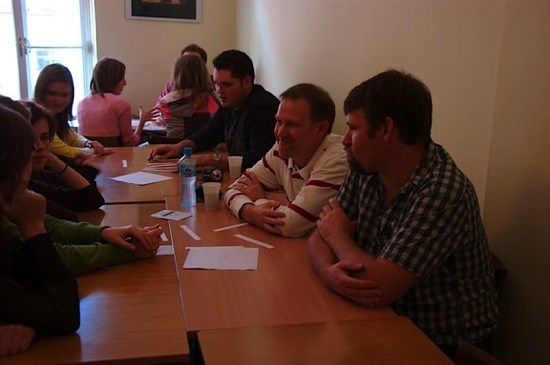 While we were at the university I say down with Dagmara, on of the faculty members, who is a new believer, attending the Catholic Church and the church I preached at Sunday night. Right after we filmed this (and still on camera) she gives her testimony-- which I will share soon at the blog.
Here Dagmara explains why teaching English is an effective tool:
This page of urgent projects includes the venue where our Poland team is right now as I post this.
Praise team or jazz/rock Christian band needed for outreach coffee house in Krakow, Poland. The band will assist the Krakow Team in engaging and witnessing to Krakow youth, students and young adults. The band will play concerts on consecutive weekends. During the day, the band will use conversational English as a tool for evangelism as well as possible projects related to: campus outreaches, orphanage work, children's clubs or sports outreach.
Donna and I are in Rome and not with the team, but we just prayed for the Krakow team as they are at the coffee house right now doing mission and ministry. You can follow Sebastion Vasquez, who heads up this coffee house ministry, on Facebook here. The film crew is there now and I will be sharing more videos later.
Be sure to drop by the other posts to follow along on Europe missions week:
Post 1: Why We Are In Europe.
Post 2: Vision and Video from Europe.
Post 3: Planting in Budapest and Beyond.
Post 4: More Video and Info on Central and Eastern Europe.
The Exchange is a part of CT's Blog Forum. Support the work of CT. Subscribe and get one year free.
The views of the blogger do not necessarily reflect those of Christianity Today.