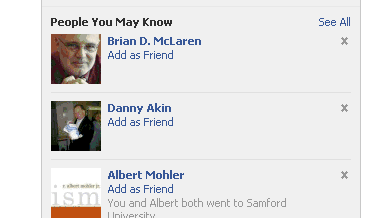 Well, I have a conundrum related to my Facebook page.
Facebook has been a good place to network. It regularly suggests friends (sometimes in humorous combinations as this picture demonstrates).
However, Facebook now tells me I cannot have any more friends. It appears that there is a limit of 5000 friends and I am now at that limit.
So, I have been told that I have to have to create a "fan" page in order to go over 5000 friends. Actually, the my publisher has already done this before I officially gave them permission. ;-) (B&H Publishing's Aaron Linne is a go-getter.)
Of course, anyone can create such a page. Just yesterday, I discovered a group called, "All I Really Need to Know About Church Planting I Learned from Ed Stetzer." I had to join that group just to see what they were saying!
Anyway, I like Facebook. I about 50 Facebook comments a day so I enjoy the interaction, but I need to make a decision. I do not like the idea of anyone being my "fan." So, I am unsure how to proceed.
I would like your help to decide.
As I see it, I can:
1. drop off of Facebook completely and just go with Twitter and the blog.
2. eliminate my personal Facebook account and move completely over to the fan page posting and interacting on the "wall" there.
3. keep it as is and just let the current 5000 be my friends and that's it.
Option 1 is easiest and Twitter is a fine alternative. But, Facebook provides public conversation in a way that Twitter does not. (Having a back-and-forth conversation with Twitter goes to over 15,000 people whereas Facebook just goes to the people in the conversation).
Option 2 assumes that the good people at my publisher will let me link and have control of the wall there. (I know they will. I asked!) But, it also assumes that people will switch over to the new page. I am not sure the will.
Option 3 leaves a page out there but I cannot add any friends.
An obvious additional option is to do both a personal page and a fan page, but I do not see that as viable because people will try to be "friends" and then get no response from me on the personal account. For that matter, I don't like the idea of creating another site I need to check.
Finally, Facebook won't raise the friend limit. I asked.
So, what do you think? What do I do with Facebook?
The Exchange is a part of CT's Blog Forum. Support the work of CT. Subscribe and get one year free.
The views of the blogger do not necessarily reflect those of Christianity Today.