This is a slow couple of weeks for travel, which means I will be catching up on some things at the office. Sleeping in your own bed for a whole two weeks in a row is quite an accomplishment. ;-)
I will be doing some local church speaking. For the next three Sundays, I am in different churches-- and also preaching at one church on a Monday.
August 30, 2009, Two Rivers, Nashville, TN
I spoke at Two Rivers last week and was impressed. They have been through some hard times, but seem to have a desire to turn things and move into the future. It will be good to be back.
September 6, 2009, Long Hollow , Hendersonville, TN
Next Sunday, I am at Long Hollow filling in for my friend David Landrith. Long Hollow is a great church and is exploding in growth. In two weeks, we publish the Top 100 fastest growing churches in the country and, well, you will just have to wait and see... ;-)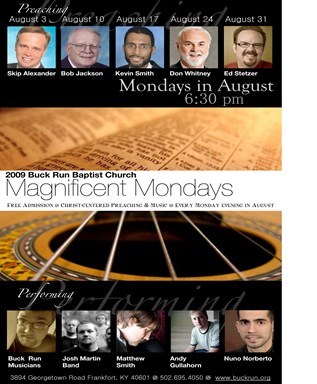 August 31, 2009, Buck Run, Frankfort, KY
On Monday, Kaitlyn and I are skipping school and spending the day in Frankfort, KY. Then, in the evening, I am headed over to preach on "Magnificent Monday," for my friend Hershael York.
September 13, 2009, Freedom Church, Gallatin, TN
The Sunday after next, I am at Freedom Church in Gallatin, TN. Freedom Church is a contemporary church, in the "seeker" stream of evangelicalism. I am part of an outreach series they are doing. Terrell Somerville is a great guy and I look forward to being with them.
And, then there is the 5000-person (and growing) speaking event where I never leave my office. (This, and my weekly team meeting with the a research work group at the North American Mission Board, is convincing me of the value of video conferencing!)
This event is called "The Nines."
September 9, 2009, The Nines on 9/09/09
From their site:
Have you registered for The Nines yet? It's a free one-day event that will take place totally on-line September 9th. You will be able to virtually sit across the table from scores of leaders who share their insights to help and stretch you in your calling.
Who are the speakers? There are only a few...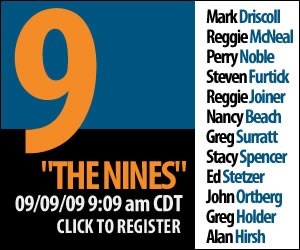 Mark Driscoll (Mars Hill Church)
Reggie McNeal (Leadership Network)
Perry Noble (NewSpring Church)
John Ortberg (Menlo Park Presbyterian)
Steven Furtick (Elevation Church)
Nancy Beach (Willow Creek Church)
Leonard Sweet (Author/Speaker)
Stacy Spencer (New Direction Christian Church)
Ed Stetzer (Lifeway Research)
Mark Batterson (National Community Church)
Larry Osborne (North Coast Church)
Dave Ferguson (Community Christian Church)
Alan Hirsch (Forge Mission Training Network)
Dino Rizzo (Healing Place Church)
Dan Kimball (Vintage Faith Church)
Greg Surratt (Seacoast Church)
Sam Chand (Sam Chand Ministries)
Bil Cornelius (Bay Area Fellowship)
Brad Bell (The Well)
Brian McLaren (Author/Speaker)
Skye Jenthani (Author/Speaker)
Brian Bloye (Westridge Church)
Jon Tyson (Trinity Grace Church, NYC)
Eric Bryant (Mosaic)
Bob Roberts (Northwood Church)
Reggie Joiner (CCO, reThink)
Brad Powell (NorthRidge Church)
Mark DeYmaz (Mosaic Church)
Margaret Feinberg (Author/Speaker)
Matt Carter (The Austin Stone Church)
Darrin Patrick (The Journey)
Matt Fry (C3 Church)
Nancy Ortberg (TeamWorx2)
Mike Breaux (Heartland Church)
J. D. Greear (Summit Church)
Scott Hodge (Orchard Valley Church)
Greg Holder (Windsor Crossing Church)
Pete Wilson (Cross Point Church)
Neil Cole (Church Multiplication Associates)
Matt Williams (Grace Church Greenville)
Jenni Catron (Cross Point Church)
Noel Heikkinen (Riverview Church)
Bill Easum (Easum & Associates)
Chip Henderson (Pine Lake Church)
David Foster (The Gathering)
Mark Bankord (Heartland Community Church)
Ken Fong (Evergreen Baptist Church)
John Bishop (Living Hope Church)
Rick Rusaw (LifeBridge Church)
Bryan Carter (Concord Chuch)
Geoff Surratt (Seacoast Church)
Jeffrey Johnson (Eastern Star Church)
Jim Tomberlin (Third Quarter Consulting)
Anne Jackson (FlowerDust.net)
Naeem Fazal (Mosaic Church)
Jim Burgen (Flatirons Community Church)
John Coulombe (First Ev Free Fullerton)
Teresa McBean (NorthStar Community Church)
Jim Sheppard (Generis)
Shawn Wood (Seacoast Church)
Lawrence Aker (Cornerstone Baptist Church)
Steve Robinson (Church of the King)
Jason Cusick (Journey of Faith Church)
Bambi Encarnacion (First Ev Free Fullerton)
Ken Fong (Evergreen Baptist Church)
Judy West (Windsor Crossing Church)
Scott Wilson (The Oaks Fellowship)
Amy Hanson(Author/Speaker)
Toby Slough (Cross Timbers Church)
Troy Gramling (Flamingo Road Church)
Scott Nickell (Flatirons Community Church)
Michael Trent (Third Place Consulting)
Jorge Acevedo (Grace Church)
Scott Williams (LifeChurch.tv)
Steve Robinson (Church of the King)
Keld Dahlman (Europe Church Planter)
Register for the free event here.
The Exchange is a part of CT's Blog Forum. Support the work of CT. Subscribe and get one year free.
The views of the blogger do not necessarily reflect those of Christianity Today.