For decades, the phrase, "If you were to die today, do you know for sure you would go to heaven?" was associated with evangelical attempts at sharing their faith. My guess is that millions of people have been asked that question over the last few decades-- and I would not be surprised if God used such a conversation and question and many many became followers of Christ.
But, the question itself always intrigued me. And, one of the great things about my job (as a researcher), is I get to say, "I wonder..."
And, in this case, I wondered how many people really ask that question. In other words, how often to people wonder if they were to die today would they go to heaven. My first assumption was that only a few people really would think about their eternal destiny and, thus, thought the question might be less helpful today if few asked that question.
So, to test my informal hypothesis, we commissioned a poll.
About three years ago, while I was serving at the North American Mission Board's Center for Missional Research (now led by my friend Richie Stanley), Richie and I did a poll on that very subject.
Interestingly, "Will I go to heaven when I die?" is not a question most Americans ask themselves with much frequency. The North American Mission Board's Center for Missional Research conducted a survey that give some insight into what Americans are really thinking.
There are a good number of people who ask that question and do so frequently, but most do not.
Perhaps in previous generations people were asking questions about life after death, and so evangelistic approaches that focused on that issue were contextually appropriate. But the times - they are a-changing.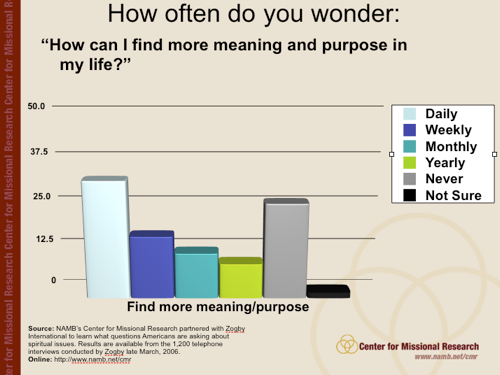 It appears that more people are thinking about meaning and purpose than life after death. (And it is important to note that the Bible provides the answers to all these questions.)
More people are thinking about is the purpose of life. People are looking for and thinking about purpose: perhaps one of the reasons that Purpose Driven Life has been such a best seller.
Why are we here? How can my life have meaning, value and significance? Explaining what the gospel says to these questions will more readily demonstrate just how relevant the gospel is to their lives. What happens after death is eternally important, but the world isn't always ready to see that. But they are somewhat prepared to consider that because we are made in God's image we have infinite value and dignity; that sin is what robs us of experiencing the reason for which we have been made - to glorify God and enjoy him forever; that Jesus alone is our only hope of redemption - that in him our sins are forgiven, the image of God is restored in us and by him we can glorify God and enjoy him now and forever.
This is the work of contextualization. Answering the questions the world is asking from God's word, pointing them back to the gospel. This is why I value research (asking questions, and really listening). Let's be about the business of making the gospel clear. To do that you will have to do more than speak. You'll need to do some listening as well.
The Exchange is a part of CT's Blog Forum. Support the work of CT. Subscribe and get one year free.
The views of the blogger do not necessarily reflect those of Christianity Today.