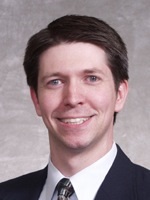 J. D. Payne is a National Missionary with the North American Mission Board and an Associate Professor of Evangelism and Church Planting in the Billy Graham School of Missions, Evangelism and Church Growth at Southern Seminary in Louisville, Kentucky, where he directs the Church Planting Center (and, in this pic, he looks quite professorial).
He has served as a pastor of three churches in Kentucky and Indiana and has worked with five church planting teams. Over the years he has also served as a coach and mentor to numerous church planters. He is the author of three books: Missional House Churches: Reaching Our Communities with the Gospel, The Barnabas Factors: Eight Essential Practices of Church Planting Team Members , and his newest, Discovering Church Planting: An Introduction to the Whats, Whys, and Hows of Global Church Planting.
J.D. and I have been friends for a long time (he was once my grader when I taught at Southern) and later was my successor in that role. I know him well enough to tell you that his first name is "Jervis," which is pretty weird if you ask me. ;-)
His new book is very helpful and I now use it as one of my required textbooks when I teach church planting. So, I asked J.D. to talk about his new book and the state of church planting here on the front end of the 21st century. Read the interview, buy the book, and be sure to jump into the comments where J.D. will respond to your questions and comments.
With all of the books out there on church planting, what is the purpose of this one?

The purpose of this book is to provide a single, practical, work that addresses the biblical/theological foundations, several critical missiological principles, a few historical perspectives, and many contemporary issues related to church planting in the 21st century.

I have been involved in church planting in the U. S. for the past decade, including almost twelve years of teaching in the classroom. While there are many excellent books on church planting which I use, and will continue to use in the classroom (especially Planting Missional Churches J ), I wanted a book that was a good introductory work written for both church planters and other church leaders. Since there are many church planting books available, I had the benefit of drawing from the wisdom and experience of others when writing. The subtitle summarizes the book: "An Introduction to the Whats, Whys, and Hows of Global Church Planting"

I'm assuming that there is something significant about the words Global Church Planting. Am I correct?

Absolutely! This book is not a model-specific book for one particular context. While I have included a chapter on models of church planting, the focus is on understanding the principles that can be translated to cultures and societies throughout the world and how to make appropriate application of those principles to the field. While acknowledging my pastoral and church planting experience has been exclusively connected to the U. S., I worked hard to write with a much wider audience in mind.

What is unique about this book?

In addition to being a church planting book not specifically about a methods or models, but rather on the application of principles and contextualization of methods, there are two other unique aspects. First, I begin by ironically writing that ultimately the book is not about church planting, but Kingdom expansion through disciple-making. While there are many ways to plant churches, biblical church planting is evangelism that results in new churches. Therefore, a heavy focus of this book is about Kingdom growth through the multiplication of disciples, leaders, and yes, churches. As the gospel transforms lives and churches are planted, those new Kingdom citizens must set out to expand the Kingdom by living according to a Kingdom Ethic, thus transforming their societies with the gospel.

Second, this book is a call to understand that the primary biblical expression of the church planter is that the church planter is a missionary, doing evangelism, gathering new believers together to be the local church, and raising up elders from within (e.g., Acts 13-14) the community. In the western Church, especially in the U. S. and Canada, we have lost the New Testament understanding of the apostolic functions of church planters. For example, the majority of the church planting books and conferences geared toward a North American audience expect the person who plants will also pastor that church. While I'm not opposed to such a model (my experience has been with such a model) and support it in certain contexts, the weight of the Scriptures is on the church planter functioning more after an apostolic pattern--as a missionary who raises up pastors.

Can you give me a quick overview of the content?

Certainly. The book is divided into four major sections. The first, and most important section, is "Discovering Biblical and Theological Foundations". In this section, I spend much time addressing ecclesiology, the Holy Spirit, Prayer, Spiritual Warfare, Evangelism, Discipleship, and Leadership development as related to church planting. Section two is "Discovering Missiological Principles," and includes chapters related to multiplication strategy development, receptivity, contextualization, role of partnering churches, and church planting teams. The third section, "Discovering Historical Paradigms," examines the church planting activities of the Moravians across the globe and the Methodists and Baptists on the American frontier. The final section looks at several contemporary issues that church planters are facing. Chapters are devoted to family matters, church planting models, overcoming objections to church planting, urban church planting, tentmaking, the apostolic understanding of church planters, and church planting movements.

This is a massive work. Is this book just for the scholar?

I know. It can choke a horse! I use my personal copy as a stepstool when I change light bulbs!

Seriously. No. It is not just a textbook for the scholar. Prior to his death, Ralph Winter graciously wrote an endorsement for the book that relates to this matter. He wrote, "Books about on church planting. Few go into such sweeping and helpful detail. This is not a book written by an ivory tower scholar but by a true scholar activist." While comprehensive, this book is practical by nature. As I note in the book, church planters must be both outstanding theologians and missionaries. To be one without the other is a liability to the Kingdom. While much of this book involves a heavy amount of the theology and missiology undergirding church planting practice, I keep pushing the reader toward practical application of the book's contents. I partially make this push by concluding each chapter with several application-related questions for individuals and groups.

Church planting has really come into the spotlight in the last several years. Are we getting better at it? If we are, what do you think has been the key to that success. If we aren't, why?

I think we are improving in some areas and in other areas we are missing the mark. We have made great progress in the area of training guys to be pastors of newly planted churches. And I believe we will (and must) continue to advance in this area. Many church planting conferences today are not so much about church planting, but about how to lead the church you just planted. I believe such training provides very important information. I know that having served as a pastor of established churches and as a pastor in new churches the ministry contexts are very different, with each having their own unique challenges. I am very excited about what I am seeing in the area of pastoral training. I also think we have made great progress in the area of networks. We are now seeing church planters networking together for accountability, encouragement, and resourcing in ways that were not taking place ten years ago. A third advancement is in the area of raising the banner for the family. Today, unlike a decade ago, church planters are being strongly encouraged to guard their families. The reason I believe we are making significant progress in these areas is because church planters are approaching their ministries as both learners and as leaders. They are eager to learn from one another (believing that they do not have all the answers), while at the same time desire to share what they have personally learned in their journeys (believing that the Lord has given them some truth to pass along to assist others).

While we have grown in many areas, in other significant areas, we have made little progress. Even with all the discussions about being missional since the late 1990s, we still do not think and act like missionaries in our church planting endeavors. First, in the United States and Canada, in particular, we have an ecclesiology problem. There is too much of our cultural Christianity affecting our understanding of the local church, and not enough of the Bible. The greatest problem in church planting today is an ecclesiology problem. How we answer the question, "What is the local church?" will affect everything we do in church planting. We are attempting to plant churches that reflect too much of our cultural preferences and pragmatic tendencies, rather than biblical churches that are contextualized to the people. Second, and closely related to this problem, is the fact that we still do not understand that the primary biblical model for the church planter is that of a missionary who will plant churches and raise up pastors for those churches. There is little room for the missionary at the church planting table in the United States and in Canada. Third, and closely related to these other two challenges is the fact that biblical church planting is evangelism that results in new churches. What I mean by this statement is that church planting, as described in the Scriptures, is about conversion growth and not transfer growth. With approximately 75% of the United States and Canada not having a relationship with Jesus (and another four billion people across the globe), we must stop praising and rewarding transfer growth church planting strategies/methods and begin to focus on highly reproducible, multiplication strategies that lead to the making of disciples from out of the harvest fields. I write extensively about these concerns in the book.

What are a few other books on church planting that you believe are important to understand?

There are several excellent books out there today. I'm sure I'm going to forget some of them here. . . . Your book is a very good book-- and I promise I did not write this because this is your blog. I use and recommend Planting Missional Churches to many people. My guess is that most of those reading this blog are familiar with your work. Tom Steffen's book Passing the Baton: Church Planting that Empowers is an excellent resource. Of course, if there ever was a "classic" in church planting literature, David Hesselgrave's book Planting Churches Cross-Culturally would be at the top of the list. Aubrey Malphurs' book Planting Growing Churches for the 21st Century and Bob Logan's Church Planter's Toolkit have influenced countless numbers of church planters over the years. While not a book, Bob Logan and Neil Cole wrote the outstanding resource Beyond Church Planting a few years ago. The most influential book on my thinking has been Charles Brock's book Indigenous Church Planting: A Practical Journey. Of course, I'm a little biased, but I also think my other book The Barnabas Factors: Eight Essential Practices of Church Planting Team Members is also important to read.
J.D. will be hanging around the blog today interacting in the comments, so be sure to hit him up with all your church planting questions.
The Exchange is a part of CT's Blog Forum. Support the work of CT. Subscribe and get one year free.
The views of the blogger do not necessarily reflect those of Christianity Today.