A new study coming out of Lifeway Research shows that "Protestant pastors in America are working long hours, sometimes at the expense of relationships with church members, prospects, family and even the Lord." The uber-fast folks at The Christian Post has already reported on the story.
You can read the whole article here in Facts & Trends, our flagship publication at LifeWay. Speaking of Facts & Trends, I will be joining the team there as a contributing editor starting in the next issue. Each issue will include a column from Thom Rainer and me, in addition to new research.
Here are some of the numbers. See the article for the full story. Feel free to download and use the graphics in your blogs and publications to help people understand what pastoral work and leadership often looks like. My hope is that it will help more pastors (and churches) achieve better balance.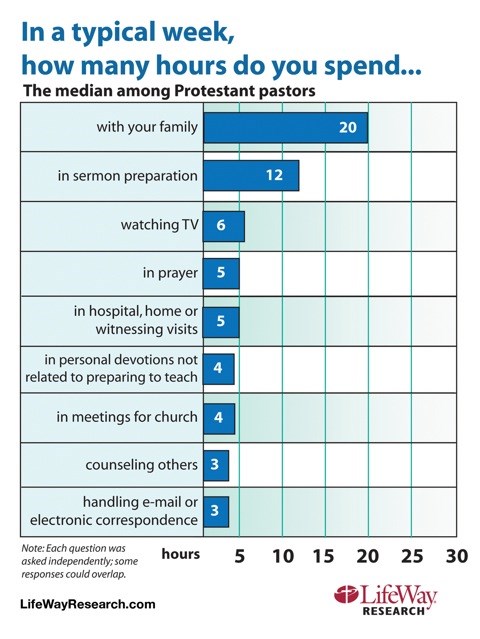 The data points to some interesting work patterns. 65 percent of pastors surveyed work 50 or more hours a week, with 8 percent saying they work 70 or more hours. "Meetings and electronic correspondence consume large amounts of time for many ministers, while counseling, visitation, family time, prayer and personal devotions suffer in too many cases."
From the article:
Among ministry activities, pastors spend the most time on sermon preparation. Half of them spend five to 14 hours in sermon preparation. Nine percent say they spend 25 hours or more in sermon preparation each week, and 7 percent report they spend less than five hours preparing to preach.

Ministry-related meetings and electronic correspondence drive the number of hours worked even higher. More than 70 percent of pastors say they spend up to five hours a week in meetings, and 15 percent put their meeting load at 10 hours or more. E-mail and other electronic correspondence eat up between two and six hours a week for half the pastors, while 14 percent indicate they spend at least 10 hours a week in electronic correspondence.

Many pastors, however, find it difficult to make time for two primary ways of relating to church members and prospects: counseling and visitation. While 24 percent say they spend six hours a week or more in counseling ministry, the same percentage reports spending an hour or less. By the same token, while 12 percent of pastors say they spend 11 or more hours a week in hospital, home or witnessing visits, 12 percent also indicate they spend an hour or less. Forty-eight percent say they spend between two and five hours a week in visitation.

Time with family rates as a priority for many pastors, but some find alarmingly little opportunity to be with their spouses and children. While 30 percent of the pastors report spending 20-29 hours with their families each week - and 16 percent indicate spending 40 or more hours with them weekly - almost 10 percent say they spend nine hours a week or less with family members. At the same time, 24 percent say they watch 10-14 hours of television each week, and 13 percent put their TV time at 15 hours or more.

The amount of time spent in prayer and personal devotions raises questions about the vitality of many pastors' spiritual lives. While 52 percent report spending one to six hours in prayer each week, 5 percent say they spend no time at all in prayer. Furthermore, while 52 percent say they spend two to five hours a week in personal devotions unrelated to teaching preparation, 14 percent indicate they spend an hour or less in personal devotions each week.
Read the entire article here, and then come back to discuss. What are your thoughts on these numbers? What does Scripture say should take precedent in pastoral ministry? If you are a pastor, how do you manage your time and calendar?
The Exchange is a part of CT's Blog Forum. Support the work of CT. Subscribe and get one year free.
The views of the blogger do not necessarily reflect those of Christianity Today.