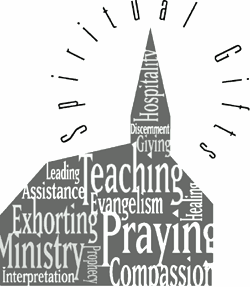 This month, the folks at Barna Research shared the results of a survey of Christians and their understanding of spiritual gifts. Interesting stuff. It's the kind of survey that leads me to ask a lot of questions, and I would love to hear your thoughts. You can, and should read the whole thing here. Let me share just a few things worth thinking through and I invite you to share your thoughts in the comments below.
First of all only two-thirds of professing Christian claimed to have heard of spiritual gifts. I know that seems low to many of you, but we're talking about people who believe they are "Christian." Barna breaks it all down for us and explains that 99% of "Evangelicals" have heard of spiritual gifts.
Now let's play a game. Which spiritual gift do you think most people believe they have? Seriously, close your eyes and think. The most commonly claimed gift is - teaching. And among Evangelicals it's a significant percentage.
Evangelicals were more likely than people from the other faith segments to say that they had gifts of teaching (28%), service (12%), encouragement (10%), and administration (7%). The non-evangelical born again segment was the group most likely to claim the gifts of faith (10%) and hospitality (3%).
28% of evangelicals are gifted by God to teach, but only 3% are gifted by God to be hospitable? Do we really have more people that are equipped to teach than we have equipped to serve? And if we do, is this the result of our churches, or the fruit of the Spirit?
And get this, "since 1995, the proportion of born again adults claiming the gift of evangelism dropped from 4% to 1%." Has God only given 1% of the people in the church the gift of evangelism? You think there might be a correlation between the lack of conversion growth of the church in North America and the shrinking influence of people who believe God has gifted them to evangelize? Barna thinks so, saying,
The stagnation of evangelism relates to many factors, but one of those is probably the fact that just 1% of Christian adults (self-described or born again) claims the gift of evangelism. While the Bible never suggests that one must possess this gift in order to share the gospel, the depressed proportion of believers who identify with that gift reflects the stalled growth of the Christian body in America.
And over all - those who do not even know what their gift is rose from 8% in 2000 to 13% today. We're obviously moving in the wrong direction here. What should we do, pass out more of those Spiritual Gift inventories? Or is there a better way?
Read the article, interact with my questions. And in particular, what are some of the better ways churches are helping individuals discover and develop their spiritual gift(s).
The Exchange is a part of CT's Blog Forum. Support the work of CT. Subscribe and get one year free.
The views of the blogger do not necessarily reflect those of Christianity Today.