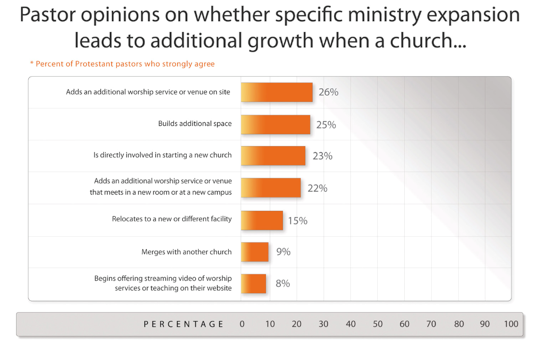 A recent study by LifeWay Research in partnership with the Cornerstone Knowledge Network showed a correlation between ministry expansion and church growth. Seven types of expansion were included in the survey:
Building new or additional ministry space at the same site where your church is located.
Building a new facility at a new site.
Adding an additional worship service or venue on site.
Adding an additional worship service or venue off site.
Beginning to offer streaming video of worship services or teaching on the Internet.
Directly participating in helping start a new church or churches.
Merging with another church.
Mark Kelly summarizes the findings:
Of these seven types of ministry expansion, the pastors surveyed indicated that adding an additional worship service or venue on site is most closely related to higher growth in attendance, followed by building new or additional ministry space at the same site where the church is located. Churches that expanded in those two ways experienced significantly higher levels of growth in average worship attendance over a five-year period, according to the pastors surveyed.
It's an interesting study worth looking at. Read the study first at Lifeway Research and at The Christian Post.
This study actually includes both opinion questions and the reporting of facts by pastors.
The fact questions included asking pastors if their church had made any of the 7 changes in the last 5 years. We also asked their current average worship attendance and their attendance 5 years ago. The recollection of the church's attendance 5 years ago could be off slightly for some. After all, this was a phone survey, but it should be close in most cases. Overall, we do consider the number of growing churches reported in this study to be a little higher than when annually reported data is available for comparison.
We ran statistical tests on these facts as reported and the first point in the story is related to these tests. The title we released the information with was stated in the negative, "Ministry expansion doesn't automatically lead to attendance growth." The fact is that causality is not something that we can test at all. However, since it is safe for us to rule out causality if there is not even a statistical relationship we felt comfortable stating this as we did in our release.
The opinion questions show that more than two-thirds of Protestant pastors agree (strongly or somewhat) that 5 of the ministry changes we tested "lead to additional growth." Pastors whose churches have actual made that type of change are more likely to agree, and this was true of all 7 we tested.
We wanted to see what the rest of the pastors believe.
It is interesting to note that all pastors did not agree without hesitation. A look at the PowerPoint that is now up on the LifeWay Research website shows that more pastors somewhat agree than strongly agree in all cases. Also, keep in mind our questions did not ask whether the pastors believe this is the only thing that leads to growth. For example, I can understand why many pastors did not want to disagree that you get some visitors when you open a new building and that some stick around.
The statistical tests we ran that showed a real relationship between two of the changes and growth also prove that only a small portion of the attendance growth is explained by the items we tested. There indeed are other things that lead to growth and some of the spiritual things related to growth would never be able to be tested through research.
Jump into the comments below and share your thoughts and experiences. Has expansion of your church led to, or been a result of, growth.
The Exchange is a part of CT's Blog Forum. Support the work of CT. Subscribe and get one year free.
The views of the blogger do not necessarily reflect those of Christianity Today.