Last fall, Dan Cox, Roger Finke, and I spoke at the Religion Newswriters Association at the Washington Post in D.C. Our topic was "Surveying Surveys," focused on how to tell the good religious research from the bad. We each presented and then served on a panel. Dan shared about the relatively new research organization, Public Religion Research.
While there, Dan mentioned several research projects, including the one that came out last week on mainline denominational clergy. I thought I would share a bit with you.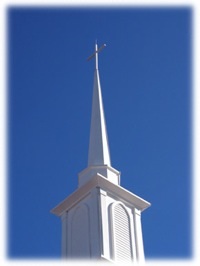 The 2008 Mainline Protestant Clergy Voices Survey is the largest survey of its kind in seven years, and covers more ground than any that has ever come before it. Mainline Protestants have received little attention due to declining numbers and a waning cultural influence, but the survey is important because even now Mainline Protestants "make up 18 percent of all Americans and nearly a quarter of all voters." Here are just a few of the results from the survey (quoted from the study):
Mainline Clergy are much more likely to identify as liberal and Democratic than conservative or Republican. Almost half (48%) of all mainline clergy identify as liberal, compared to about one-third (34%) who say they are conservative. A majority (56%) of mainline clergy identify with or lean towards the Democratic Party, compared to roughly one-third (34%) who claim a Republican affiliation, a 22-point gap.

Mainline Protestant clergy are broadly supportive of government's role in addressing social problems such as unemployment, poverty and poor housing. More than three-quarters (78%) agree that the federal government should do more to solve social problems, and more than 4-in-10 strongly agree.

Mainline clergy are strongly supportive of government action in the areas of health care and the environment. More than two-thirds (67%) of clergy agree that government should guarantee health insurance for all citizens, even if it means raising taxes. And nearly 7-in-10 (69%) clergy say that more environmental protection is needed, even if it raises prices or costs jobs.

On a broad range of issues, mainline clergy affirm equality for gay and lesbian Americans. Roughly two-thirds of mainline clergy support some legal recognition for same-sex couples (65%), passing hate crime laws (67%) and employment nondiscrimination protections for gay and lesbian people (66%). A majority (55%) of mainline clergy support adoption rights for gay and lesbian people.

Mainline Protestant clergy are strong advocates of church-state separation. A majority (65%) of mainline clergy agree that the U.S. should "maintain a strict separation of church and state." Mainline clergy are more worried about public officials who are too close to religious leaders (59%) than about public officials who do not pay enough attention to religion (41%).

Mainline clergy are more likely to publicly address hunger and poverty and family issues than controversial social issues. More than 8-in-10 clergy say they publicly expressed their views about hunger and poverty often in the last year, and three-quarters say they addressed marriage and family issues often. Only about one-quarter (26%) say they often discussed the issues of abortion and capital punishment.
Audrey Barrick over at The Christian Post point out that,"according to survey results, two-thirds of mainline clergy disagree that 'the Bible is the inerrant word of God, both in matters of faith and in historic, geographical, and other secular matters.' Only 29 percent of mainline clergy agree with the statement."
The whole report is worth reading. The results are not particularly surprising, but it does quantify some things in a helpful way. Download the topline survey results here (PDF) and come back to discuss.
The Exchange is a part of CT's Blog Forum. Support the work of CT. Subscribe and get one year free.
The views of the blogger do not necessarily reflect those of Christianity Today.