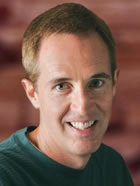 I have really enjoyed thinking through Andy's answers to the questions posted so far, and today's post, part 3 of our interview, is no exception. Here Andy talks about part of his process for preparing messages to be sure that the congregation "gets" it. In other words, this helps explain how he brings the listener to the text to find the answers.
His "Me--We--God--You--Us" is more fully developed in his book (published after our interview), Communicating for a Change. Let me encourage you to get a copy.
Andy shares his approach to sermon structure, basic preparation and keeping the message focused. If you are a preacher, you have your process and it hopefully works for you in your context, but we all need to continue to refine different elements of our processes.
Andy and I talked by phone last night and I continue to be encouraged by his passion for communication and his humility. After I post the fifth of these blog posts, we will do a final wrap up together as well. I look forward to that.
Here is the interview:
Question: What is your process?
Andy: At a recent "Grow Up Conference," I diagrammed my communication process as: Me--We--God--You--Us. The communication starts with Me-- let me tell you something about me. Then We, this is something we all have in common. Then God, this is what God says about it. You, this is what you need to do about it. And We, wouldn't it be great if we all did it. So it is a relational outline. Start with you. Connect to them. What does God have to say about this issue? What should you do about it? And what should we do about it?

So I talked structurally about what you hang on each of those pieces. You outline your communication relationally, and not just in terms of information. And it is so much easier. When guys bring their sermon outlines to me I say, "Alright, now where do you talk about you? They need to know who you are. And if you jump to the Bible, they've got to go with you. To me, that is the journey. It is me taking you into a conversation. And we start together and then we end together. We have a common problem and we find a solution. And we are all still on the same page."

It is so simple. You can do announcements that way. You can structure an entire worship service that way.
Question: How far in advance do you prepare your sermons?
Andy: I prepare at least three weeks ahead so I don't really pick up the sermon until late Saturday afternoon. I haven't really looked at my sermons for three weeks. That is how I like to do it. I like to be way ahead. On Saturday night I pick it up, and I usually take out and take out. And simplify, simplify, simplify to where hopefully everything just says the one thing and then I am done. So I make it look easy but making it simple is hard work. I study all day on Wednesdays, and as much as I need to on Thursdays. I spend at least a day and a half on the message, plus Saturday night picking it up and changing it. Or sometimes I start over or cut it in half. Saturday nights are dreadful for me, but I have learned picking it up cold makes me look at it with fresh eyes and it is going to be better. I don't recommend that for the faint of heart because it ruins your Saturday nights. But being way ahead is wonderful. When I go home this week, the next three weeks will be in folders. So if I get sick or we have an emergency and I miss my study day, then I am only two weeks ahead.
As you dialogue around this post, let me encourage you to consider how you do what Andy describes. We believe that the scriptures are complete truth, provide the guidance that we need, and need to be applied. How do we help our people see the same thing? How do we bring them to the scriptures? Is it just "here it is-- ready or not-- come & get it" or do we need to help them to see how the scriptures apply to our life today.
The Exchange is a part of CT's Blog Forum. Support the work of CT. Subscribe and get one year free.
The views of the blogger do not necessarily reflect those of Christianity Today.