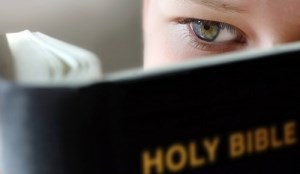 Barna Research has published the results of a survey that "explored how many [adults] have what might be considered a 'biblical worldview.'" This is a helpful study that will confirm the conclusions many have already drawn - and may surprise some of us as well. What does Barna mean by a "biblical worldview?"
For the purposes of the survey, a "biblical worldview" was defined as believing that absolute moral truth exists; the Bible is totally accurate in all of the principles it teaches; Satan is considered to be a real being or force, not merely symbolic; a person cannot earn their way into Heaven by trying to be good or do good works; Jesus Christ lived a sinless life on earth; and God is the all-knowing, all-powerful creator of the world who still rules the universe today. In the research, anyone who held all of those beliefs was said to have a biblical worldview.
The research indicated that only 9% of all American adults have a biblical worldview as defined above. The Barna study also indicated that a minority of people who describe themselves as "born again" actually share this worldview. So while "they were twice as likely as the average adult to possess a biblical worldview... even among born again Christians, less than one out of every five (19%) had such an outlook on life."
This is a survey Barna has conducted before in 1995, 2000 and 2005. Has the percentage dropped? Are their less or more people who hold to this "biblical worldview" today than a decade ago? Barna says the number have remained the same.
Take note that "less than one-half of one percent of adults in the Mosaic generation - i.e., those aged 18 to 23 - have a biblical worldview, compared to about one out of every nine older adults." Those who are working to share the gospel with the young are finding this out, and it has some serious implications for how we practice evangelism and ministry targeting younger generations.
Breaking it down:
One-third of all adults (34%) believe that moral truth is absolute and unaffected by the circumstances. Slightly less than half of the born again adults (46%) believe in absolute moral truth.

Half of all adults firmly believe that the Bible is accurate in all the principles it teaches. That proportion includes the four-fifths of born again adults (79%) who concur.

Just one-quarter of adults (27%) are convinced that Satan is a real force. Even a minority of born again adults (40%) adopt that perspective.

Similarly, only one-quarter of adults (28%) believe that it is impossible for someone to earn their way into Heaven through good behavior. Not quite half of all born again Christians (47%) strongly reject the notion of earning salvation through their deeds.

A minority of American adults (40%) are persuaded that Jesus Christ lived a sinless life while He was on earth. Slightly less than two-thirds of the born again segment (62%) strongly believes that He was sinless.

Seven out of ten adults (70%) say that God is the all-powerful, all-knowing creator of the universe who still rules it today. That includes the 93% of born again adults who hold that conviction.
George Barna points out several implications, but I wanted to share just one set. He said,
There are a several troubling patterns to take notice. First, although most Americans consider themselves to be Christian and say they know the content of the Bible, less than one out of ten Americans demonstrate such knowledge through their actions. Second, the generational pattern suggests that parents are not focused on guiding their children to have a biblical worldview. One of the challenges for parents, though, is that you cannot give what you do not have, and most parents do not possess such a perspective on life. That raises a third challenge, which relates to the job that Christian churches, schools and parachurch ministries are doing in Christian education. Finally, even though a central element of being a Christian is to embrace basic biblical principles and incorporate them into one's worldview, there has been no change in the percentage of adults or even born again adults in the past 13 years regarding the possession of a biblical worldview.
Go and check out the article an come back to discuss. What does all of this, or some of this mean for us as the church? In one sense, it changes nothing - we are called to preach Christ and him crucified and make disciples. Yet our context and culture does impact how we go about this. What are your thoughts?
The Exchange is a part of CT's Blog Forum. Support the work of CT. Subscribe and get one year free.
The views of the blogger do not necessarily reflect those of Christianity Today.