A couple of updates:
If you want to dialogue about the story on Anderson Cooper's CNN blog, click here.

LifeWay News has posted the story with downloadable graphs here.
In this morning's USAToday, you will find Cathy Lynn Grossman's article pointing out the growing numbers of people in need looking to the church for help as we continue through this economic crisis. She includes research that Lifeway Research recently completed. Cathy brings out a few important details and provides some helpful examples.
Nearly two in three pastors (62%) report more people from outside their church asking for help, and nearly a third (31%) see more such requests from church members, according to a survey of 1,000 Protestant pastors.

.....

The survey, by LifeWay Research, a Christian polling firm based in Nashville, finds that 40% of pastors say they have church members out of work, and 37% say their church has increased spending to help the needy. (The survey has a margin of error of plus or minus three percentage points.)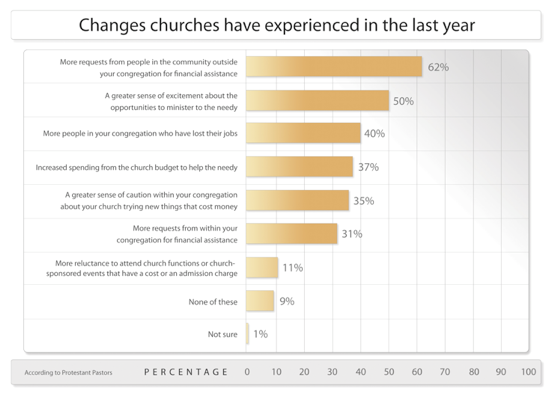 What we found is that while the needs are greater at this time, most of our churches are ready and working to serve those in need and may be in a better place than other sectors of society. The average church actually saw their offerings grow by 4 percent in 2008. Only 12 percent of churches saw their giving decline by 10 percent or more in 2008.
This doesn't mean our churches aren't experiencing difficulty. These are challenging times that demand sacrificial giving by membership and wise spending by churches. And, depending on where they are in the country (and thus the severity of the recession), the situation can be and is different.
We just released this article at LifewayResearch.com that provides much more information about the economy research.
This last year has also brought changes in how those within congregations approach expenditures. Thirty-five percent of churches have a heightened sense of caution within their congregations about trying new things that cost money. A small number of congregations (11 percent) have seen increased reluctance to attend church functions or church-sponsored events that carry a cost or admission charge.

Among the other effects the economy has had on churches:

Seven percent delayed hiring that was planned.
Six percent reduced staff salaries.
Four percent laid off one or more employees.
Four percent reduced insurance benefits for staff.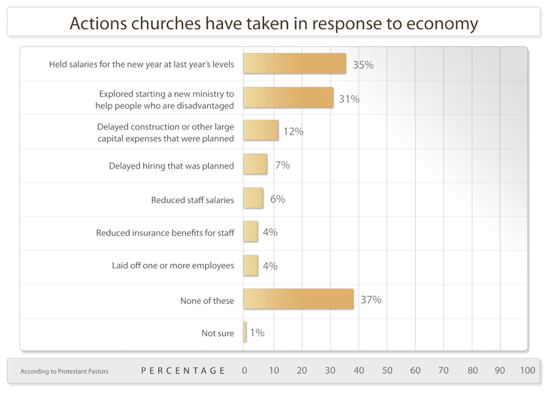 With these challenges comes greater opportunities for our people to demonstrate love, kindness and support to one another and those outside of the church. In fact, these difficult circumstances are motivating churches to mobilize people for the work of mercy ministries.
Be sure to read the USA TODAY article, "In times like these, more people are going to church for help." and "Bad economy challenges churches but provides opportunities" by our team at LifeWay Research. And, as always, you can find the full PowerPoint at LifeWayResearch.com or download it directly here.
Feel free to discuss below, but I am particularly interested in two things:
1. How has the economy impacted your church?
2. What are you doing differently because of the recession?
The Exchange is a part of CT's Blog Forum. Support the work of CT. Subscribe and get one year free.
The views of the blogger do not necessarily reflect those of Christianity Today.