Updated: You can find the PowerPoint with the questions and data at LifeWayResearch.Com.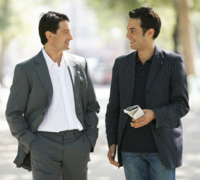 Yesterday I talked with Cathy Lynn Grossman for USA Today about Americans' receptivity to evangelistic contacts and outreach from a church. I pointed to some recent research done by Lifeway Research and the North American Mission Board where we surveyed over 15,000 people (read more on this report via Lifeway Research). It turns out most people said they would be willing to receive information about church in a personal conversation with a family member, friend or neighbor.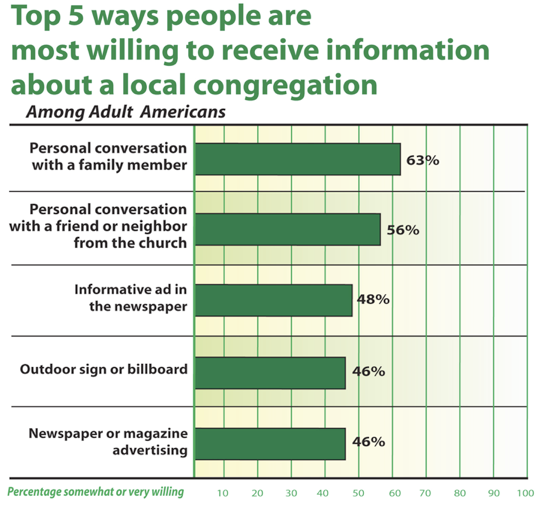 In this survey we tested 13 potential approaches to those outside of the church. The most effective method for bringing people to church is through personal invitations by family or friends. Most Americans say this approach is likely to work on them. Can you guess what approach comes in last? What method of engaging and inviting is considered least acceptable? Yep, door-to-door visitation (Less than a quarter of Americans would appreciate a visit from your church to their front door). But we also can see that some people are more or less receptive to considering issues of faith at different times and in differing circumstances (or course, 1 out of 4 is not bad, in my opinion). For example, 47% of those surveyed said they were more open to matters of faith during the Christmas holidays; 38% around Easter, and 28% after the birth of a baby.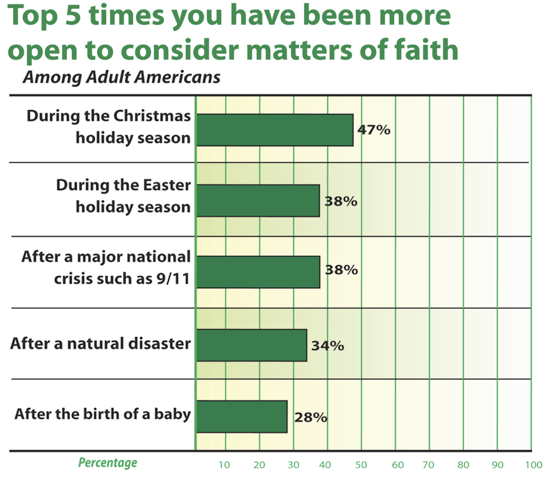 I've said this before, but it is worth repeating. This kind of research doesn't determine what message we share, but how we can best communicate "the faith that was delivered to the saints once for all." And, you will notice that we intentionally asked about "church" and "faith" since it was a survey of all Americans.
It's easier for Christians to talk about evangelism than to actually evangelize, and figuring out how to motivate our people to get out there and do it can be difficult. But this research indicates that many of your unchurched friends are ready for an invitation to at least talk about Jesus, or church. Ultimately the research showed that relationships remain the most effective approach to those outside of the church, and that good marketing / advertising are a good support, but not enough on their own. This is the takeaway for Christians here. You are more likely to influence the people you know for the gospel than a tract, billboard, commercial, TV or radio preacher. Those other things may help, but relationship is central.
We did this research for the North American Mission Board. This research is to help inform the launch of the GPS ("God's Plan for Sharing") evangelism initiative to encourage Christians to prayerfully and thoughtfully engage in the most effective approach for making Christ known.
GPS lays out four biblical mileposts to lead our churches outward with the gospel in the discipline of evangelism.
1. PRAYING: Every church praying for every lost person.

(Evaluation - How can your church actively pray for lost people?)

2. ENGAGING: Every believer sharing as a trained witness.

(Evaluation - How many believers are trained to share their faith?)

3. SOWING: Every lost person receiving a complete witness.

(Evaluation - How is your church creating intentional opportunities to share the gospel with lost people in your community, county, state, and across North America?)

4. HARVESTING: Every church harvesting and celebrating every salvation experience.

(Evaluation - Are you seeing people come to Christ through the ministries of your church? Are you celebrating those decisions?)
Take a look at the full LifeWay story news release here and the USAToday here. And, feel free to comment below.
I am interested if you find this encouraging or discouraging.
The Exchange is a part of CT's Blog Forum. Support the work of CT. Subscribe and get one year free.
The views of the blogger do not necessarily reflect those of Christianity Today.