Today I am switching places with Thom Rainer. He was supposed to be preaching in chapel at Southeastern Seminary today, but we switched about ten days ago due to some scheduling conflicts. So, if you were coming to chapel to hear Thom Rainer today you will be greatly disappointed.
In the spirit of switching places, check out the program from this year's Christian Book Association / International Christian Retail Show (CBA/ICRS) in Denver. As you can see (below), I am no longer President of LifeWay Research but am now, according to the ICRS program, president of LifeWay. I am very excited about the promotion.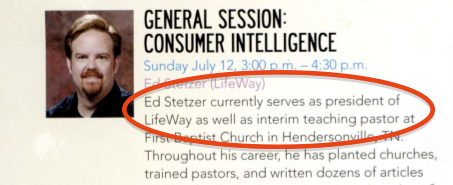 Oh, there will be new policies, fellow LifeWay employees. Many new policies. And many others will be deleted. I'm currently considering 4 day weekends, and lunches catered by PF Chang's. Please stay tuned.