As I recently mentioned, I am intrigued by the Independent Baptist Movement. It is often caricatured and frequently misunderstood, but definitely worth understanding. With that in mind, when I see research on this movement, it catches my attention.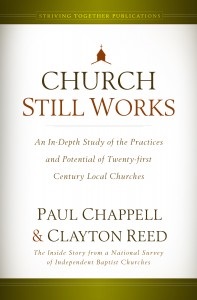 Paul Chappell and Clay Reed have written a book based upon an independent, nationwide survey of independent Baptist churches, and the result is Church Still Works, an insightful read that will prove surprising to some and encouraging to all.
Paul is the senior pastor of Lancaster Baptist Church and president of West Coast Baptist College in Lancaster, California. Clayton is the founder and director of Global Church Planters, which has worked with American missionaries and national pastors to help start more than three hundred churches around the world.
I was happy to talk to Clayton about the new book, and think you'll find the interview and the book helpful.
What prompted you to write Church Still Works?

I grew up in the Independent Baptist world. While we've seen a lot of professional research done on many aspects of contemporary Christianity, I had never seen a large-scale study of the Independent Baptist movement. Independent Baptists really have had nothing more than anecdotal evidence about the scope and effectiveness of our movement. I was curious to find out what our churches are really doing that makes a difference.

What is an "Independent Baptist Church"?

It's a Baptist church that isn't associated with a national convention or an outside controlling organization. Wikipedia describes our movement here.

What trends did you identify in this movement?

There's a chapter in the book called "The Fruit Factors," where we took a look at Fields (where churches are located), Farmers (the pastors who lead our churches), and Farms (our congregations). What we found was insightful, and some of it was a real eye-opener for us.

For instance, the research confirmed, as we expected, that there are a higher number of Independent Baptists in the South and Midwest. Churches in those areas experience a significantly higher growth rate as well. The vast majority of our churches are located in rural areas and small towns of less than 100,000 people. We also found that the West and Northeast are wide-open doors where new roots can be established.

Independent Baptist Churches led by younger pastors, for example, grew at a faster rate in a three-year period. In both size and percentage, the prime time for church growth is when pastors are between ages 40 and 49. This age group saw a 27% growth rate in their churches during 2005-2008, compared to pastors ages 50-59, who saw a 19% growth rate in the same period.

However, just as a successful farmer can, over time, enlarge his acreage, the largest churches in our movement are pastored by leaders who stay put. Over time, those congregations do not grow as fast, but they continue to grow. Steadfast, consistent leadership contributes greatly to local church health.

Newer churches also register a much higher growth rate than older congregations. The findings in our study correlate well with a nationwide survey of churches of all denominations. Churches started since 1990 experienced a 47% growth rate in a three-year period, compared to an 18% growth rate for churches started between 1970-1989.

What are some strengths you noted in your research about the churches in this movement?

We found some very good growth trends in segments of our movement. We are growing about 6% a year as a whole. From 2005 to 2008, Independent Baptists experienced a 20% growth rate in their average Sunday morning worship attendance.

We also found a strong commitment to doctrinal integrity and saw a great emphasis on worldwide missions. Independent Baptist churches give an average of 19% of their income to world missions. Many give more.

What were some areas of concern you found in your research?

As a whole, Independent Baptists congregations are seeing an average of 74 people come to Christ every year. However, only 27% of our converts are being baptized, and only 18% of them are remaining faithful to church.

We also found that our church planting efforts have greatly decreased over the past 20 years. We are planting at a 1% rate, meaning we are just maintaining our present number of churches. Independent Baptists are planting 130 to 140 churches a year, but to keep up with the population growth of our nation, we need to be planting about 500 churches per year.

What are some traits of the churches in your movement that were identified as "healthy" and "growing"?

One section in the book is called "Seven Practices of Healthy Churches." We found that healthy, growing churches focus on all or most of these seven practices:

- Generate guests through effective outreach.

- Create positive first impressions

- Connect God's Word with people's hearts

- Follow up biblically and strategically

- Use effective tools and technologies

- Compel spiritual commitments

- Develop devoted disciples.
Alright, you can order the book here, follow Clayton Reed on Twitter here, and follow Paul Chappell on Twitter here. Now jump into the comments and hit up Clayton with your questions. He's hanging around today to interact.
The Exchange is a part of CT's Blog Forum. Support the work of CT. Subscribe and get one year free.
The views of the blogger do not necessarily reflect those of Christianity Today.