Sep 14, 2009
The NAMB Task Force
Occasionally, I list things of interest inside my denomination that may be helpful to readers of this blog. I will continue to do that (as I am today), but I will be moving my denomination-specific blogging to a new blog. My blog has become a place to discuss mission, culture, and research. So, I have decided that, with a few exceptions, I will move my denominational content to Between the Times.
A few weeks ago, Richard Harris and I sent out an email indicating that the North American Mission Board (NAMB) task force, of which I was a co-facilitator, had been disbanded with the resignation of NAMB's president. We mentioned in the email that we would be releasing the "list" we made at that meeting since it had been reported in the news.
I think the list might be helpful to people both inside and outside of my denomination. But, before we get to the "list," let me tell you a little about the group. Here is a picture of the meeting. If you follow on Twitter, you have already seen this pic.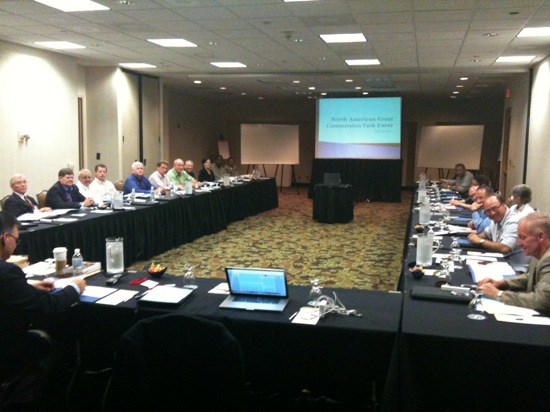 The group had a mix of people:
• Four state execs (staff leader of the state convention from where they came-- the closest is Terry Robertson, from NY, up close and on the right)
• The president of the Woman's Missionary Union, Kaye Miller (way back on the left side)
• Seminary professors (you can see Chuck Lawless from SBTS on the right and Gus Suarez from MWBTS with a big smile and also on the right)
• Directors of missions (George Dean is in a stylish green on the left, you can't miss it)
• Several pastors and church leaders from diverse contexts, races, and church sizes (you can see Charles Roesel, who always wears a suit, on the near left-- the other pastors were suit-less!)
And, yes, that is my Mac in the front, right next to former co-facilitator Steve Reid. My Mac is (predictably) open to Twitter, which is where I originally posted this picture.
Let me say how thankful I am that these men and women took the time to come to Atlanta and talk about North America. Why?
Well, I believe that my denomination is at a crucial point: will we recapture the evangelistic passion and missional impulse we have seen in the past? As I have written about over the past several years, if the 50-year membership change trend continues, we will enter a protracted period of decline.
The task NAMB has been given is both big and essential: if our churches are not effective here, none of the other agencies (including the IMB) will have much of a future.
Initially, the members of the group were asked, "What are the big issues we need to address?"
We talked for over an hour about the things that needed to be studied and discussed. As we talked, Rich Carnie wrote them all on a big whiteboard. We wanted to narrow them down to a group of issues we might be able to address.
Here is an actual picture of the board (sorry about the erased section on the top left, but you can still see it all). I snapped a quick picture just as they were erasing it.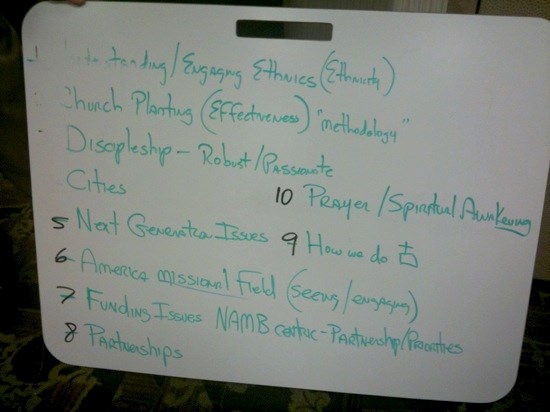 Here is the list in text form:
1- Understanding/engaging ethnics

2- Church planting/effectiveness (methodology)

3- Discipleship - fill church with more robust passionate disciples

4- Urbanization/cities

5- Next generation issues

6- See and engage NA as a mission field 

7- NAMB funding issues

8- Partnerships

9- How we do church

10- Prayer/spiritual awakening
 

Tammi Ledbetter, who was part of the committee and also an excellent journalist, sent me the list. Thanks, Tammi.
Note: Although they are in a numbered list, they are not in order of priority. We just put numbers on the list to focus in on ten.
We discussed how to release these items after I mentioned to the members of the task force that we would be doing so. We considered a release from NAMB, but it seemed odd to release something from a dissolved task force. So, after talking it over with the NAMB communications team, we agreed for me to blog about it here.
Tammi suggested, and NAMB communications agreed, that I should try to explain what a few of these mean since they are not self-evident. Keep in mind that these are my descriptions, not those of the entire group, though I think they are reflective of such. But, I just don't feel authorized to speak for a group of people that no longer exists. (Well, the individuals still exist, just not in group form--you know what I mean.) The list is in the picture; my descriptions are my own.
I think that numbers 1-5 seem self-evident, so I'll keep my explanations to the latter five.
6. See and engage NA as a mission field 

Number 6 specifically addresses the issue of the need to think and live in mission-focused ways in North America. There was some discussion about the word mission/missional. Mine and Tammi's notes both say "mission," but what was on the board was "missional." Either way, the point was we need to help our churches see and engage our immediate contexts like we do the rest of the world-- like a mission field. The mission is now "from everywhere and to everywhere."
Now, let me make a personal comment: I think it is encouraging to see the shift in thinking about North America as a mission field. Ten years ago, this was considered controversial. Some of the voices talking about "thinking missiologically" and talking "missional" today were actually opposed to the idea a decade earlier. I'm glad that this idea has now become mainstream, but I will be "gladder" when the idea becomes a mainstream practice.
7. NAMB funding issues

Number 7 addressed issues of funding. The main question here seemed to be: are we directing NAMB funds to the appropriate locations for the best strategy?
We specifically discussed NAMB and the "Cooperative Agreements." Though most of you have never heard of these, it is these agreements that are the basis for the partnerships NAMB has with state conventions. NAMB only works in and through these "Cooperative Agreements." (More info about that in the next point.)

8. Partnerships

Number 8 addressed how partnership works. Why? Well, here is something most people in the denomination do not know: NAMB has the convention assignment for planting churches but does not plant churches. Ever. Anywhere.
Most church planters NAMB helps don't receive checks from NAMB, but NAMB helps out with their paychecks through funds sent to state conventions and to sponsoring churches. More assistance comes from NAMB for outreach and other planting startup costs. And NAMB funds pay church planter strategist missionaries who help multiple church planters in an area. Training, research and other resources are also made available to church planters through NAMB. But it's all done through partnerships that sometimes mask NAMB's involvement by the time money and resources reach the front lines. 

It's an approach that values local churches and local state conventions. You cannot talk about church planting and NAMB without talking about partnerships.
9. How we do church
Number 9 addressed the issue of HOW we do church. There seemed to be several issues at work here as I listened.
First, there was the ecclesiology question: what is a biblical church in our confessional understanding?
Second, there was the missiological question: what is the best way to plant churches that leads to a church planting movement?
Again, a personal comment. NAMB addressed the ecclesiology question years ago and has a statement on ecclesiology. Richard Harris, who is acting interim president at NAMB right now, commissioned the project.
My friend Stan Norman wrote the statement. I had the privilege of being the "editor" and argued with Stan on many occasions (something for which Stan thanked me in his ecclesiology book, so I felt good about our arguments!). I think by always asking, "what is biblical?," not just our tradition, helped shape the document.
10. Prayer/spiritual awakening
Although this was last on the list, it was not last in priority. The group was passionate about the fact that what we really needed was God's people praying for (and receiving) a fresh outpouring.
Conclusion
I emailed the (former) task force about releasing this list and how we might share it with others. I also forwarded the list to Ronnie Floyd, chair of the Great Commission Resurgence Task Force. I let him know that these were the issues we considered important as we move toward the future.
Again, thanks to the members of this task force. Although we only had one meeting, I believe that our time was not wasted--this can help inform conversations about the future and even some of the research we are doing at present.
Support our work. Subscribe to CT and get one year free.