I am on my way to Canada right now, and it reminded me of another international trip-- just a few days ago. Let me recap my Upstream Collective vision trip to Taiwan and ask you to consider partnering in mission there.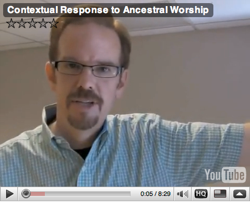 We were blessed to be able to worship with Taiwanese believers on Sunday Morning. The beauty of the church was apparent when they invited us to join them for a meal. Afterword, I interviewed Taiwanese Pastor Chen and Michael Carpenter interviewed a student who attended church with us that morning.
The next day, I related a little Chinese history to the group in front of the Chaing Kai-Shek memorial. In the back of a Taipei cab, I interviewed Marshall Dallas of Second Baptist Church, Houston. I later interviewed Los Angeles area church planter and pastor Ray Chang of Ambassador Church, an Evangelical Free congregation, about multi-ethnic church. Ray also posted about it on his blog, Transformission.
Phil and Irene Nicholson led us through a Temple as people worshiped ancestors, Buddhas, territorial gods, and idols. It was a telling illustration of the spiritual state of Taiwan. We walked through some of the rougher parts of Taipei, where we saw the trafficking of women. We were encouraged by OMF's ongoing ministry there, including work among single mothers,shopworkers, prostitutes, and the homeless.
Then we lost Rodney Calfee in the Red Light District. Literally lost him. We found him later, though, and he learned his lesson.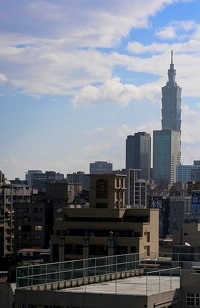 Later in the week, we heard from Robert, a Taiwanese believer who eloquently explained the need for contextualization. I then posted "Five Reasons Missional Churches Don't Do Global Missions" which was, according to one commenter, "by far the best work I have ever produced." I'll let you be the judge, but it is an issue about which I am very passionate. We need to put the "missions" back in "missional."
Finally, from atop the world's tallest building, Taipei 101, I interviewed missionary "Garth" about church planting in Taiwan.
We're thankful for several blogging friends who kept up with us during the trip. Their participation helped add a "virtual" element to the trip that allowed others to participate from home. Among the virtual trip commentators were:
Our hope for this trip is to help shape the ongoing conversation about all things missional (especially in the international context). I'm convinced that the best way to have a missional perspective here at home is to be actively engaging unreached people groups with the gospel in other places-- where it's much easier to see the need for things like contextualization, indigenous expressions of church, and biblical missiology.
I'll be leading another Upstream Collective trip, this time to London and Paris, with Daniel Montgomery of Sojourn, Louisville, in the Spring of 2010. Sign up for more information on the Upstream Collective website.
The Exchange is a part of CT's Blog Forum. Support the work of CT. Subscribe and get one year free.
The views of the blogger do not necessarily reflect those of Christianity Today.