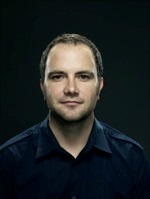 Last month I had the privilege of speaking at Mars Hill Church in Seattle. During my message, I mentioned a book by Jamie Munson Money: God or Gift as it fit into the theme of the text (stewardship). Money is always a timely subject for Americans to contemplate, but especially during the season of holiday consumption, credit card debt, storefront bell-ringers, year-end giving requests, and a recession thrown in to complicate things all the more. Just this week I pointed to some research that shows how churches are just now feeling the impact of the recession-- now that it's "over."
I asked Pastor Jamie a few questions about his book, which is available for just $5 on Amazon (print, Kindle, and discount ten-packs), and am glad to share the conversation with you.
Ed: You've described Money as Doctrine-meets-Dave Ramsey. Explain what this combination looks like.

Jamie Munson: There are many helpful books out there with some very practical advice about money. And there are many helpful books that explain money from a biblical worldview. But there aren't a lot of books that unite the practical with the theological, applying the gospel to personal finance.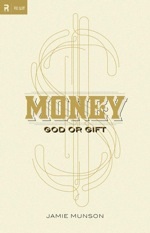 This is a tremendous oversight. Discipleship tools rarely address stewardship, yet Jesus is clear: where your treasure is, there will your heart be also (Luke 12:34). Jesus describes our money as a primary worship tool, but all too often we treat giving as optional, or at least less important than "spiritual" things like prayer, Bible reading, and service.
The church's neglect in this area has led to dismal giving across all traditions. Twenty percent of Christians give literally nothing at all, and the vast majority give very little (see Christian Smith's Passing the Plate). Makes you wonder what we're actually worshiping. Money is a god. Jesus even gave it a name (Matthew 6:24).
Let's talk about the other option that you reference in your subtitle: money as gift.
Sure. When it comes to something like money (or sex, or music, or technology), Christians have a tendency to reject it altogether, as if the thing itself were inherently evil. Money is not the problem. We are the problem. Sin is the problem, and we need Jesus. By his grace we are saved, and by his grace we've been given lives to live, people to love, and work to do. As a tool, money is a great gift to use for advancing the gospel, caring for those in need, and enjoying the life God has given.
The story behind the publication of this book is rather unique. Tell us how it came about.

We're going through the book of Luke right now as a church, and in chapter 12 Jesus teaches a lot about money and stewardship. I set out to write some basic curriculum for our small groups to dig into this particular passage, but the project grew quite quickly and we had a full-length book in a matter of weeks. We printed it ourselves in order to push it out as quickly as possible and keep costs low. While we were at it, we decided to put it up on Amazon in hopes that the content could help other churches. I'm not taking any royalties on this, so we're able to sell it for extremely cheap at $5 per copy.


Is the content specific to Mars Hill Church, or could other churches benefit from this book?
Most of what we create for Mars Hill we also try and push out for the benefit of the greater church, so this book was written with that broader audience in mind. The format is very simple, with concise chapters, straightforward discussion questions, and a few practical tools and charts. Our small groups went through the whole thing in three weeks, but it could easily be used for counseling, couples, or individual study. Even though we're past Luke 12 in our sermon series, we'll continue to hand the book out for free to our congregation because the content remains timely.
Can you tell whether or not the book has had an effect on the congregation so far?
I've talked with a number of people who were pretty honest about their resistance to the idea of a three-week mini-series about money. We're seeing God change hearts. This is the first year in memory that we're on target to make budget by the end of the year, and the number of givers was up 30 percent last month--which is especially encouraging because that means more people care about the mission and what God is doing through their church.
Today is payday for a lot of people around the country. Where should their money go?  
The important thing to remember before divvying up your paycheck is that it is a gift from God, and he will hold you accountable for how you use it. That doesn't mean you have to give all your money away, although I would encourage you to give to your church before you do anything else with it. Pray. Ask the Holy Spirit for the wisdom to steward God's resources well. And then give, save, spend, invest, and enjoy in a way that honors God. If you're not sure what that looks like, I would hope that my book could be of some help, but read Proverbs. Read Luke 12. Bring it up in your community group. Talk with your spouse. Let's not be afraid to discuss money. The heart of the church is at stake.
Find Jamie Munson on Twitter and Facebook. You can download a free chapter and read excerpts from Money: God or Gift at theResurgence.com.
The Exchange is a part of CT's Blog Forum. Support the work of CT. Subscribe and get one year free.
The views of the blogger do not necessarily reflect those of Christianity Today.