Thanks to Bruce and Heather Moore for their December 2 post on church revitalization.

Next week, Linda Bergquist will share on the suburbanization of poverty.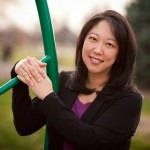 Today's guest post in the Thursday Is for Thinkers series comes from Helen Lee, author of The Missional Mom: Living with Purpose at Home and in the World. Helen served as co-editor and contributor of Growing Healthy Asian-American Churches (IVP, 2006) and has written numerous articles for publications such as Christianity Today, Leadership Journal, and Today's Christian Woman.
I reached out to Helen when I saw her book was coming out to encourage her and learn more about the book. Sometimes it feels that some want to limit the missional conversation to alternative communities in gentrified cities. I don't. I want all kinds of people wrestling with what it means to live on mission and I am particularly interested in highlighting those new voices in "Thursday is for Thinkers." Now, Helen is not really a new voice, but she may be new to many of you.
Here is Helen:
Back in the warm summer days of July, New York magazine posted an article entitled, "All Joy and No Fun: Why Parents Hate Parenting", an examination of the current emotional and mental state of today's parents who were depicted as being harried, frustrated, and unfulfilled by the challenges of raising children. Not long afterwards, two Christian mommy-bloggers posted the article on The Mommy Revolution, resulting in scores of other Christian mothers chiming in with their own stories of frustration and weariness at the daily burdens of motherhood. "I just told my husband how unhappy I am," one commenter wrote. "I'm empty, exhausted, and fried."

Motherhood can absolutely be a draining role, one that by necessity requires constant sacrifice, never an easy thing. And yet, I wonder if the reason that today's Christian mothers experience life as being burdensome and unfulfilling is because they have misunderstood the purpose of their lives, and how motherhood fits into that purpose to begin with.

When I first became a mother nearly a decade ago, as much as I loved my newborn baby boy, I also wrestled with a constant stream of internal questions: was motherhood supposed to be my highest or only calling? What was I supposed to do with other gifts and callings God had given me? Was asking these kinds of questions evidence that I was a bad Christian mother? Was I instead supposed to be wholeheartedly embracing motherhood as the cornerstone of my identity and the recipient of all my energies?

For the past year and a half, I've been pondering these questions. I've specifically wondered whether pursuing a missional lifestyle could be the key to helping mothers regain a sense of perspective and purpose in their lives. I spoke with about 40 different mothers whose lives reflected a missional perspective, who lived with a strong sense of purpose and with the intentional desire to impact the world in whatever way God had called them. They were women who clearly took their roles as mothers and wives seriously, but they also kept those roles in the proper perspective, under God's lordship and direction for their lives.

For example, take Tonya Herman. She is a mom with two kids who lives in Compton, CA, someone who loves and ministers in her city despite its negative reputation, and who opens her home to two teenage boys from a local family, so the boys can have a chance at academic progress and success. Or Shayne Moore, a Wheaton College graduate and suburban mom of three who went to hear Bono speak at Wheaton's Edman Chapel one evening and was forever changed to make a difference in the battle against HIV and AIDS. Or Arloa Sutter, a mom who raised two daughters in the city of Chicago, and who responded to God's call to reach the homeless and poverty-stricken men and women around her. She started by mobilizing her church to serve coffee to those in need, a ministry which became Breakthrough Urban Ministries and which now runs two shelters serving thousands of homeless people every year. If you meet women like this, you discover that while motherhood can indeed be exhausting, life as a mom can still be exciting and fulfilling as you pursue God's calling and purpose in your life.

North Park University professor and popular blogger Scot McKnight says that "women have done the bulk of the ministry in the West for a long, long time. Mothers are typically the most missional people in the church." The more I began to interact with missional moms, the more I discovered that motherhood was not a phase in one's life that you had to just tolerate and survive. A missional mom is no less tired at the end of the day than other moms. But she goes to sleep knowing she has pursued God's mission for her life and made an impact in the world. And that is what makes all the difference.
Although Amazon says it releases tomorrow, The Missional Mom is actually available for purchase here at Amazon. (Yes, I did time this to help get the word out about Helen's book.) Helen will be checking in today, so feel free to interact.
The Exchange is a part of CT's Blog Forum. Support the work of CT. Subscribe and get one year free.
The views of the blogger do not necessarily reflect those of Christianity Today.