There has been much discussion about the ministry and the toll it takes on leaders and families. Christianity Today has a helpful article reflecting on John Piper's recently announced leave of absence. Collin Hansen wrote:
Pastors, even if they do not aspire to Piper's level of influence, easily fall into exhausting patterns of study, counseling, meetings, and visitation that jeopardize time alone with God and with their families...

But local church ministry is hardly the only vocation prone to overwork. Teachers, farmers, doctors, lawyers, small business owners, and middle managers alike feel the strains of labor that threaten family and spiritual life. Still, the threat becomes that much more dangerous when we work unto the Lord in taxing jobs where the cause seemingly justifies the means. Who has time to read the Bible, pray, listen to our friends, and care for our children when there's kingdom work to be done?...

Even during the busyness of this Lenten season, though, we might follow Piper's example and pause to examine the toll of our toiling and the state of our souls. Does our work truly point others to the power of Christ? If not, it may draw attention to the one who plants and waters, not the God who gives the growth (1 Cor. 3:7).
Rick Warren (in this week's Toolbox) asks "Are you working harder than God intended?":
My experience is pastors tend to overwork when they assume extra hours make them more effective in ministry. That's simply not true, and this misguided notion can actually keep others in your church from developing into mature Christian leaders.

I know how it is, when you get frustrated with the way things are going, you tend to want to control everything. It is human nature but it isn't the way God wants us to operate. It turns your ministry into one of those "whack-a-mole" games. The moment you whack down one problem, another one pops up. It's never ending.
Both the Rick Warren article and the the CT story quote some of our LifeWay Research data that I cited in an earlier post. I'll summarize some of that content...
A new study coming out of Lifeway Research shows that "Protestant pastors in America are working long hours, sometimes at the expense of relationships with church members, prospects, family and even the Lord." You can read the whole article here in Facts & Trends.
Here are some of the numbers. See the article for the full story. Feel free to download and use the graphics in your blogs and publications to help people understand what pastoral work and leadership often looks like. My hope is that it will help more pastors (and churches) achieve better balance.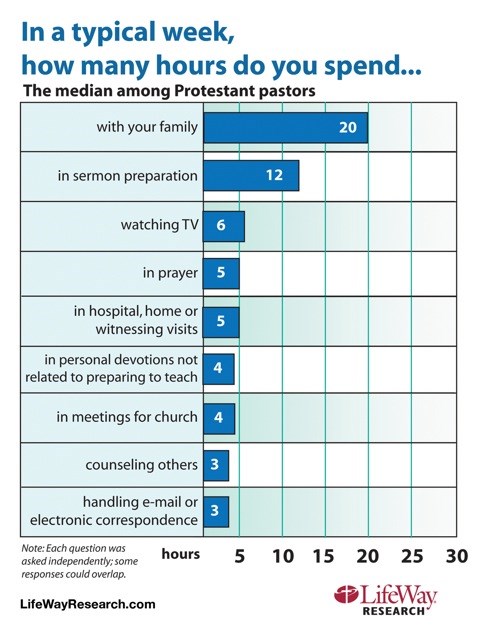 The data points to some interesting work patterns. 65 percent of pastors surveyed work 50 or more hours a week, with 8 percent saying they work 70 or more hours. "Meetings and electronic correspondence consume large amounts of time for many ministers, while counseling, visitation, family time, prayer and personal devotions suffer in too many cases."
From the article:
Time with family rates as a priority for many pastors, but some find alarmingly little opportunity to be with their spouses and children. While 30 percent of the pastors report spending 20-29 hours with their families each week - and 16 percent indicate spending 40 or more hours with them weekly - almost 10 percent say they spend nine hours a week or less with family members. At the same time, 24 percent say they watch 10-14 hours of television each week, and 13 percent put their TV time at 15 hours or more.

The amount of time spent in prayer and personal devotions raises questions about the vitality of many pastors' spiritual lives. While 52 percent report spending one to six hours in prayer each week, 5 percent say they spend no time at all in prayer. Furthermore, while 52 percent say they spend two to five hours a week in personal devotions unrelated to teaching preparation, 14 percent indicate they spend an hour or less in personal devotions each week.
I committed to travel less in 2010 and take my family with me more. That's a good start for me. But, the Lord also prompted me to ask some questions and make some adjustments in my own life.
Yesterday, as I talked to several small church (and bivocational) pastors, they shared the same concern-- the need for better "self care."
How do you handle rest and margin in your own life?
The Exchange is a part of CT's Blog Forum. Support the work of CT. Subscribe and get one year free.
The views of the blogger do not necessarily reflect those of Christianity Today.