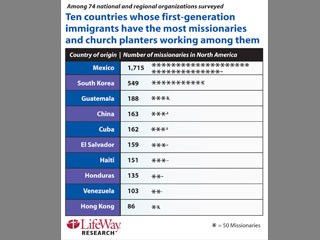 LifeWay Research recently released a study in conjunction with the North American Mission Board. We found that while ministries across North America are having some success in reaching first-generation immigrants, there is still much work to be done.
You can read the story here in Facts and Trends Magazine.
The research looked at what God is doing among certain first generation immigrant groups:
The 74 Christian organizations included in the study have 3,757 missionaries and church planters working among first-generation immigrants...

Participating organizations report having the highest number of first-generation immigrant believers from Mexico. The next highest numbers of believers involved in their churches or ministries, in descending order, are immigrants from Haiti (a distant second), South Korea, Cuba and China.

Survey respondents were asked to indicate, by country, changes in the number of immigrants involved in the organizations over the last year. On a scale of one to five, with five representing a "10 percent or more" increase in participation and one being a "10 percent or more" decrease in participation, the mean response was 3.4 or just more than "about the same." Only Myanmar's, Vietnam's and Cambodia's immigrants average at or above "more total participants than one year ago."
We were able to look at some interesting information about how receptive and responsive these groups were. For example:
Significantly, despite the slow growth of immigrants participating in these organizations, respondents said that overall, immigrants from most countries are considered somewhat receptive to the gospel. Receptivity was defined as the speed and ease with which someone who hears the gospel responds with belief and repentance. Again using the five-point scale, with five being "very receptive" and one being "not receptive at all," the mean response was 3.4.

Immigrants from Ecuador, Guatemala, Liberia, Honduras, El Salvador, Myanmar, Brazil, Costa Rica, Kenya and Mexico appear most receptive with an average response of 4.0 or higher.

Surveyed organizations currently minister to immigrants from 151 of a possible 202 countries considered in the analysis...
This kind of exploratory study can help churches and denominations stategize in reaching people groups and population segments. Christianity Today included some of the data in their recent magazine.
We appreciate the fact that the North American Mission Board allowed us to share this data with all the participating denominations (and now you) to help bring a sharper focus and clearer strategy on people group work in North American.
Facts and Trends has asked me to be a contributing editor. Each issue will include commentary by Thom Rainer and me. Thom's article is here (he is on the front inside cover) and mine is here (I am on the back inside cover). The placement speaks well of our organizational wisdom. ;-) My column specifically addresses the need for more diversity in our ministry and denominations.
I have written a commentary on this in that issue. It is geared toward my denominational family, as such I have cross posted it at Between the Times, where I blog on denominational issues. Be sure to check it out.
The Exchange is a part of CT's Blog Forum. Support the work of CT. Subscribe and get one year free.
The views of the blogger do not necessarily reflect those of Christianity Today.