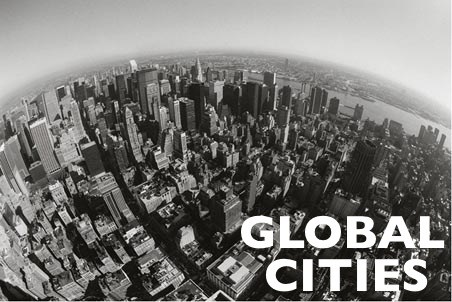 A "global city" is a large urban center that exerts great economic and cultural influence beyond its own region.
Wikipedia explains it this way:
A global city (also called world city or sometimes alpha city) is a city deemed to be an important node point in the global economic system. The concept comes from geography and urban studies and rests on the idea that globalization can be understood as largely created, facilitated and enacted in strategic geographic locales according to a hierarchy of importance to the operation of the global system of finance and trade.

The most complex of these entities is the "global city", whereby the linkages binding a city have a direct and tangible effect on global affairs through socio-economic means. The terminology of "global city", as opposed to megacity, is believed to have been coined by the sociologist Saskia Sassen in reference to her 1991 work, "The Global City: New York, London, Tokyo" though the term "world city" to describe cities which control a disproportionate amount of global business dates to at least May 1886 to describe Liverpool by the Illustrated London News.
In fact despite their different histories and cultures, global cities often look more like one another than their respective countrysides. In "Our New Global Culture: Ministry in Urban Centers" Tim Keller explains that Global Cities "are becoming more alike and connected to one another than they are to the rest of their own countries. For example, New York and Los Angeles have become far more influential in forming the culture of teenagers in rural Indiana or rural Mexico than the national or local governments.
The reason many of us believe it is so critical to strategically target global cities with the gospel is because as our cities go, so goes the rest of the world. The greater impact the gospel has there, the greater impact it will have throughout the world. If you are not serious about cities, you are not really serious about missions. Cities are not the only place in the world, but any serious missions strategy must include a city emphasis.
Church planting efforts that target such cities include Redeemer Presbyterian's City to City and the SEND NYC movement. SEND NYC is working to plant 100 gospel-centered churches in the New York City area by December 2020, while mobilizing and equipping leaders to plant gospel-centered churches around the globe.
From the website:
SendNYC has been established for the exclusive purpose of seeing gospel-centered churches planted in the New York City area. Believing that Jesus has established his Church as the ultimate means of personal and societal transformation, SendNYC's long term goal of having a noticeable impact on the city will be realized when Jesus' Bride is thriving and healthy. In order to see its long-term vision realized, SendNYC will focus its efforts on the mobilization and equipping of hundreds of leaders. Ultimately SendNYC will be supported through a broad coalition of churches, institutional and denominational partners, under the direction of a board of directors, all working together to accomplish our common vision.
Here you can see Aaron Coe, Manhatten church planter and the head of sendNYC, discussing the strategy of planting churches in global cities.
Jet Set London // Aaron Coe from The Upstream Collective on Vimeo.
We have spent the week in London and are now in Paris as we work with local leaders, pastors, and missionaries about church planting in these global cities. Feel free to post your interest below or send me a Direct Message via Twitter and we will get you some information. Let's plant some churches in London and Paris!
The Exchange is a part of CT's Blog Forum. Support the work of CT. Subscribe and get one year free.
The views of the blogger do not necessarily reflect those of Christianity Today.