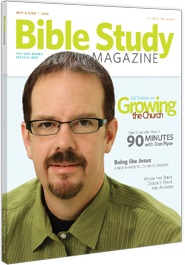 Bible Study Magazine is a non-denominational publication that works to provide readers with tools and methods for Bible study, as well as insights from respected Bible teachers, professors, historians and archaeologists. The content is diverse, always interesting, and helpful. I was recently interviewed for the magazine and am allowed to share a few excerpts below.
I was asked the following questions for the interview:
Why is reading and studying the Bible important for you personally and for Christians in general?
How do you read the Bible?
What is something that is surprising about your Bible study habits?
What about memorizing Scripture? How important is that?
How can pastors better encourage people to read the Bible more consistently?
Why is it so hard for people to read the Bible?
Can you give us an example of digging deeper into the Old Testament?
You have written about some of the challenges in churches today. How do you think Bible study relates to that?
Excerpts from the interview:
On why reading and studying the Bible is important for Christians...

Stetzer: I think right now we're in a season where a lot of people are realizing that we aren't making as many disciples out there as we would like. Our LifeWay Research studies show a lack of discipleship among many evangelical Christians, and so people often wonder, what's the answer to that? Issues such as preaching, missional living, and belonging to a covenant community are all part of the solution. But I think there's no question that an essential element is leading God's people to consistently engage God's Word through reading, studying and memorizing it. Biblical illiteracy is prevalent and personal commitment to God's Word is the only real answer.

Church leadership must challenge people to be in the Word of God--consistently growing in their knowledge of the Scriptures.

On reading the Bible:

I also try to read the Bible in the way it unfolds. The Bible is not a series of isolated morality tales. Instead, look at it as a whole through a Christ-centered lens, and as an unfolding drama. I read the Scriptures with the whole story of redemption in mind. Look at it as a series of acts that are God centered-- focused on His redemptive plan.

On preaching to encourage Bible reading:

Stetzer: I use video projectors and screens when I preach, but it is essential for people to grow accustomed to opening their Bible and finding the passages related to the message.

Also, preach the way people read the Bible-- moving through the text. I am not one who believes that the only biblical form of preaching is verse-by-verse exposition. ... But I do preach a majority of the time through texts... because it best reflects the way I hope believers will study the Scriptures.

Let me say to my friends who preach topically ... I do it regularly. I have no difficulty with that as long as you are letting the Word of God set the agenda and you are not finding a topic and squeezing a few passages in to match your opinion. Teaching people to study the Bible is not a game of bobbing for apples where you just stick your head in, clench down with your teeth, and take whatever comes out. That type of study or preaching teaches people to be irresponsible with the Scriptures.

BSM: Why is it so hard for people to read the Bible?

Stetzer: I regularly hear of people who would rather read devotional books than read the Bible. Now I understand that when you begin wading through Leviticus and come to the chapter on identifying and treating skin diseases, it doesn't exactly bring great joy and warmth to the heart. But we need to remember that even that passage plays a part in the unfolding plan. All parts of the Bible are equally inspired, but not all are "equally applied to my life in this very moment. ... One of the things I do is make it a habit to read through the Bible once a year. If I simply read the parts I think I need the most, I will miss a big part of God's design for my growth. ... I think [Christians] just can't figure out a lot of what's in the Old Testament, so they just skip it. But it is essential for believers to get the full picture of God's revelation.

BSM: You have written about some of the challenges in churches today. How do you think Bible study relates to that?

Stetzer: I think there are some big challenges. One of the greatest is the Evangelical angst occurring in North America. Evangelicals in our country are just not sure of who they are or where they're going. I think they need to engage the Scriptures to find the answers.

Perhaps what Evangelicals need most right now is a strategy for biblical literacy. We need to get--as one organization is named--"back to the Bible." It will help us be more gracious and winsome in the way we communicate, and some evangelicals need that.

It could help some Evangelicals have a clearer view on controversial issues. It will help us to understand and communicate a clear gospel as laid out in the Scriptures--a gospel of the cross and of the kingdom.

The Word of God is essential to where we are right now.
Go ahead and check out the website, and if it sounds good to you, subscribe.
The Exchange is a part of CT's Blog Forum. Support the work of CT. Subscribe and get one year free.
The views of the blogger do not necessarily reflect those of Christianity Today.