Thanks to Angie Bauman for her recent post on Research on Evangelistic Youth Ministries.

Next week, Trevin Wax will be stopping by the blog to lay out his vision for the new curriculum line coming up at LifeWay. I introduced Trevin a few weeks ago, and I'm glad that he has started in his new role.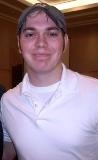 Today's guest blogger is Joshua Simpson. When I started this series, I asked my readers for any suggestions that they might have for "Thursday Is for Thinkers," which is how I came into contact with Joshua, a pastor and church planter with the Assemblies of God. He suggested that we discuss the issue of bivocational ministry -- a topic that has become considerably more relevant in the current economic situation. I was glad to have Joshua write more on this and contribute to the series. I am sure that many of my readers can identify with this, so feel free to discuss. Joshua will be checking in today to interact.
The Modern Tentmaker: The Challenges of a Bi-vocational Pastor
Bi-vocational ministry is as old as the New Testament church, yet it continues today. The bi-vocational pastor might be found in a small rural church, an urban church plant, a house church, or even on the staff of a large church. The term simply means fulfilling the dual role of a worker outside the church and as a minister inside the church. For example, although many churches can afford a paid, full-time lead pastor, those same churches cannot afford the supporting full-time staff such as worship leaders, children's and youth pastors, and the pastor must work to supplement his salary.

Even if the church can afford a full staff, the Wall Street Journal ("Joblessness Hits the Pulpit," May 17, 2010) points out that large churches are not immune to layoffs in this tough economy. Supporting pastors who rely only on a salary have received cuts in pay and benefits. Due to a lack of attendance and donations (tithe) many churches are forced to terminate members of their staff; and most churches do not offer a severance package or unemployment benefits. In 2009 the government counted 5,000 clergy looking for work. Having the skills to work in a secular profession can be a valuable safety net to have in case of a ministry layoff or pay cut.

Thus it is necessary for some pastors to be bi-vocational. In addition to being a missionary/pastor the Apostle Paul was a tent-maker. He was able to preach the Gospel without charge, while admitting he had every right to a minister's salary (1 Corinthians 9:14). Working a secular job does present challenges to the pastor's time, priorities, and the constant balance of ministry and work. However, with godly wisdom he should be able to overcome these obstacles to have an effective ministry.

The biblical job description of a pastor includes the "equipping of the saints" (Ephesians 4:11, 12). However, the modern pastor seems like the CEO of a company. He is responsible for church growth, dynamic teaching and discipleship, mentorship, visitation, etc. With a limited amount of time each week it becomes necessary to prioritize his duties. Matt Smay and Hugh Halter, bi-vocational pastors and authors of AND: The Gathered and Scattered Church, found they only had two days a week for ministry. They spent it investing in leaders and the un-churched, i.e. "equipping the saints" and helping others on their journey to discipleship. I think this is the right idea. The pastor is equipping the church not only to fulfill the Great Commission, but also to take up responsibility and ministry in the church. Delegating ministries and responsibilities will free the pastor to accomplish his goals without the additional stress of unnecessary tasks.

To constantly juggle a job, a church and a family is an admirable feat. It requires the support of a loving church and their understanding of the sacrifices involved. Because of the work for the Kingdom the pastor is entitled to every liberty given in 1 Corinthians 9: "to refrain from working" (secular jobs) and "to reap material things". But quite honestly he just wants an income that will be able to provide for his family. The other job is not the pastor's career, but a means to support his ministry. It is a way to ensure that his family is provided for and financially secure. It is not a distraction, but an opportunity to have other means of honest employment and also engage the culture in a way he wouldn't be able to from a church office.

Pastors cannot help but preach! It is what God has called them to do whether they get pay and benefits or nothing at all. It is a "stewardship", a mandate given to them by God to fulfill at church and the secular workplace. In the church setting, the pastor's ability to prioritize his tasks and delegate others to a supportive congregation will help him use his time effectively to fulfill his bi-vocational mandate. And he will be following in the footsteps of many great men of God, from the Apostle Paul to those pastors already filling the dual roles of ministry all across America.
The Exchange is a part of CT's Blog Forum. Support the work of CT. Subscribe and get one year free.
The views of the blogger do not necessarily reflect those of Christianity Today.