I've had city research on the brain lately. Yesterday, I did a conference call with the Mission America Coalition on city-reaching research. You can listen to the conference call here.
When I was recently in NYC, I talked briefly with Chris Clayman. I first ran across Chris (to the best of my recollection) while LifeWay Research was doing research on the receptivity of first generation immigrants (click here for blog post and news story). He shared information about his new book.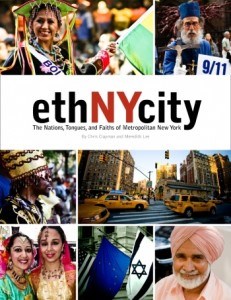 ethNYcity: The Nations, Tongues, and Faiths of Metropolitan New York, written by Chris Clayman and Meredith Lee, is (to my knowledge) the first book of its kind in North America. Featuring 82 attractively designed profiles on the most significant immigrant groups in Metro New York, the book is narrative, research, and art. It is available for purchase at www.ethnycitybook.com. It is worth your time-- so I asked Chris to come by the blog and talk about it.
Ed Stetzer: What was the motivation for doing this project?

Chris Clayman: When health conditions prevented me from moving back to a Muslim country in West Africa, my family moved to New York City to work among West African Muslims here. I was amazed at how many Muslims, Jews, Hindus, Sikhs, etc. were in New York and how few Christian workers there were among them. The lead missions strategist for the Baptist Convention of New York at that time, Brad Veitch, had also led missions efforts among Muslims in Africa, and was determined to "reduce lostness" among the peoples of Metro New York. As he interacted with other denominational and mission leaders, he realized that no one really had a comprehensive view as to which ethnic groups were in New York and he asked me if I would be willing to lead this research.

Much of the church planting done among the ethnic groups of Metro New York had been done on a reactionary basis, with a certain passionate Christian approaching a denomination or mission board to ask for assistance in starting a church among his/her ethnic group. Most of these churches were started among Christian-background immigrants and the denomination or mission board felt satisfied that they were expanding the ethnic diversity of their outreach. While these churches were needed, our impact on "lostness" was only occasionally a byproduct of starting these churches. We did the research on the ethnic groups of Metro New York because no one else, Christian or otherwise, had given a comprehensive view of who was here, what they believed, where they lived, and what the status of Christian was among them. Now that we have obtained this information on 82 of the most significant immigrant groups in Metro New York, even if it is just a snapshot, the awareness creates a sense of responsibility for the church to respond with strategic prayer, evangelism, and church planting.

ES: What did the process look like in researching these ethnic groups?

At first I tried doing all of the background research and interviews myself, then quickly realized I could never finish the research that way. God brought some key relationships our way that enabled us to complete the task. A renowned sociologist in New York who studies religion mentored me through the process and I established an ongoing relationship with a couple of Christian universities who regularly sent students to research for us. We found that students were very effective researchers because New Yorkers value education and would often take time out of their busy schedules in order to contribute to education.

I would give the students all sorts of background research taken from New York Times articles, ethnographies, etc. that I had obtained, along with GIS maps that I created from Census information-if it existed for the group-that highlighted the major streets and neighborhoods where they resided in the city. In roughly two weeks, a team of two to three people for each group would conduct multiple interviews with religious leaders, secular association leaders, and everyday people from their ethnic group. They wrote out full transcripts of their interviews and I met with each team every two to three days to make sure they were obtaining all of the information needed and that it was accurate. We had to work real hard to get the necessary interviews with the important leaders who possessed the macro information needed, and we balanced this with colorful interviews from everyday people who reveal what life is really like for their people in Metro New York. Once we were all satisfied with the research and convinced that no gaping holes existed, we compiled what was sometimes a couple hundred pages of notes on a given ethnic group into a short profile that would be engaging for the everyday reader, but also have vital information needed for mobilization. We also created a comprehensive list of ethnic events and festivals in Metro New York-which was quite a task-so our photographers' work would be a little easier.

For those interested in doing this sort of research in other cities, how would you suggest they get started?

I think it starts by simply looking for them! I cannot tell you how many people come up to me and say, "I never noticed this store, or this person, on my block, but now..." I would start off by creating a list of some of the ethnic groups you perceive to be in your city. I would then go to peoplegroups.info for the quickest way to gather Census information on foreign-born groups in your area. Usually there are certain neighborhoods or towns around a city that are known for being immigrant areas. Start off in those areas and observe what stores and restaurants exist on the major commercial streets. Strike up conversations with people about items in their store or things you notice in the neighborhood, and move the conversation towards finding out where the people are from and hearing their stories. Once rapport is gathered, which might not even take place for another visit or two, you can ask about more serious issues such as religious beliefs.

It is crucial for obtaining macro information, such as population estimates, migration waves, religious adherents, etc., to interview the leaders of ethnic and religious organizations in your area, or national representatives for the ethnic group. These interviews are harder to obtain, and setting these interviews up was the beginning priority for our researchers. We often found names of organizations and leaders on the internet and became quite adept at finding out all sorts of information through google searches. It was scary what we could find. There was one ethnic group that published online all the names, addresses, and contact information of everyone in their one thousand member ethnic association! ...we used it. I would also obtain whatever resources you can from those who have done this in other cities. I would be glad to pass on any forms and resources we have developed in doing this research to those interested. You can email me at chrisclayman@ethnycitybook.com.

ES: What are some of the conclusions of your research in regards to the state of Christian witness of immigrant groups in Metro New York?

CC: I was a missionary in one of the least developed countries in the world in West Africa, in both an urban and rural setting. Through my knowledge of missions overseas, and after doing this research in New York for four years, I have been shocked at the following reality. For many of the ethnic groups in Metro New York, and I would say North America as a whole, American Christians are twenty to thirty years ahead overseas in reaching them compared to where we are at in doing so in our own homeland. For starters, we do not even know who is here. One can travel to the Himalayas and find that American Christians know who is there, what the status of Christian witness is among the different groups, and even have strategies and personnel in place to reach them. We have churches that have adopted these groups and take several trips a year to visit them. All the while, we are unaware that representatives from the same ethnic group have moved to places like New York in great numbers, have great influence over their network back home, and even drive the taxis American Christians get around on while on vacation.

New York City proper is the largest Jewish city in the world. Sometimes the largest concentration in the world of a given Jewish ethnic group lives in New York, yet there are no workers focused on reaching them with the gospel or there are no fellowships of believers started among them yet. There are around 800,000 Muslims in Metro New York and only three churches exist in which at least around one-half of the members come from a Muslim-background. Even with all of the exposure New York City has received since 9/11 due to Arab Muslims, no one has attempted to start a church among the Arab Muslim population here in over 15 years! Maybe part of the reason we are not good missionaries in our homeland is that it is more difficult to do so. It is one thing to immerse yourself in an ethnic group's culture overseas when you are surrounded by this ethnic group, but quite another to become very involved in this ethnic group's culture in America, where your own culture vies for your allegiance.

Also, in places like New York, where multiculturalism is trendy, churches are more apt to desiring a church that "reflects heaven," with representatives from all nations, than they are to strategically engaging a specific ethnic community with a strategy that makes the gospel accessible to a large number of people within that culture. When our desire is only for a multicultural church, without an expression or strategy to engage the different language groups and cultures around us, we can only hope to attract those on the fringe of their own people or those who have some alternative layer of identity in common with those in the church (e.g.., urban professional). Unfortunately, among some ethnic groups in Metro New York, such fringe people do not even exist, so they are altogether ignored. One large church in New York had some Muslim-background Christians who often set up a table in the church to provide resources for the Muslims that came into the church services to investigate Christianity. The leadership of the church made the people stop setting up the table, because, "Our church does not target any group. All people are treated the same in our church." As a result, the Muslim inquirers no longer have direct access to resources that speak to their needs and answers the questions they ask.

What do you think it will take to reach the unreached and least-reached ethnic groups of urban North America?

First of all, we have to know what groups are here and where they are living. Once that information is obtained and made known, networks of groups that are already engaged with those groups overseas can be contacted and local churches can be mobilized to engage them as well. However, reaching these groups in North America is different than reaching them overseas. The process of immigration and the context of where they live changes their identity, sometimes ethnically, sometimes religiously, almost always economically. With these changes come a different worldview which requires new, or at least adapted, strategies to reach them. One usually has to be more proactive in North America to reach these groups, because the ethnic groups might be somewhat "hidden," and they might be suspicious of those not in their existing network. Overseas, in some settings just being American can be an "in" into society, because of what the society thinks that they can receive from the American monetarily. Most areas of the world are more conducive to relationships than North America, and finding time to just "be" with people is more difficult here and takes more creativity and planning. Churches will need to start thinking beyond their own programs and structure and go to where these groups are living, working, or playing.

I think that the immigrant and 2nd-generation churches will play a vital role in reaching out to other immigrants. We are already seeing in places like New York, that vibrant college ministries and missions mobilization courses like Perspectives are dominated by Asian-Americans. Hispanic groups are becoming increasingly evangelical in North America and might be best-positioned culturally and occupationally to reach out to Muslim immigrants in the cities. I try to point out some of these relationships in the book.

Almost all cross-cultural missionaries in Metro New York are immigrants themselves or were trained to be missionaries overseas. We have to start raising up and training cross-cultural missionaries within North America. This will require structural changes in our way of thinking, our mission boards, and in our churches. Christians also need to intentionally move back to cities to influence media and the general culture of North America. Evangelicals have largely retreated from cities in the last few decades, and our voice in society has lessened as a result.

Finally, North American Christians need to do better at recognizing waves of immigration of different peoples and deploy people immediately to them. Most people switch religions during a time of dissonance in their lives. Immigration, usually motivated by some traumatic event, whether political, religious, economic, or social, inherently creates a stirring in individuals for something new and different. That is why they move! This window of opportunity is usually very short, maybe one or two years, before an immigrant starts settling into their new identity in North America. When Jews from the former Soviet Union migrated to New York in large numbers in the 1980s and 1990s, they were largely blank slates religiously due to the influence of communism. Many looked forward to becoming more religious in America and were open to suggestions. One pastor in Brooklyn was ready for this, and baptized over 600 Jews in six years. Most everyone else responded to the immigration too late, and the window of opportunity had already passed.
The Exchange is a part of CT's Blog Forum. Support the work of CT. Subscribe and get one year free.
The views of the blogger do not necessarily reflect those of Christianity Today.