Two times in the past I asked for your help deciding on a cover for a book. The last time was in 2008 when you helped me chose a cover for Lost and Found. Both times was fun and helpful, so I thought we'd do it again.
My next book, The Subversive Kingdom, is due to come out in early 2012. Here's a description.
The Subversive Kingdom tells the biblical story of the arrival and triumph of the kingdom of God. His kingdom broke into our time and space when Jesus, the conquering King, appeared as a baby in Bethlehem. He was born in obscurity to humble parents and raised as a son of carpenter. His kingdom subversively works to overcome the darkness of our age. Victory for this kingdom comes through death and resurrection of the King.

The kingdom of God is a radical rejection of every value or point of view that keeps people in bondage to untruth and blinded to Christ's mercy. It is a refusal to classify any person as being expendable or beyond reach, an unwillingness to view any situation as something that cannot be transformed and infused with hope. It means knowing that while not everything will be made perfectly right on this earth or in this era, we have opportunities to witness the kingdom's reality this week on every street, in every neighborhood, and in every nation of the world.

The people of God--undeserving recipients of God's forgiving grace--are called to be active participants and agents of change under the rule of our Lord and King. What Jesus visibly displayed through his own unexpected, unconventional emergence into human history, we can now see happening in miniature in our own lives when we--his people, his kingdom agents--act under his orders in the everyday places we're called to occupy.

We too are avowed enemies of Satan's oppressive rule, unapologetic warriors against all he stands for and every injustice he foists upon his unsuspecting subjects. But the ways God wants us to show our allegiance to him and to his kingdom are primarily under the radar and out of sight, composed of small measures that mask an enormous significance. Instead of overwhelming the world with the might of our arsenals and arguments--a "shock and awe" approach designed to undermine the enemy's will or ability to resist--God leads us to a very different way of living and thinking.

We are compelled by our rescued condition to become agents of "rebellion against the rebellion," working intentionally to subvert the devil's claim to authority over individual lives. We live and are sent to penetrate the kingdom of darkness by proclaiming the gospel and demonstrating kingdom goodness, love, and power to our neighbors, who live overwhelmed by the effects of darkness all around them.
So here's the deal. we're trying to decide between the two covers and which subtitle to use. In the comments let me know which cover and which subtitle you prefer. Yes, you can mix and match and even suggest alternatives.
Cover 1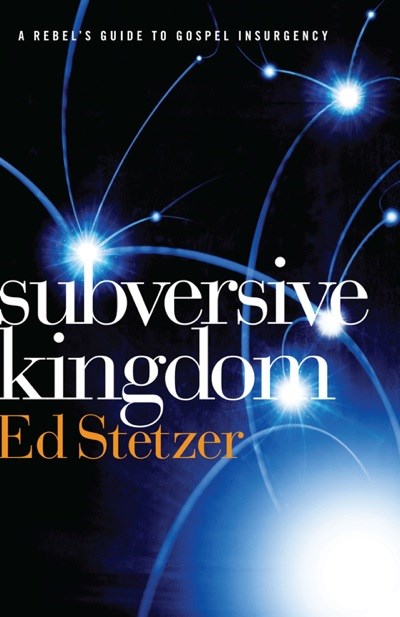 Cover 2
Tagline 1
"A Rebel's Guide to Gospel Insurgency"
Tagline 2
"Living as Agents of Gospel Transformation"
Leave your choices below in the comments. If you don't like either, feel free to make suggestions that are helpful!
The Exchange is a part of CT's Blog Forum. Support the work of CT. Subscribe and get one year free.
The views of the blogger do not necessarily reflect those of Christianity Today.