"It's not about you. The purpose of your life is far greater than your own personal fulfillment, your peace of mind, or your happiness," wrote Rick Warren in The Purpose-Driven Life.
We are created for a purpose. So, books like The Purpose-Driven Life are answering a question that people are asking-- perhaps that's why The Purpose-Driven Life became the best-selling hardback book ever printed in the English language (other than the Bible). It answered a question that people ask often.
As believers, we know this and live this. However research released this week again shows that one out of every four people do not feel there is an ultimate purpose or plan for every person's life. USAToday cited our research about these "so what?" people-- those who do not care or think much about spiritual issues. They are real and I think they are a growing minority.
However, this research also reminds us that many people are asking questions that can become bridges for gospel communication. The standard evangelical "pick up line" for the last few decades has been, "if you were to die today, do you know for sure if you would go to heaven"-- and many people do ask that (and more need to ask that). Yet, one of the big surprises of the study was not just that most people are not asking the question, but the difference between the numbers over the last five years.
Some are asking questions about heaven:
Just 8% say they wonder about heaven every day
While 46% say they never do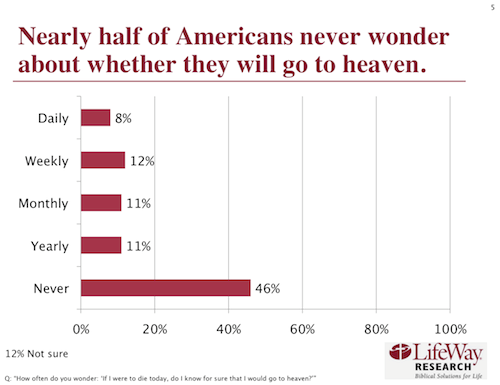 More are asking about meaning and purpose:
The percent wondering about meaning and purpose is consistently higher
18% say they wonder about meaning and purpose every day
Only 28% say they never do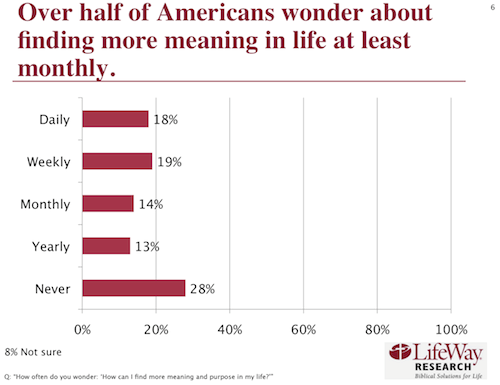 You can see the full breakdown in the data links from yesterday's post.
The data can be compared to similar research done when I was at NAMB in the mid 2000's. We intentionally asked the identical question.
It appears that there are shifts as well from just a few years ago. For example, many have assumed the unchurched contemplate spiritual matters and the afterlife. This study shows lower interest than five years ago. For example when asked "If you were to die today do you know for sure you would go to heaven?" just eight percent of respondents indicated they thought about it on a daily basis-- far less than the 20% the study I did at the North American Mission Board study recorded just five years ago. It's interesting, and I would not want to make definitive conclusions here-- you don't start shouting "huge drop" and "devastating trend" at two data points, but more research is needed on this difference. This concerns me.
As for those wondering about meaning and purpose, the numbers have also shifted some, particularly on the "daily" answer, but still indicate a greater consideration of life's meaning than of the afterlife. Here are those stats from 2006.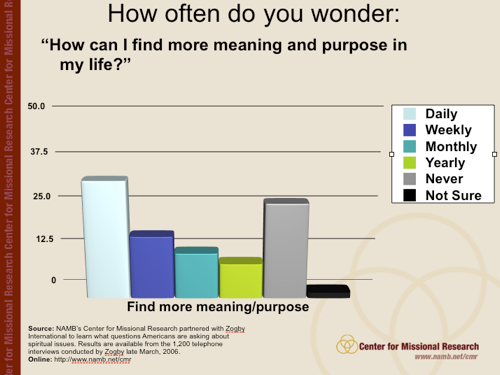 And, here is a comparison of the two different questions from 2006: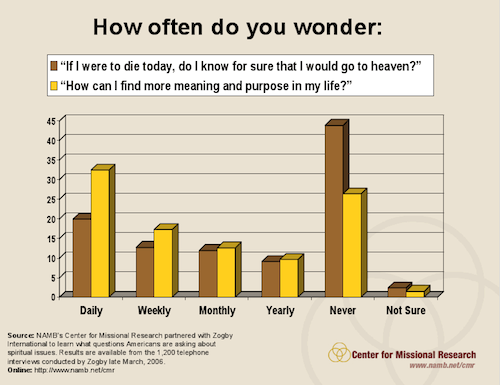 Finally, here are the exact questions with answers from today and five years ago (the changes are worth noting-- I almost decided to release them in a story, but decide that you-- my faithful blog readers over the holidays-- would have the data first!). Note the comparisons: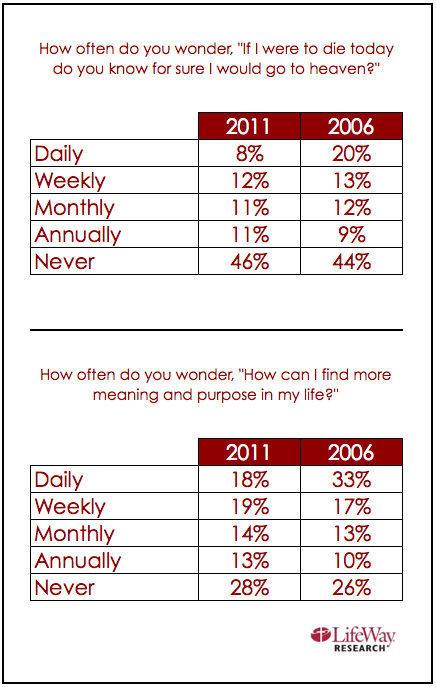 In both cases, the "daily" number has shifted thought the "never" number is similar. Does this mean that people are thinking less about spiritual things on a daily basis? Maybe. And, I get that we could make some headlines by announcing that, but there is not enough data here to be responsible in doing so.
So what does this mean for us as it relates to evangelism and proclaiming the gospel? Many of us think that the unchurched do not think about spiritual matters like previous generations did. That may be true (and I think it is). Explaining what the gospel says in response to these new questions is what will readily demonstrate just how the gospel is the answer to life's questions. As 1 Peter 3:15 reminds us, we need to be "ready to give an answer." This helps us know the questions.
Yet, we do need to see that some of the numbers have shifted, particularly the daily numbers. I am not sure what that means and hope we can explore this with more research but, for now, your hypothesis is welcome.
As I've said before, presenting the gospel is about telling good news--and that news includes that Christ gives both "meaning and purpose" to life now-- and "heaven" for eternity. People are asking about eternity-- witness all the books on heaven. They are asking about purpose and meaning as well. Both of these (and other questions) matter, but evangelism starts as we present the gospel at a person's point of need-- and our efforts should reflect that.
It would appear that people are asking different questions, and we should love them enough to answer their questions and not just give our presentations. Presentations are tools (as most ministries that train in such presentations will tell you)-- and can be good tools-- but clear gospel communication is the goal. Knowing people's questions and the gospel answer is a key part of clear evangelistic communication.
The Exchange is a part of CT's Blog Forum. Support the work of CT. Subscribe and get one year free.
The views of the blogger do not necessarily reflect those of Christianity Today.