In mid-September, the annual Outreach Magazine/LifeWay Research Special Report of the 100 Largest and Fastest Growing Churches was released. While the report focuses on church growth of congregations with an average of 1,000 or more in attendance, this year churches of all sizes were asked to participate in the research so we could learn from all different size churches.
An encouraging aspect of research like this is that it shows churches–both big and small–are growing. Even in the midst of the current state of church health and our struggling economy, churches are growing, and God is glorifying Himself through the ministry of the local church.
Below are a few of the churches with average attendance under 1,000 that are experiencing noticeable growth. We've also invited their leaders to check out today's blog and interact with any questions readers might have. Feel free to jump into the comments and dialogue with the pastors of these churches today.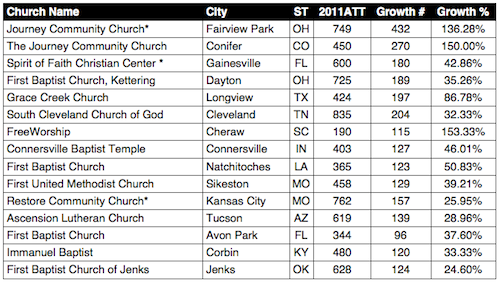 Stories behind the numbers
Researchers always want to know more, and our team is no exception. Prior to posting this blog, the LifeWay Research team contacted some of the churches on this list to ask them some specific questions concerning their church's story. Again, if you would like to ask follow up questions, please do so in the comments below.
Restore Community Church (Kansas City, Mo.) - Troy McMahon, Lead Pastor
Q: How do you equip your members to engage in their community?

A: We focus on what we call the "three places in life." Those places are your home, where we go to work or school, and the "third places." This third place could be a health club, sporting team or social club. We often attend these third places for our personal benefit rather than for the benefit of others. We encourage our people to be intentional about using their third places as ministry opportunities.
Q: How are you building relationships within your congregation and among new attendees?

A: We don't do anything without food. Food is a social elixir – it gets people to stop and talk. For example, one thing we do on Sunday mornings is set up multiple tables in our lobby with homemade pastries on them so that people can gather and build relationships.
Journey Community Church (Fairview Park, Ohio) - Jim Wilkes, Senior Pastor
Q: How has your church had to change its mindset or way of thinking?

A: "Instead of gathering people - let's scatter people" has been one of our main sayings from the beginning. We are constantly asking: how can we get our people outside the four walls of the church? From day one we have stated that we exist to serve other people.
Q: How has your church been able to reach the unchurched or those with little church background?

A: Shindigs! Multiple times a year we have shindigs - with catered food and activities for kids. Our culture is that you bring your friends to these events. Our focus is to just be normal and build relationships. The trick for us has been the food! We have had tremendous success with our shindigs.
FreeWorship (Cheraw, S.C.) - Chad Vick, Senior Pastor
Q: Your church is a multiethnic congregation. How has the church been able to accomplish this?

A: We are very intentional about it. You cannot just expect to be multiethnic; you must be intentional. We felt it was important to have a multiethnic presence in all that we do.
Q: What are you doing that is connecting with the unchurched?

A: In a word: comfortableness. We make them comfortable. First time guests are a huge priority for us. All first time guests are greeted in the parking lot and they receive a gift. We even have a first-impression team whose responsibility is to welcome guests and make them feel comfortable.
First United Methodist Church (Sikeston, Mo.) - Brad Aycock, Worship Coordinator
Q: What have you changed to intentionally reach out to your community?
A: Five years ago we intentionally tried to re-identify ourselves as a church. Our goal was to point the arrow outward. Everything we do now is intentionally outward focused. In doing so, we have created an entirely new culture where change is normal and our people are confident in inviting their friends.
Other observations worth noting:
Only three of the churches listed above are multisite congregations. (Denoted by *) In the Top 100 List, 59 of the 100 Fastest Growing churches were multisite.
The churches on this list are not all recent church plants. Several churches are nearing or are more than 100 years old.
If you would like your church to be contacted for the 2012 Special Report project, please download the information form, fill it out, and fax it to our LifeWay Research team (615) 468-4681.
Feel free to dialogue with these pastors and ask questions about their churches, ministries, and approaches. On-topic questions and dialouge will be posted and discussed. You can find the comment policy here.
The Exchange is a part of CT's Blog Forum. Support the work of CT. Subscribe and get one year free.
The views of the blogger do not necessarily reflect those of Christianity Today.