Back in March 2009, I wrote on this site "I have never been to Australia and have always wanted to go so that I can say I have 'trained pastors on 6 continents' instead of five. ;-)"
Well, this February, I'm headed down under and I am excited about the trip and the partners there.
I'm looking forward to spending time with preachers in Melbourne at the XPOSE Preaching Conference at the Melbourne Convention Center, talking with church planters in Sydney at the Geneva Push Multiply Conference, and speaking along with friends at the Small Boat Big Sea TEN Conference. Along the way, I will speak at two colleges and preach at a couple of churches.
Information about each event is below. If you're reading this blog in Australia, I'd love to have you join me at any of these events.
Feb. 17th-18th - XPOSE Preaching Conference
From their website:
Xpose preaching conference is borne out of several convictions. Overarching them all is the belief that God speaks by his Spirit, through his word, to reveal himself in his Son. This means preaching is an exciting and very important task as it is one of the primary means by which us humans hear from, encounter and experience the living God...
Great preaching starts with the commitment to be an expositor of God's word and that's what Xpose conference is designed to encourage, hence the name!
Mikey Lynch will be teaching on preaching, which sounds strange, but basically means that I will be talking about the preparation and delievery of messages. The event is being help at the Melbourne City Conference Centre and is open to the public.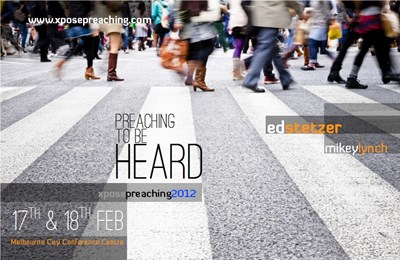 Feb. 19th - Mentone Baptist Church
Feb. 23rd - Multiply 2012
From their website:
A masterclass with Ed Stetzer on growing the Church in faith, leadership, and mission-mindedness. Topics will include: Church multiplication movement missiology; Raising up indigenous leaders, pastors and movement leaders; Multicultural church planting: Perils and promise; Missional leadership: Moving people from passivity to activity.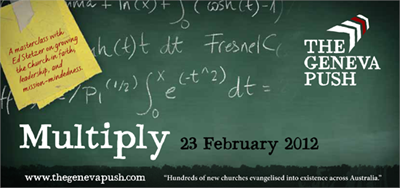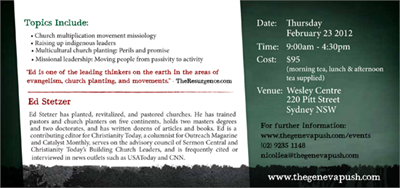 Feb. 24th - Moore College -- details TBA.
Feb. 24th - Morling College -- details TBA.
Feb. 24th - Ten Conference
From their website:
It's been a decade since smallboatbigsea was launched in Manly, not long after similar communities like Plunge, Solace and Glebe Café Church were founded, and around the time the Forge Mission Training Network kicked off. Frost and Hirsch's The Shaping of Things to Come was published shortly after. It was an exciting time for emerging missional projects in Australia.
TEN will feature a fast-paced and eclectic mix of presentations by a variety of people associated with smallboatbigsea or those who have inspired our journey.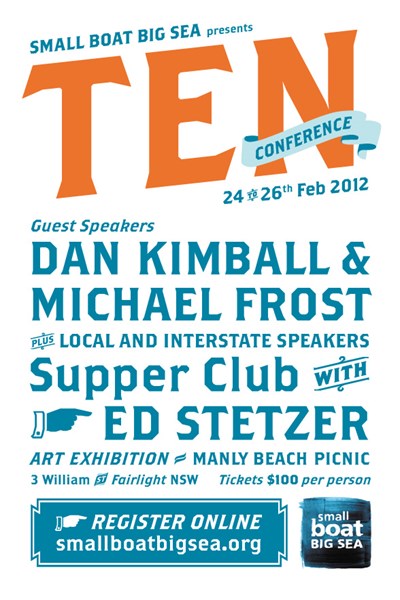 I hope to see you in Australia in February.
The Exchange is a part of CT's Blog Forum. Support the work of CT. Subscribe and get one year free.
The views of the blogger do not necessarily reflect those of Christianity Today.