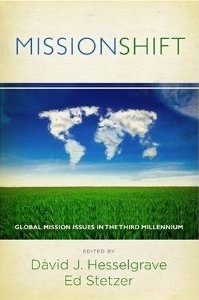 For those of you following the discussion on MissionSHIFT: Global Mission Issues in the Third Millennium, this is the final major installment from my co-editor, David Hesselgrave. For those of you who have been discussing the book, you have already seen this important essay, but to the rest of you, this is new content.
Please remember that this essay is actually part of a longer series and you can see the listed parts here. Let me also add that, since this section includes an error in the book, you can read an apology from David and me to Dr. Winter here.
in this final section, David reacts to Ralph Winter's essay about the future of evangelical missions. And, as you probably can tell, he is concerned about its direction.
Now, keep in mind that David Hesselgrave and Ralph Winter are two of the most significant names in evangelical missiology. And, this is one of the most significant issues. So, it's long, but it is essential reading if you are concerned about mission and the future.
Kingdom Mission and the Evangelical Future:

Is the Apostle Paul About to Become "Odd Man Out"?

For many reasons Winter's grand essay is "must reading" for evangelicals. One reason has to do with his profound influence on evangelical mission thinking and practice over many years especially through his publications including the widely used text, Perspectives on the World Christian Movement. Still another has to do with the profound "shift of gears" in Winter's later mission thinking and his reasons for it. If Winter was wholeheartedly committed to his "older" understanding of mission as world evangelization (and he was), he came to be absolutely sure that the evangelical future now rests squarely on his new understanding as elaborated in MissionShift.

An Abbreviated Summary of Winter's Essay, "The Future of Evangelicals in Mission"

Following his untiring support of the A.D. 2000 campaign to evangelize the world by taking the gospel to every person and planting a church within every people group, Winter gave expression to a "radically new interpretation of the Lord's Prayer and Great Commission." At a Roberta Winter Institute-sponsored consultation held at Techny, Illinois, October 24-25, 2006, he unveiled his new "kingdom mission."

At Techny little attention was given to the distinction between First- and Second-Inheritance Evangelicals which is highlighted in his grand essay. In his essay Winter says that W. Wilberforce and "First-Inheritance Evangelicals" (FIE) of the eighteenth century were people of social status who possessed the capability and will to effect socio-political reform as well as evangelization. D. L. Moody and his "Second-Inheritance Evangelical" (SIE) followers of the late nineteenth and twentieth centuries, on the other hand, were lower class people who despaired of society and wholly devoted themselves to getting people saved and ready for heaven. That other-world gospel will not do in the future. Evangelization of the globalized world of the 21st century will be possible only by recovering the kind of intellectual viability, social respectability, "empowered evangelism" and proactive war on evil that characterized FIE leadership.

That is the essence of the first and larger part of Winter's essay. In the latter part of his essay Winter appeals to evangelicals to: (1) provide hope to the world by emulating Jesus' mission to "free the oppressed"; (2) make the gospel believable by conjoining word and deed; and (3) exonerate the goodness of God by "destroying the works of the devil"--especially by eradicating disease-bearing microbes. He attempts to ground this approach in the work of Christ; in Christ's emphasis on the kingdom of God; in the present outworking of the Lord's Prayer ("Thy will be done on earth"); and in the Great Commission command to teach all nations to "observe everything I have commanded you." The ultimate goal of kingdom mission is the glory of God. The penultimate goal is not just or primarily to better human existence but to gain a hearing and make a persuasive case for the Christian gospel.

Spirit-inspired Mission "Postulates" Posed by the Apostle Paul

I am almost embarrassed to take the time and space required to make mention of elemental truths concerning the Apostle Paul, his theology and his mission such as those that follow. I do so only because my colleague Ralph Winter makes but a single brief reference to Paul in the whole of his grand essay in spite of the fact that Paul was not only a missionary par excellence, but also--and more importantly--the fact that he wrote roughly half of the New Testament under the inspiration of the Holy Spirit. All of what he wrote has the divine imprimatur, but I will note three "Pauline postulates" apart from which no missiology can be expected to stand.

1) As Christ's representative, Paul is the model missionary of the New Testament.

Paul did not hesitate to exhort his converts to be "imitators" (Gr. mimetes) of him as he was an "imitator" of Christ. First century converts knew only the prevailing lifestyle of their time. They desperately needed a Christian example or model. Paul did not hesitate to exhort Corinthians to model their lifestyle after his own because he modeled his lifestyle after Christ.

But more than that is involved. In his sole reference to Paul, Winter notes Paul's testimony before King Agrippa to the effect that Jesus sent him to turn people "from the power of Satan to God." (184) That is but part of Paul's story, however. Paul's complete testimony was that the risen Christ had sent him to the Gentiles to "open their eyes so that they may turn from darkness to light and from the power of Satan to God, that they may receive the forgiveness of sins and a place among those who are sanctified in me" (Acts 26:17-18). In New Testament times, agency was taken very seriously. Paul was sent as Jesus' agent (representative, ambassador; 2 Cor. 5:20) to Jews, yes, but especially now to the Gentiles. In fact, he was the forerunner of all who have that calling. Just as those called out of that world needed a model for Christian living, so those to be sent back to that world needed a leader and model for ministry. Paul was that man. In fact, he had been foreordained as such by the eternal God (cf. Eph. 3:7, 8).

2) The gospel that Paul preached is normative in Christian mission.

It can be said that there is only one gospel--the good news of what God has done in the person and work of his only begotten son, the Lord Jesus Christ. But it can also be said that that gospel assumes different emphases as the plan of God advances through successive phases to the Day of Christ. In the New Testament, Paul's gospel is variously referred to as the "gospel of the grace of God," "the gospel of peace," "the gospel of God," the gospel of Christ," "the gospel of the uncircumcision," "the gospel of salvation," and more. His gospel bore five earmarks. (1) It was given to Paul by special revelation (Gal. 1:11-12). (2) It was to be proclaimed (preached) to all, Jew and Gentile (Rom. 1:16-17). (3) Of "first importance" to it was the atoning death, burial, bodily Resurrection and post-Resurrection appearances of Christ (1 Cor. 15:3-11). (4) It admitted to the validity of no other gospel (Gal.1:6-9). (5) It possessed inherent power to save those who believe (Rom. 1:16). Perhaps it should also be noted in passing that, though Paul sometimes spoke of the kingdom of God, he never referred to his gospel as "the gospel of the kingdom."

3) Paul's mission and methodology are exemplary in carrying Christian mission forward.

Paul's special revelation and calling to proclaim the gospel was intimately connected with its intended result, the conversion of unbelievers and the incorporation of converts into the church, the body of Christ on earth. To Paul was revealed the mystery of the church as comprising Jew and Gentile (Eph. 3:6). To Paul was given the task and skill to lay the foundation of local churches upon which others could build (1 Cor. 3:10). To Paul it was revealed that it is the destiny of the church to bring glory to God throughout both time and eternity (Eph. 3:10, 21).

In accordance with the above and near the end of his letter to the Romans, Paul announces his intention to deliver offerings from the churches in Macedonia and Achaia to suffering saints in Jerusalem and then to visit Rome. After that he would visit Rome en route to Spain. Why Spain? Why except for the fact that from Jerusalem to Illyricum and with the aid of his fellow missionaries, he had preached the gospel, won converts to Christ, established churches, and commended those churches to the care of faithful successors. In a word, he had evangelized that part of the Mediterranean world and now looked to the unevangelized West.

A Preliminary Examination of Ralph Winter Essay Issues in the Light of Three "Inspired Postulates" of the Apostle Paul

Winter's essay is mainly historical and apologetic, not really theological. In fact, he defines the term evangelical more in terms of "evangelical experience" than in terms of "correct belief." (165) He does emphasize Satan's rebellion and references his new understandings of Lord's Prayer, the earthly mission of Jesus and the glory of God in making his case for kingdom mission. But whether historical, theological or apologetic the glaring lacuna in Winter's essay is the failure to come to grips with the place of Paul in biblical theology and the mission of the church.

Defining evangelicalism as he does, Winter retreats to the early eighteenth century to find a historical paradigm for the kind of evangelicalism he proposes and predicts for the future: namely, First-Inheritance Evangelicalism. Of course, he is justified in taking this approach. Every man is his own historian, and Ralph Winter is one of the very best. But I would like to suggest that the historical framework that has emerged in our consideration of Hiebert's contextualization and, especially, Van Engen's definition of mission would be better suited to an examination of Winter's new kingdom mission. After all, we are mainly concerned here with modern Anglo-American (primarily American) missions and especially with two distinct streams--the more conservative fundamentalist/evangelical stream and the more liberal conciliar/ecumenical stream. It goes without saying that this distinction is more belief oriented than experience oriented and for that very reason, I think, more predictive of the future of evangelicalism in the third millennium.

1) Paul as the missionary model par excellence: reinforcing Representational missiology.

With the coming of age of American missiology in the person of Congregationalist Rufus Anderson, the place of the Apostle Paul in mission theory and practice began to take on more and more significance. In addition to Anderson's focus on Paul, Van Engen mentions that of H. Venn, J. Nevius, R. Allen, M. Hodges and A. Tippett. He could have mentioned numerous others. Though having varied ecclesiastical and theological associations many if not most missiologists who shared a commitment to orthodox faith and evangelizing mission also accorded a unique place to the Apostle Paul in the forwarding of both New Testament faith and New Testament mission.

Prominent members of the conciliar stream, on the other hand, tended to look rather to the person and ministry of the Jesus of the Gospels as being central to their understanding both of theology and mission. Most prominent but not alone were leaders of the Social Gospel Movement such as W. Gladden, J. Strong, C. Sheldon and W. Rauschenbusch. Some emphasized the social impact of following Jesus and "doing as Jesus did." Others were more activistic. Almost all tended to think in terms of Christianizing society and building Christ's kingdom in one way or another.

I admit to thinking of my friend Ralph Winter's position as being somewhat anomalous in this regard. He is a highly competent linguist and yet in taking Jesus' ministry as our model he interprets Isa. 61:1-2 (with Luke 4:18-19) socially without so much as a nod of the head in the direction of its more likely interpretation as being essentially spiritual. His interpretation is in accord with much of what is often called Incarnational missiology which, in turn, is not dissimilar at this point to the theology of the Social Gospel Movement.

2) Paul's gospel as normative: reinforcing Pauline theology.

I do not think for one minute that Winter entertains any doubts about the veracity of Paul's gospel. That is not the thrust of his paragraphs on "empowered evangelism." Others may have misgivings with Paul's gospel but not I, and not Ralph Winter either. For him the issues lie elsewhere. As we have noted, one issue is that in the emerging globalized world the "simple gospel" preached by SIE missionaries is neither credible nor believable. A corollary is that it will not become credible or believable unless and until it is accompanied by good works that reflect kingdom values, authenticity and power.

One of St. Francis' most famous lines is "Preach the gospel always and, if necessary, use words." Winter seems to agree but is more insistent. The preaching of the gospel apart from deeds is ineffectual because, for him, "words without deeds are meaningless." At its roots, "kingdom mission" turns out to be "kingdom deeds mission" and is based on Jesus' words, "Let your light shine before others, so that they may see your good works and give glory to your Father who is in heaven" (Matt. 5:16). For Paul, on the other hand, the gospel itself is self-authenticating and inherently effectual quite apart from our good deeds. It is the "power of God for salvation to everyone that believes, to the Jew first and also to the Gentile" (Rom. 1:16). That is so because, in the final analysis, it is not Paul's gospel but God's gospel. "Apostolic authority is not the result of inherent quality in the office holder but is a function of the gospel's own power to convict and communicate truth" says William Mounce (Rom. 15:18; 2 Cor. 4:2; see Mounce 2006:27). Christian works do adorn Christian doctrine, enhance the gospel and glorify God. But the final argument for the truth of the gospel was, and is, the bodily Resurrection of Jesus Christ. That is the single "deed" that was absolutely decisive in first century evangelization and will be decisive in the twenty-first evangelization as well.

3) Paul's mission and method as exemplary: reinforcing world evangelization by gospel proclamation and church development..

The line is not a straight one I know, but a line can be drawn from Jesus' command to disciple the nations to Carey's call to "convert the heathen," to Rufus Anderson's (and Henry Venn's) emphasis on planting indigenous churches, to Roland Allen's case for Pauline methodology, to the call to evangelize the world by A.D. 1900 in order to "bring back the King," to fundamentalist and evangelical responses to Edinburgh and the World Council of Churches, to the Church Growth Movement of Donald McGavran, and right down to the campaign to fulfill the Great Commission by proclaiming the "gospel to every person" and providing a "church for every people group" by the Year 2000 (and beyond).

As a matter of fact, for many years "the evangelization of the world in this generation" was the watchword of John Mott and the Student Volunteer Movement and other conciliar/ecumenical movements of which he was the recognized leader. When, as a recognized agent of peace and goodwill, Mott was granted the Nobel Peace Prize in 1946 he still laid claim to being an "evangelist." The problem was that the S.V.M. had become inconsequential and disbanded, and the Y.M.C.A. and even the World Council of Churches was en route to becoming insignificant factors in world evangelization.

We have no difficulty in identifying the earlier Ralph Winter with gospel proclamation, church growth and a mission of world evangelization. He was recruited by McGavran as a faculty member in his School of World Mission and Institute of Church Growth at Fuller. When socio-political action was proposed as a partner of evangelism in Christian mission at Lausanne in 1974 he vigorously defended the priority of "reaching the unreached" with the gospel. He took a leading role in the A.D. 2000 Movement to evangelize the world. And as for the confusion among professionals over the relationship between social concern and gospel proclamation that only grew over the years following Lausanne I he wrote,

The future of the world hinges on what we make of this word "mission." Yet at this moment it is almost universally misunderstood--in both liberal and conservative circles. About the only people who still think of mission as having to do with preaching the gospel where Christ is not named, with being a testimony to the very last tribe and nation and tongue on this earth, are the often confused people in the pew. In this matter their instincts outshine those of many eminent theologials [sic.] and ecclesiastical statesmen. (1998: 274, earlier emphases his; latter emphasis mine]

Nevertheless, in spite of this earlier emphasis on the fulfillment of the Great Commission, Winter's new kingdom mission sounds more like the "social gospel mission" of the conciliar/ecumenical movement and the socio-politically infused mission he decried at Lausanne I than like the world evangelization mission he tirelessly and selflessly supported until the A.D. 2000 Movement came to a close. With one significant difference, that is. The similarity to ecumenical mission is that Winter's new kingdom mission encourages evangelicals to strive for social standing and then to use their status and skills to fight evil; to aid the poor; to free the oppressed; and to promote justice and peace. The difference is that his kingdom mission is not designed to build the kingdom, but rather to demonstrate the kingdom. It is, in effect, an all-embracing missionary apologetic, an essential aspect of pre-evangelization. In Winter's new view, evangelicals cannot go forward, the nations cannot be discipled, and God cannot be glorified on earth as in heaven apart from this.

In examining Winter's new view I am confronted with a unique problem because, though I agree that the good deeds he proposes are good Christian things to do, I do not agree that any one--or even all of these good deeds together--constitutes Christian mission. They may be supporting of, and contributive to, mission. But I believe that Christian mission primarily consists of the proclamation of the gospel, the conversion of unbelievers and nonbelievers, and the gathering and discipling of converts in local churches--all of this worldwide but especially among unevangelized peoples and in unreached areas. It is with no sense of self-congratulation, therefore, that I disagree with Winter's kingdom mission proposal. At the same time, I do believe that his case for a holistic kingdom mission is far superior to many other such cases and therefore deserving of careful analysis and evaluation. Also, and on an intensely personal note, it is encouraging for me to realize that I can still wholeheartedly embrace the missiology of my late and good friend Ralph Winter--his missiology of Lausanne that is, not his missiology of Techny.
I have asked those participating in the MissionSHIFT discussion group to share their thoughts with you as well in the comments through links and excerpts from their own blog posts. Feel free to weigh in.
The Exchange is a part of CT's Blog Forum. Support the work of CT. Subscribe and get one year free.
The views of the blogger do not necessarily reflect those of Christianity Today.