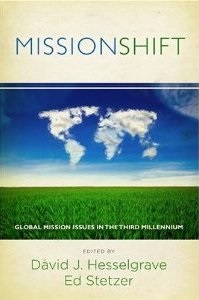 For those of you following the discussion on MissionSHIFT: Global Mission Issues in the Third Millennium, I've invited some of the authors to weigh in on their "second thoughts," just as David Hesselgrave has. As such, please remember that this essay is actually part of a longer series and you can see the listed parts here.
Today we hear from Mark. Mark teaches missionaries in Asia. His full information is in the book, but it is best to not publish that on the internet (as he has requested). Here, he weighs in on some "other" issues in regard to the future of God's mission. I am guessing the one about "church planting movements" will be most interesting to some.
Here is Mark:
SECOND THOUGHTS ON THE FUTURE OF MISSIONS

Ed Stetzer asked me to contribute a brief essay called, "Second Thoughts on the Future of Missions," to his blog. I am honored to do so, and I felt honored to contribute an essay on the future of missions to Ed's book, MissionShift. To be listed along with such a grand roster of missiologists would make anyone in the field feel proud.

I reread what I wrote for MissionShift, and I stand by those trends. They all will affect the future of missions. If I could write the essay again, I would add some trends that I have observed or perceived in the months since I wrote the original chapter. So, what's new?

Economic Recession

It has become clear that the effects from the economic recession plaguing North America will last longer than anyone thought. Ben Bernanke, head of the Federal Reserve, declared that it will be several years before the United States can regain the jobs lost during the recession, even though the recession itself is officially over. The 10 percent of Americans still without jobs would be quick to tell you that the recession is not over for them. What has the recession to do with missions?

The recession has affected giving to churches dramatically and negatively, and it has also affected funding for missions. Many mission agencies are sending fewer missionaries, and those missionaries who raise their own support are struggling to do that. Operating budgets for missionaries on the field have been reduced and reduced again. The recession has added to the existing woes of missions funding. To use a football metaphor during Super Bowl week, the recession has piled on to existing funding problems. Two long-term issues have negatively impacted funding for missions. First, churches give less to missions than they did before. (Members also give less of their income.) Second, the principal givers to missions are dying off. James Engel (of the Engel Scale) directed a research study on missions giving about 15 years ago. His findings shook the evangelical missions establishment. His research showed that the builder generation (World War II generation) gives 90 percent of the money received by evangelical missions agencies. That finding prompted missions agencies to aggressively solicit money from the "builders" while they still live. This funding crisis will not end anytime soon, and missionaries will have to learn to do more with less.

Changing Role of Western Missionaries in International Missions

In my opinion the day when most evangelism and church planting is done by western missionaries is past. The most effective evangelists and church planters (with some exceptions) are local believers. Of course, if there are no local believers or churches, then missionaries and evangelists must bring the gospel into a society from outside. Still, often that can best be done by people with an affinity to the society. Am I advocating a moratorium on sending western missionaries? No, I believe the missions by proxy movement (stay at home and send your money) is bad theology and missiological heresy. So, then, what can western missionaries contribute to international missions? Western missionaries today should focus more on training nationals and producing materials. I am not saying that missionaries should stop evangelizing and planting new churches. They need to share and plant to obey the Great Commission and model those activities for the local believers. However, increasingly in the 21st century the role of western missionaries will focus on training. For example, the leaders of the house church networks in China are pleading for training for their house church pastors. They know how to do evangelism and church planting, but they desperately need to learn Bible and theology.

Decline of the Church Planting Movement Strategy

For the last twenty years the primary strategy in evangelical missions has been the Church Planting Movement (CPM) strategy. This strategy was developed by the International Mission Board (IMB) of the Southern Baptist Convention (but is now widely used by many other organizations). The leaders of the IMB were frustrated because most of their evangelistic fruit came from only five countries: Brazil, Nigeria, Kenya, the Philippines, and Korea. They longed to see similar results from their work in all the nations. So, they developed the CPM strategy in order to emphasize the planting of rapidly reproducing churches around the world. CPM was seen as the "golden key," a strategy that will work in any place at any time. Many missions agencies have embraced CPM as their strategy. For example, Youth with a Mission (YWAM) has held seminars on CPM all over the world.

What's the problem? Surely, it is a good thing to seek to plant churches that will rapidly reproduce. Yes, indeed. CPM has much to commend it. It stresses fervent prayer, widespread evangelism, and planting indigenous churches. The problems with CPM have been discussed by Dr. David Sills in his book, Reaching and Teaching. (highly recommended!) Dr. Sills cogently argues that CPM fails because it neglects training disciples and especially church leaders. Another weakness is that CPM has a weak ecclesiology. This has been pointed out by writers at 9Marks Ministries and Mid-America Seminary. Beyond that, many of the featured CPMs seem to have a short lifespan. That is, after a few years researchers cannot find the churches. In John 15:16 Jesus told his disciples "I chose you and appointed you to bear fruit--fruit that will last." It seems the rapidity emphasized by the CPM strategy does not produce fruit that lasts. I am not predicting that CPM will disappear overnight. Missions agencies change slowly; however, it does seem that CPM will slowly decline due to inherent weaknesses.
What do you think about Mark's analysis. Feel free to jump in. Depending on the time zone, Mark will be interacting in the comments.
The Exchange is a part of CT's Blog Forum. Support the work of CT. Subscribe and get one year free.
The views of the blogger do not necessarily reflect those of Christianity Today.