Thanks to Lizette Beard for last week's post on hermeneutics.

Next week - Lindsey Holcomb, co-author of the recently published book Rid of My Disgrace: Hope and Healing for Victims of Sexual Assault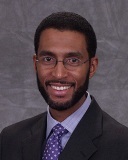 Today's guest blogger is Kevin Smith. Kevin is a professor at Southern Seminary, and he is also pastor of Watson Memorial Baptist Church in Louisville.
Kevin and I were both guest speakers at the "From Our Backyard to the Nations" conference in Murray, Kentucky. I enjoyed being with him and thought he would make a good contribution to our discussion here at the blog. He will be checking in to interact, so feel free to comment.
Be A "Real" Pastor or Leader
My father died on December 8th. I will never forget that date. For me, the Christmas holidays are changed forever. Going home to Washington, DC will never be the same again. However, I will always appreciate the pastoral and church "moment" that my father's death provided our congregation.

LIFE IS REAL

Some pastors feel the need to be spiritual "cheerleaders," always seeking to keep their people high and happy. Others like an atmosphere of frivolity and lightness. This thrust is unhelpful and unbiblical. It creates a false expectation among disciples of Jesus Christ. Subsequently, when the ups-and-downs of life come, many are not equipped to deal with troubles in a Christ-honoring, Gospel-declaring manner. Have we forgotten that we have a few days and they can be full of trouble (Job 14:1)? Have we forgotten that our Lord said we would have troubles in this life (John 16:33)? Pastors should not be prophets of gloom and doom, however, neither should they give the sheep false hopes for a pain-free, trouble-free, and problem-free life. Despite the best efforts of the health, wealth, and prosperity preachers - trouble still finds its way to the door of the faithful. I never thought that some would find it instructive to see something "bad" happen to the preacher. I have served this church for almost seven years. Within the last month, this "bad" thing in my life has given me the privilege of having the most substantial conversations about life, death, pain, and the Gospel of Jesus Christ with members who have perhaps felt previously that you should not talk about that kind of stuff if you are a victorious Christian.

PAIN IS REAL

"I'm hurting!" "I'm scared." "I'm confused." How often do we hear those words in our happy American churches? I certainly do not like pain, hurt, and grief. However, our congregation was built up and instructed as they watched (and watch) me grieve the death of my father. I cherish the night when several men (of various levels of Christian growth) stopped by my house and just sat with me while I reflected, cried, and read scripture. I did not feel like I needed to "put on" a happy face for them. It is unfortunate that some of the most prominent faces in American Christianity have only one expression - silly smile. This so robs the faithful of the liberty to acknowledge that pain is real. Godly women can have breast cancer. Godly men can lose their livelihood in a bad economy. Faithful parents can have trouble with their children. All of this is painful and the church should provide an environment where one can smile or cry, and feel fully connected to the Body of Christ. Also, we should be sensitive to the differences in individuals as they experience and deal with pain. My pastor used to say, "when a person gets hit, you can't tell them how loud to holla'." My father's death hurt (still does) and some in our church were encouraged when they heard me say it.

JOY IS REAL

In Psalms 34:1, David said, "I will bless the LORD at all times: his praise shall continually be in my mouth." This is one of my favorite scriptures (if favorites are allowed). Our congregation had a glorious time praising the Lord on the Sunday after my father's death. So many members were glad to see me and some were surprised. For some reason, some Christians think a time of grief is a time to stay away from the gathered congregation. Have we created that feeling? Is the congregation a safe place to grieve or will you mess up the happy mood? I told them that at my greatest time of pain I would prefer to be in the midst of God's people - singing His praises and hearing His Word (by God's rich grace we had a previously scheduled guest preacher). Even through pain and tears, the singing was strengthening, the preaching was encouraging, and the fellowship was priceless. I feel honored to have had a "real" moment as the leader of a flock of God's sheep. Hey, pastor, leader, or disciple-maker, don't hesitate to be real about life's ups-and-downs, about pain in your life, and about the joy in Christ which passeth all understanding.
The Exchange is a part of CT's Blog Forum. Support the work of CT. Subscribe and get one year free.
The views of the blogger do not necessarily reflect those of Christianity Today.