Thanks to Linda Bergquist for last week's post on The New Suburban Poor.

Next week - Amy Hanson, author of Baby Boomers and Beyond: Tapping the Ministry Talents and Passions of Adults over 50.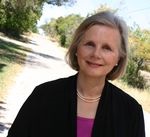 Today's post comes from Felicity Dale. Felicity received her medical training at Barts Hospital in London, and worked as a family doctor before leaving to look after her own family of four children. She and her husband, Tony, were active in the British House Church Movement, helping to pioneer a church in their medical college and later in the East End of London.
I have connected with the Dales on several occasions and have found them to be challenging and thoughtful. They have also been bridge builders -- our most recent time together was in a meeting of "mega and micro" churches in Austin, where I was part of a dialogue between megachurch pastors and house (micro) church leaders. Tony and Felicity's book, Simply Church, has become a well-known resource for those in the simple/organic/house church movement. (FWIW, many use those terms interchangeably, but some identify with one more than the other).
In 1987, the Dales moved to the United States where they developed businesses to support themselves, and again jumped heart-first into church planting. Out of these church planting pursuits, the vision and relationships developed that led to the formation of House2House Ministries (primarily a website that seeks to resource the rapidly growing house church movement in the West). Felicity has authored Getting Started and An Army of Ordinary People, and, with Tony and George Barna, is co-author of The Rabbit and the Elephant.
Felicity regularly blogs at www.simplychurch.com, and I am glad to have her contribute today. She will be here to interact with comments.
I am particularly hopeful for a productive conversation around reproducility, evangelism, and maybe even some ecclesiology. Felicity is sharp and ready for your questions. I know there are many organic church folks who read the blog, so you can jump in, but most of my readers would be in more traditional structures. So ask questions, dialogue, and jump in.
Here is Felicity's blog for today:
The church landscape in this country is changing. According to the Pew Forum, 9% of Protestants "attend services" in a home. This figure varies according to the definition of house church, and some helpful math by Ed Stetzer brings the number to around 4 million Americans who attend only this kind of church--a significant number. Many more would say their primary form of spiritual or religious gathering occurs in a group of 20 or less, as they attend both simple/organic church and legacy church. Even the secular media is taking notice of the social impact.

It appears that the Holy Spirit is the initiator of this current move--there is no center one can visit, no superstar's conferences to attend. Rather, all over the country, intentionally small churches are starting in homes, coffee shops, schools, everywhere life happens.

What's going on is far from perfect--some simple churches have started out of reaction to perceived hurts or injustice by the traditional church. Many more are doing "Honey I shrunk the church"--exchanging the pew for a sofa but failing to change their DNA. (Neil Cole defines organic church DNA as Divine truth, Nurturing relationships and Apostolic mission.) However, there are increasingly large numbers of healthy simple/organic churches focused on making disciples in the harvest.

God is leading His people in similar ways right across His body. Some traditional (legacy) churches are adopting more organic ways of being church. Mega-churches, such as Austin Stone here in our city, are deliberately sending out their members to start missional communities (small groups that function as simple churches) to reach out into the community. Other legacy churches are seeking to liberate themselves from institutionalism, and focusing on many of the same principles as organic church.

Here are some simple/organic church principles:

Church is relational: People frequently refer to church as either a building or an event, as in, "I'm going to church." One of the main pictures of church in the New Testament is that of family. You don't go to family--it's something you are. Obviously, healthy families get together frequently, but that isn't what defines them. In the same way, church isn't defined by meetings but by relationship together with Jesus at the center. "Where two or three are gathered in my name there am I in the midst (Matthew 18:20)."
Jesus is King of His Kingdom and Head of His church: The core skill within simple/organic church is that of listening to God and responding to what He says. (The Word is our yardstick here.) Christians often live as though Jesus is a constitutional monarch--head in name only. God delights to communicate with us, and our response is obedience. As we listen to Him, both individually and corporately, community and mission will result.
Church is missional: For centuries, church has been attractional ("Come to my church!" "Come and hear our special speaker!") But God has always intended for church to be missional--we go to the world with the Good News of the Kingdom. We can reach into every crack and crevice of society this way. Jesus told us to make disciples (Matthew 28:18-20), and He would build his church (Matthew 16:18).
Ordinary people can make disciples and gather them together: Jesus was content to entrust the expansion of His Kingdom to ordinary, untrained people (Acts 4:13). People with no formal Bible school or seminary training are able to gather a few people over a meal to share life together, to delve into the Word of God, to pray for one another (Acts 2:42) and to seek to make disciples of those they come in contact with.
Luke 10 provides principles for reaching out. In many nations, rapidly multiplying, intentionally small churches led by "lay people" are having a major impact (church planting movements). They use Luke 10:1-9 as their pattern for crossing cultures and making an impact for the Kingdom. Finding a person of peace and starting church in their home rather than inviting that person to join our church, enables us to influence a new circle of people with the Gospel.
Simple is reproducible: Multiplication is more effective than addition but things need to be simple--simple is reproducible, complex is not. We can start a church by working with not-yet-believers, making disciples from the harvest. If these groups are to multiply, they need to be based on simple patterns.
Church is participatory: First Corinthians 14:26 states that when we come together, each person has a contribution to make. All of us are important to the functioning of a healthy body. If every member is to take part, we need to model simplicity, whether in our prayers, our pattern of teaching (participatory Bible study is a very effective way of learning and applying truth) or our meals.
Kingdom is a 24/7 lifestyle: God has written his laws on our hearts (Hebrews 8:10), so living in the Kingdom means living from the Life within rather than according to a rulebook. There is no sacred/secular divide. All of us are meant to be full time in the Kingdom; it is often easier to be effective in reaching out from a secular position.
Christ modeled servant leadership. Jesus said that we are not to use the world's hierarchical models of leadership that lord over others, but we're to live as servants (Matthew 20:25-28). The CEO model of church leadership is not biblical; church is not a business. The function of Ephesians 4 leadership is to equip others to do the work of ministry.

God is working across His whole body. My prayer is that God will increasingly lead all of us, both legacy and simple/organic churches, to work together for the sake of the Kingdom.
Feel free to interact and discuss.
The Exchange is a part of CT's Blog Forum. Support the work of CT. Subscribe and get one year free.
The views of the blogger do not necessarily reflect those of Christianity Today.