A few moments ago, our communications department released two articles from me. One is an analysis of SBC statistics and the other is a commentary on what needs to change.
Since this blog is read by many people from different denominations, I generally do not blog here on issues within my denomination. Instead, I blog on SBC-related issues at the Between the Times blog from Southeastern Baptist Theological Seminary.
But, this is a blog that deals with missiology, statistics, research, etc. so today's post seems appropriate. You see, Southern Baptists are the largest evangelical denomination in the United States. What happens here will impact all evangelicals. For that matter, I love the churches of the SBC and want to see our partnership work. As such, I am sharing this analysis here. (You can read the commentary at the Between the Times blog by clicking here.)
Here is the analysis:
The numbers are out, again. They show decline, again. But what do they really mean?
The Annual Church Profile (ACP) numbers are actually not compiled by LifeWay Research, but are gathered by our executive communications and relations division in partnership with state conventions. We received the numbers Wednesday and decided some analysis might be helpful as we digest the changes the data reveals..
The biggest issue is a negative membership trend. As I see it, the greatest concern is not that we have 0.15% less members, but that it continues to reinforce a membership trend. Annual membership shifts happen regularly and have multiple causes.
Trends are what should concern us - and the one that concerns us most is the trend of membership change from year to year. A year is not a trend, but we are looking at a 50-year negative trend in regards to membership growth/decline measured year to year.
Cliff Tharp, who has written a helpful book on SBC denominational statistics, led the ACP process for 35 years. He wrote a few years ago, "We have been slowing in our growth and have now passed into decline. We are right at the top of the arc and beginning to go down. But changes we make now can change that trend significantly. These stats are not new but it has never caught anyone's attention until now."
The "arc" to which Cliff refers is our total membership, as shown here: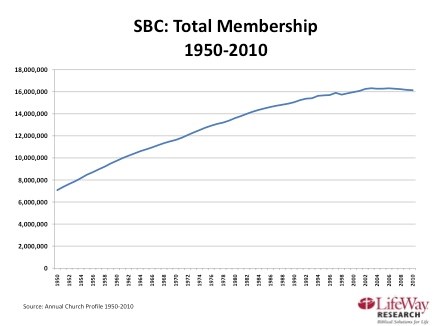 But, the 50-year trend of membership change is, in our view, the greater concern. It shows that the SBC was growing rapidly in the 1950s, growing well in the '60s and '70s, growing slightly in the '80s and '90s, and then the decline started in the new millennium. The graph tells the story: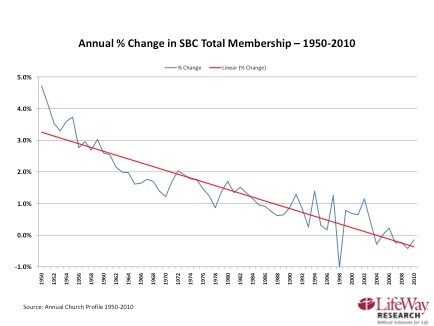 If this 50-year trend continues (and they generally do), the small declines we see now will become big declines in the years and decades to come.
Second, the baptism trend is disturbing and now a trend of decline. For several years, LifeWay Research tried not to indicate baptisms were "trending down." The reason for this is that shifts over a few years were not unusual over the 60-year picture. Thus, we were thinking (and hoping) that baptisms would "return to the mean," which is a statistical way of saying they will go back to normal - and at this point that means "up." Last year's slight uptick gave many hope, but we sounded a cautious (though hopeful) note then.
Surely all Southern Baptists prayed this was not a trend and there would be a return to the mean. In light of last year's data, we are forced to reconsider that view.
In our professional judgment, it is now appropriate to say SBC baptisms are on a downward trend. The large decline this year has shifted the trend line down over the last several decades (notice how it slopes to the right - it has not in past years). Thus, we must regrettably say baptisms are now trending toward decline.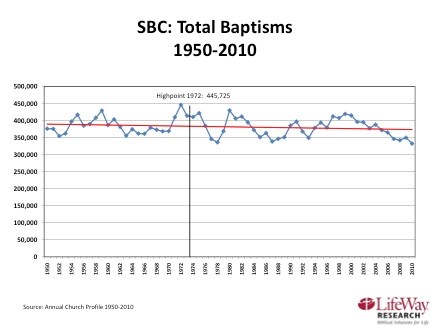 We could easily create some "sensational" news with a new graph tracking baptisms since 2000. The picture would be dramatic (and truthful), but we are still hoping that this brief trend (a decade is not that long - consider 1980 to 1988 and the subsequent reversal) will change direction. But for now, SBC membership is in decline, membership change is in a 50-year decline, and baptisms are in a decade-long decline and trending down over time.
The news is not good, but God is still in charge and Southern Baptists are a wonderful people with a passion for God, His Word, and sharing Christ. I have given thoughts elsewhere on what we should do; here I simply point to where we are. Facts are our friends and these facts should concern us. Yet, as Cliff Tharp said, "Changes we make now can change that trend significantly."
The Exchange is a part of CT's Blog Forum. Support the work of CT. Subscribe and get one year free.
The views of the blogger do not necessarily reflect those of Christianity Today.