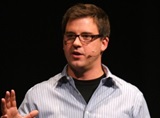 I met Brad Leach and his wife Leah when I spoke at a district meeting for the Assemblies of God in Michigan. Brad and Leah are planting CityLife Church in Philadelphia and they also lead The Philly Project. I was impressed by them both, and have already featured a guest post from Leah here at the blog. Now it's Brad's turn.
I asked Brad to write a response to my recent series with Todd Wilson (Director of Exponential) focusing on the 7 Top Issues Church Planters Face. You can read that series here.
Brad has written a post drawing on his experiences planting in suburban Detroit, and now urban Philly, and adds some practical strategies and suggestions for planters to utilize for each of the 7 issues. I appreciate his insight and am glad to share his thoughts with you.
Responding to the Top Seven Issues Church Planters Face
As an addicted church planter, I followed Ed's recent series with great interest. The fact that church planting is challenging isn't news. But this list is gold because it is well-researched, objective information that tells us why church planting is the extreme sport of ministry.

I have faced each of these seven issues personally. In 2001 I graduated and moved as a single, 22 year old back home to Suburban Detroit where I started a new church with seven friends from college. By God's grace our church slowly grew, and we had the opportunity to send a core group to plant a church in a neighboring community as well as partner with a West African church plant that gathered in our building.

I was married three years ago, and Leah and I are expecting our second baby in a few weeks. Meanwhile, I can't seem to get away from church planting. Eighteen months ago God called my family to plant another church in one of the major cities in the United States, which led us into a season of transitioning our church in Detroit and finding our way to Philadelphia. We moved into South Philly six months ago and plan to launch CityLife Church later this year.

This post is a collection of strategic ideas in response to each of the seven church planting issues described in Ed's list. I'm a little nervous to propose a list like this since I'm not an expert. I'm simply a veteran church planter in the trenches personally working through each of the seven issues. And these are simply some ideas to rise above these seven challenges and plant great churches!

Issue #1: Leadership Development and Reproducing Culture

• Build leadership reproduction into your culture before you launch. This is the easiest time to expect your launch team members to develop an apprentice. For us, we utilize a simple process described in the book Exponential by Dave and Jon Ferguson. If you do, you can double your leadership base when you launch the church.

• Utilize other senior pastors in your city or from your own journey to comprise your oversight board until you've had time to develop elders within your church.

• Divide your launch team into smaller ministry teams as soon as possible before you launch. Utilize your team leaders as a type of management team to help you begin making decisions. Then you can continue to make quick decisions as the church is quickly changing after launch when it's no longer possible to meet with the entire launch team on a regular basis.

• Only start the ministries that you're able to staff with leaders and volunteers. This is a tough one to practice, and requires patience, but you're better off with fewer ministries that are well-staffed than more ministries with leaders who are spread too thin and burning out.

• Give leaders titles and positions slowly and only in response to proven ministry. This will give you an opportunity to get to know people who are new to your church. It's always easier to give someone a position then it is to take it away.

• Intentionally build friendships with leaders from other churches in your city who can provide accountability, encouragement, and counsel to you during the early days when your own leadership team is still developing.

• Invite a younger leader with a church-planting dream to do a residency with you during the first two years of your church plant. Spend regular time with him processing the steps you are taking, and give him the freedom to start his own neighborhood group so he can explore his own gifts and calling as well as form the basis for a potential second church plant.

Issue #2: Financial Self-Sufficiency and Viability

• Find at least one other recent church planter who successfully raised money to launch a church. Find out what he did and make it work for you.

• Discipline yourself to spend at least 2-4 hours fundraising every week. Fundraising is an ongoing project and not a one and done task. This will keep you in the habit of sharing your vision and asking for partners.

• Teach your launch team to begin tithing prior to launch. This is a great time to teach stewardship since many on your launch team are already Christians and it will give them greater ownership in the early days of the church.

• Outsource your accounting for the first year of your church. This will allow you to oversee the finances from a strategic perspective while avoiding the stress of weekly input and number crunching. Why not ask a developed church in your community to handle your accounting for you? There are also outside organizations you can hire for a small monthly cost.

• Assemble a small stewardship team of people on your launch team or other outside leaders to regularly review financial reports with you. This will keep you evaluating the budget and protect you from making financial mistakes in isolation.

• Plan out your first year's operating budget in addition to your launch budget. You can expect the average attendee once your church launches to give $10-15 dollars a week. Plan to supplement that income with additional fundraising for years two and three as well as savings from your launch budget.

• I don't have personal experience working bi-vocationally, which is also a viable strategy. If you do, what did you learn?

Issue #3: Launch Team Development and Mobilizing Volunteers

• Embrace your role as a recruiter. As a lead church planter, you'll want to get very good at sharing your church's vision with people and asking them to join your team. This can be intimidating at first, but you can gain confidence by being convinced of your calling and vision.

• Move your team strategically from the dreaming stage to the tactical stage. At first you will spend much of your time envisioning the church. But as you get closer to launch you can divide the team into smaller teams organized around mission critical ministries and tasks that need to be accomplished.

• Teach your team a biblical model for handling conflict resolution early on.

• Divide your launch team into smaller ministry teams as soon as possible before you launch. Continue developing each of the team leaders personally, while adding new launch team members to the existing teams. Then, when you launch, new people coming to the church will have existing teams to join right away.

• Decentralize your marketing money. Instead of spending your entire marketing budget on traditional marketing techniques, give a smaller amount to each of your team members to creatively utilize within their own social networks.

• Include a meal in your launch team meetings, which will naturally provide a relational environment.

• Interview prospective team members before adding them to the team, especially if they are already believers. Make sure you have similar ministry philosophies. You can also use a simple application to screen potential members.

Issue #4: Systems, Processes and Cultures

• Plan for the marriage, not just the wedding day. You will naturally spend hours preparing for your church's launch, but remember that after launch you will do it again in seven days, and then every week after that!

• Early on, you will have conversations to describe your church's culture. Later on, the culture should speak for itself.

• List out the core systems necessary for the continued health of your church (small groups, missional living, weekend planning, stewardship, leadership development, etc).

• Put a plan on paper for each of your core systems. Even if it is undeveloped, make sure that you are doing something.

• View each system as a work in progress. They will not be perfect at launch. Actually, they should be getting better each week.

• Schedule time at the beginning of each month to revisit each system with the appropriate leaders and ask three simple questions. What's working? What's missing? What's confusing?

• Schedule time to work "on" the church and not just "in" it. A few hours early in the week, a day each month, and a few days each quarter for prayer, evaluation and planning can make a huge difference.

Issue #5: Casting Vision and Avoiding Mission Drift

• Include your team in the vision discovery process. Try exercises like having them write an article for your city's local paper describing the five-year anniversary of your church plant, or having them write a personal letter to the first convert in your church.

• Andy Stanley says a vision always includes a problem, a solution, and urgency. Answer these three questions. What problem has God called our church to address in this community? What is His solution? And why does it need to happen now?

• Write out your philosophy of ministry word for word as if you had 30 minutes to share it with someone over coffee. Then, distill it to 3 minutes, and finally to 30 seconds. Include mission, vision and values.

• Teach your team how to share the vision in their own words in 30 seconds or 3 minutes.

• Decide which values are most critical to the mission of your church. Not every hill is worth dying on, but early on it's critical to fight for the culture of the church.

• Build margin into your budget so that any one time you're prepared to lose 3-5 giving families in case some develop different opinions related to the vision of the church.

Issue #6: Evangelism and Discipleship

• Plan plenty of lead-time before starting public services. In most cases, several months are needed to establish relational roots with non-Christians in a neighborhood.

• Kick off team meetings by celebrating stories of relationships that are being formed in your community.

• Create regular service projects in your neighborhood and encourage your team to invite their non-Christian friends to join you to serve.

• Set aside one night a week to invite a neighbor over for dinner.

• Set team goals related to relationship building within your community. How many friendships will your team develop before launch? How many new people will you personally meet?

• Personally model for your team what a simple discipleship process looks like. Disciple them as you would expect them to disciple someone else.

• Do your best to track conversations in addition to conversions. How many times are you sharing the gospel each month? Free online contact management systems can help make this goal tangible and practical.

Issue #7: Spiritual, Physical and Mental Health of the Planter and Family

• Prioritize your daily time with God!

• Have your marriage assessed by a counselor prior to making the commitment to plant. Are there any issues below the surface that need to be addressed?

• If you are single, prioritize the need to build yourself a strong network of friendships. Schedule time every week to experience Christian community.

• Observe the Sabbath.

• Take advantage of the flexibility of your pre-launch schedule. No building means you can work from home. Less structure means you can design your own weekly schedule. Be intentional to work around the rhythms of your spouse and kids.

• Determine together with your spouse how many nights each week you'll open your home. Some have the capacity to host people several nights a week. Leah and I aim for two--one night for a team member and one night for a neighbor.

• Setup a rotation for members of your launch team to baby-sit your kids so you and your spouse can take a weekly date night. Teach them the ministry value in serving the health of your marriage.

• Clearly define your wife's role in the new church. What will she do? What won't she do? What will she attend? What won't she attend? Give her the freedom to be herself.

• Schedule a day each month to get away from your city and be with God.

• Understand the reality of spiritual warfare and clothe yourself fully and daily in the armor of God (Eph 6).

• Be creative to plan regular, cheap, fun activities for your kids. Are they laughing? Are you laughing? Turn the music up and run around your house. Go the park. Have a water fight. Have some fun!

• Care more about the health of your family than the growth of your church. That includes knowing when to slow down, and even knowing when to quit.

Of course, these are simply ideas, and none of them make any of the 7 issues disappear, which is why every church planter must embrace one ultimate conviction.

Church planting is worth it.

Establishing local churches in new neighborhoods so the gospel can be proclaimed and lives can be transformed is worth facing every one of these challenges and issues head on!
Feel free to weigh in and share your thoughts.
The Exchange is a part of CT's Blog Forum. Support the work of CT. Subscribe and get one year free.
The views of the blogger do not necessarily reflect those of Christianity Today.