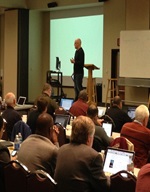 Steve Murrell is the senior pastor of Victory Metro in Manila, Philippines; a director of the Real Life Foundation; and the cofounder and president of Every Nation, a worldwide family of churches and ministries. Victory Metro Manila meets in thirteen different locations and has planted churches in forty other Philippine cities and a dozen nations. The Real Life Foundation is a social and educational advocacy organization that exists to serve the poor and improve their lives through educational assistance, character development, and community service. Steve is the author of The Reluctant Leader, and is a regular contributor to Evangelicals Today, a monthly Philippine publication.
His new book, WikiChurch: Making Discipleship Engaging, Empowering, and Viral is out, and I wanted to chat with him about it and what he wants the church to learn from it.
Steve, let's start at the beginning. What is a 'WikiChurch'?
The "wiki" part of Wikipedia is from a Hawaiian word meaning "quick," as Wikipedia's format allows for the quick and widespread dissemination of information online. While it may be an imperfect source, Wikipedia has made information widely available by simply empowering volunteers. However, it did not begin this way. In 2000 Jimmy Wales and Larry Sanger started an online encyclopedia called Nupedia whose contributions were written solely by experts. Before an article could be posted, it had to go through an extensive scholarly review process. When Nupedia unplugged its servers in 2003, only twenty-four articles had been posted, with seventy-four still in the review process. In 2001, one year after Nupedia launched, Wales and Sanger started Wikipedia as a feeder system for Nupedia. The idea was to allow non-experts to write articles that the Nupedia scholars would review. By the end of the year, volunteers had submitted more than twenty thousand "wiki" articles. At the time of this writing, contributors from around the world have submitted more than nineteen million Wikipedia articles, and according to an independent survey, most are as accurate as traditional encyclopedia entries. Unfortunately, many churches today function more like Nupedia than Wikipedia. They allow only credentialed professionals to lead evangelism and discipleship efforts while volunteers are expected to show up and pay up but not engage in serious ministry. Imagine if the church functioned more like Wikipedia. Imagine if every believer, not just paid leaders, were empowered to minister. That's a Wiki Church.
In your book, you talk about Victory-Manila, a church you and your wife planted in 1984 which began with 165 university students and has grown to over 52,000 members. Tell us about that journey and what it looked like as you became a "Wikichurch."
Since 1984, all our efforts, all our mistakes, and all our successes have been in pursuit of figuring out how to make disciples. We became a WikiChurch not by bouncing from revival to revival or from strategy to strategy but by making Jesus' last command our first priority. We have found that if we simply focus on making disciples who are equipped and empowered to make other disciples, then health, strength, and growth happen naturally. Though we are still evaluating, refining, and constantly rewriting our discipleship materials, the underlying principles of the disciple-making process at Victory are firmly fixed. For twenty-seven years, we've sought to compassionately engage our communities, intentionally establish biblical foundations, strategically equip believers, and continually empower disciples. Just the same ole boring strokes year after year: engage, establish, equip, and empower.
The church talks a lot about discipleship, but you identify several 'discipleship myths' which hinder the church's call to make disciples. Talk to us about a few and why are they so problematic.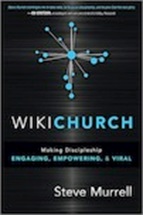 There are a few popular discipleship myths that have been propagated by thousands of well-meaning pastors and professional religious leaders. One is the Myth of Mentoring--that my pastor's job is to minister to me. This myth causes church people to demand that pastors spoon-feed them, care for them, and meet all their spiritual needs. It turns pastors into spiritual superheroes and regular Christians into passive spectators at religious shows. Another myth is the Myth of Maturity--that no one should minister until they are mature. This myth convinces people they don't pray enough, don't know enough Bible verses, and are too young to engage in ministry--leading Christians to believe that only after another discipleship course or leadership seminar or seminary degree would they possibly be mature enough to be used by God. The sum effect of these myths is an ineffective church with overworked ministers, overfed members, and unengaged communities.
You argue that a WikiChurch is a multigenerational church." What has been your greatest challenge in trying to build multigenerational churches?
Every church, denomination, and missionary organization faces the challenge of what to do with the next generation. Many embrace the traditional "pass the baton" analogy where one generation has the baton and runs the race, while the next generation watches and waits for their turn. However, the challenge is learning how to empower and lead together with the next generation--to run the race together. We need to involve emerging leaders now because if we do not empower the next generation, we will lose them. Leading together is difficult because they are not like us--they think differently, problem solve differently, and apply their faith to social needs in new ways. However, I've found that they usually understand and engage their culture much better than I do. Therefore, it is crucial for established leaders to make room at the table for emerging leaders, learning how to make constant adjustments and improvements while maintaining a deep commitment to a common vision.
What should pastors and leaders NOT take away from reading your book?
Do not copy our church. On numerous occasions I have had people from the United States approach me to deliver their happy news--that they are doing small group discipleship in their church exactly the way we do it in the Philippines. Instead of the expected congratulations and a pat on the back, my typical response is, "Why in the world would you do that?" I live in a city of twelve million people. Most of them live in poverty, very few have cars, and the religious and family structures are totally different from that in the West. The world you live in is totally different from Manila. Why would you copy us? Developing your own strategy for making disciples takes time, prayer, and some trial and error--just as it did with us. We can learn from one another, just as the Victory team is continuing to learn from other churches around the world, but only after we contextualize to make sure the strategies make sense in our culture and community.
In your conclusion, you argue that not only should churches make disciples but that they should disciple nations. How do we "disciple nations?"
While it may sound over-simplified, I believe that the inevitable fruit of making disciples is that eventually those disciples will impact their communities and their culture. In the 2004 national election in the Philippines, sixteen Victory members ran for office. Fourteen won. As a result, we have church members who are senators, congressmen, mayors, governors, and city councilors. Their membership at Victory is not the result of an outreach to politicians but rather the result of a discipleship culture which equips and empowers believers to engage culture and make disciples in every sphere of society.
Feel free to interact with Steve in the comments today.
The Exchange is a part of CT's Blog Forum. Support the work of CT. Subscribe and get one year free.
The views of the blogger do not necessarily reflect those of Christianity Today.