Yesterday, we released some data on whether churches will have services on Christmas Day.
I recently did an informal poll on the subject and found the discussion interesting. You can read it here. The Christian Post has the story with some original reporting here.
Turns out, the vast majority are planning Christmas Day services-- and most are also including Christmas Eve (that's what our church is doing).
Here is an excerpt of the story we released yesterday:
While 9 in 10 pastors plan for their churches to host Christmas Day services this year, there may be plenty of space in the pews for those who actually attend.
A recent LifeWay Research study of 1,000 Protestant pastors shows that 91 percent of Protestant pastors plan to have services on Christmas Day while 69 percent said they plan to host Christmas Eve services.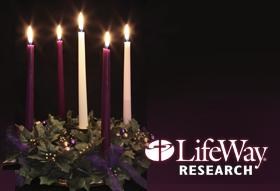 "Having church on Christmas Day when it falls on a Sunday seems as if it would be as much of a given as having Thanksgiving on a Thursday, but this has been an issue of discussion and contention in recent years," said Ed Stetzer, president of LifeWay Research. "Also, just because an overwhelming majority of pastors think that way doesn't mean those in their congregations necessarily share their perspective."
According to a December 2010 LifeWay Research report, 74 percent of Americans agree (strongly or somewhat) that "Christmas is primarily a day for religious celebration and observance," yet 67 percent of all Americans also agree that, "Many of the things I enjoy during the Christmas season have nothing to do with the birth of Jesus Christ."
"Churches see these conflicting values and we wanted to know how many churches plan to conduct services on each day - since that is also such a family day, particularly the morning," said Stetzer. Pastors were asked, "Christmas and New Year's Day both fall on Sunday this year. As a result, does your church plan to have services on the following days: Christmas Eve, Christmas Day, New Year's Eve, and New Year's Day?"
Six percent of Protestant churches plan to have a Christmas Eve service but no service on Christmas Day. Twenty-eight percent plan to have a Christmas Day service but no service on Christmas Eve. Almost two-thirds (63 percent) plan to host both Christmas Eve and Christmas Day services.
I was a bit surprised at the overwhelming number of churches that are planning Christmas Day services. My comments at The Christian Post get at that a bit. For many churches, the thought of cancelling Sunday services (or Christmas Day services) is simply inconceivable-- outside of their tradition and values. Yet, I know of many that are cancelling.
Were you surprised? Any thoughts on your Christmas Day plans?
The Exchange is a part of CT's Blog Forum. Support the work of CT. Subscribe and get one year free.
The views of the blogger do not necessarily reflect those of Christianity Today.