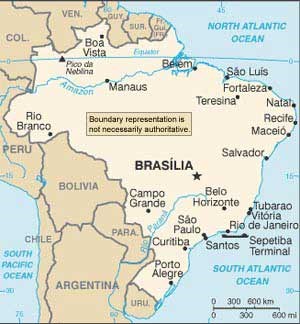 I've been taking my Thursdays to talk about Turkey and encourage people to be involved there. I even brought it up during my message at Desiring God. I so appreciate those who serve in places like Turkey where so little gospel impact is seen.
Yet, I also rejoice in places where we see growing gospel impact. A few months ago, I was in Brazil. I've already shared the first part of my trip in relation to Acts 29 and encouraged networks to get involved in global missions. I will share more about Ciadade Viva, where I preached on Sunday. However, the main point of my trip was to be at a church planting conference in Campinas (outside Sao Paulo).
The CTPI is Centro de Treinamento para Plantadores de Igrejas (which translated means, "Training Center for Church Planters"). We met for a few days, and I must say that I was very impressed with the conference and its leaders. The host church, Communidade Presbyteriana Chacara Primavera, has planted 13 churches in the last seven years (after being sponsored by Redeemer Presbyterian in NYC). Here are some of my initial impressions from my time with CTPI.
First, I was pleasantly surprised by the advanced missiological discussions they were having at the conference-- these leaders were already involved in church planting and they were thinking though contextualization, mission, and missiology. I recognize that this is not necessarily true everywhere in Brazil, but it was true in Campinas. I think many times we Americans think that we're 10 to 20 years ahead of the rest of the world in missiological thinking, but that is not the case here. I speak at many global conferences and I have never had to go back and "beef up" my notes after hearing the first speaker-- until now.
At the CTPI, it seems that they are focused on mission, are teaching pastors to think missiologically, and are provoking action. Part of that is how they have created the right kind of culture with the churches on the board of CTPI. As I met with the pastors on the board, led by Ricardo Agresti, they were all involved in planting and sacrificing to make it happen-- all the board members had "skin in the game." I would describe these leaders like this: "It has become normal to be remarkable." The churches represented in our meeting were remarkable.
Second, even the hallway conversations were missiologically astute. It is obvious that the missiological interest and practice of the church planting movement have been raised to a higher level. The questions being asked were the kinds of question that you want asked if you want a church planting culture. The IMB (Baptist) missionary I met in Brazil told me that Presbyterians lead the way in Brazil and CTPI is leading the Presbyterians in church planting. I shared his impression as well, at least in this part of the country. The CTPI is a interdenominational network, but many of the key leaders are Presbyterian.
If the networks in America were experiencing the kind of growth being seen by these Brazilians, it would be considered a church multiplication movement. It is substantial. The church planting rate is higher than many American church planting networks including Acts 29 and ARC. The host church had planted more churches by itself than most of the well-known church-planting churches in the States.
It's obvious to me that one of the reasons churches are being drawn to CTPI is because of how well they are doing what they are doing. This is not a cobbled-together outfit that's doing well with smoke and mirrors. Also, Brazil is experiencing remarkable evangelical growth, but much of it lacks some of the theological clarity I saw at the CTPI.
Third, CTPI represents a healthy network-- much healthier than most "foreign" networks I've seen connected with churches in the United States. Often when Americans have church planting conferences in other countries, they degenerate into little more than fund raising cooperatives. Planters work the crowds in ways that would make a Washington lobbyist blush, sucking up to anyone that looks like they have a checkbook. But in Brazil, they fund in "quarters." One quarter comes from the local network, one quarter from national fund raising, one quarter comes from the sponsor church, and no more than one quarter comes from an American partner church.
An approach like this discourages long-term dependency. The network has become self-sustaining with the sponsoring churches taking a support role on a planned schedule. The partnership with Spanish River (a Presbyterian church in Boca Raton, FL) is still strong and their pastor Tommy Kiedis is very involved, but this network is locally driven. Spanish River has a long history of church planting involvement-- when we released the top 25 church planting churches in the United States in 2007 through Outreach Magazine, Spanish River was the fifth in the states. (You can "sponsor" a plant and planter at the Spanish River church planting site.)
There is much we can learn from CTPI in Brazil. Whereas we often stumble around like someone who's run through a hornet's nest, they have a good model that is financially sustainable and worth studying.
I plan to post more details tomorrow.
The Exchange is a part of CT's Blog Forum. Support the work of CT. Subscribe and get one year free.
The views of the blogger do not necessarily reflect those of Christianity Today.