Oct 10, 2011
More on Mormonism: USAToday, LifeWay Research, Richard Mouw, Etc.
This morning, USAToday carried our LifeWay Research data on Protestant pastor views of Mormonism. You can read it here. Due to all the talk on the subject on the news, I actually released the data at the blog on Saturday. The Huffington Post ran the story, along with a few others.
My commentary was posted Saturday and has attracted some interesting comments. Read the commentary and the comments here.
The only other commentary I have seen is where Richard Mouw, President of Fuller Seminary, explained that Mormonism is not a cult and shared some things about the evangelical / Mormon dialogue. (I have referenced Mouw before when he defended Rob Bell's view as within orthodoxy).
Mouw explains:
So are Mormons Christians? For me, that's a complicated question.

My Mormon friends and I disagree on enough subjects that I am not prepared to say that their theology falls within the scope of historic Christian teaching. But the important thing is that we continue to talk about these things, and with increasing candor and mutual openness to correction.
You should read the entire article to get a feel of his argument.
My view is a bit different as to the question, "are Mormons Christians." As I said in my commentary, "For Christians, calling yourself a Christian while not believing that God has always existed as the triune Father, Son, and Holy Spirit is inconceivable."
Here is the news release with the official story.
The graphic in the story (reproduced below) tells what Protestant pastors believe on the issue. We cannot decide this issue via poll, but I think it is helpful to see that the overwhelming view among Protestants (and even more among Evangelicals) is that Mormons are not Christians.
As I said in my commentary, "There is no reason to be shocked that devout Christians consider those with a different view of Christ as non-Christians. In the current cultural climate it may be uncomfortable, but it is anything but shocking."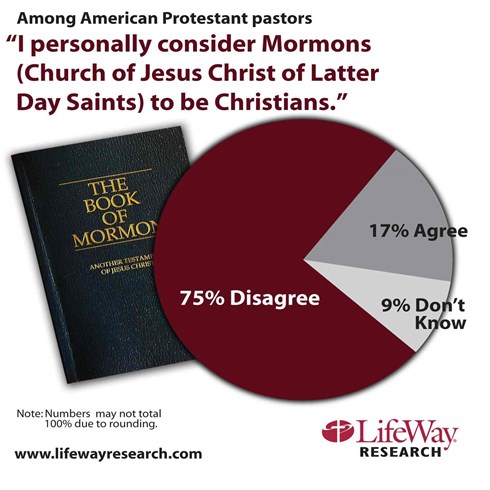 Support our work. Subscribe to CT and get one year free.