Last month, I spoke at NewfrontiersUSA along with Terry Virgo (who leads the network internationally) and John Lanferman (who is the U.S. leader). It was a great experience and I was humbled that they would give me three sessions to speak to their leadership.
Here is a picture of the meeting:

I think it is fascinating to find a movement that is charismatic and Calvinist. Some Reformed movements say they are charismatic, but at Newfrontiers, they are not just "aspirational charismatics." (I would say that many "new Calvinists" like to use the term "charismatic" to refer to themselves, but they would not really fit the widely used description-- they "aspire" to be, but are not really.)
For example, they had a session on, "Building a Supernatural Culture" in your church. People gave what they described as "words of prophecy," much like Wayne Grudem would describe it-- more like words of exhortation that start with, "I believe the Lord is wanting us to..."
I was particularly interested in how they brought forth these "words." (When you sit on the front row, you get to see all the good stuff.) A few folks came up and huddled with the leaders of the group They were talking quietly to one another while the worship and singing continued. Then, after the conversations were done, they shared something with the gathered group.
In their case, this is how they "test" the messages or themes that these folks bring. They do not just have an "open mic," as many charismatic meetings do. They require people to share with the leadership beforehand, but they are still open to receiving a message from someone who is not the leaders.
As I mentioned, these folks say they are charismatics and they worship and live as such. If you are interested in learning more, Terry Virgo has written a helpful book that will give you a picture of the the values of their churches. The Spirit Filled Church gives a fascinating picture of a family of churches that values Reformed theology, expository preaching, and charismatic theology. (My endorsement calls it a "must read" to understand this movement).
For those of us who are not Pentecostal or charismatic, we often confuse the movements. Although they have some things in common, they are not exactly the same. I will do a post later discussing the three primary streams of continualism: Pentecostal, charismatic, and Third Wave. I've touched on Pentecostalism when I blogged about my time at James River Assembly of God. But, for now, Wikipedia does a good job explaining that for charismatics:
Foundational to the movement is the belief that Christians may be "filled with" or "baptized in" the Holy Spirit as a second experience subsequent to salvation and that it will be evidenced by manifestations of the Holy Spirit.
Most evangelicals (at least in the United States) believe that the Baptism of the Holy Spirit occurs at conversion. Charismatics, like the folks at Newfrontiers, believe that there is a second experience where that baptism occurs and, following such, gifts and signs should follow. There are other details, but I will leave it there and give one final (fun) thought.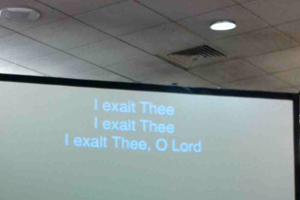 I must say that I greatly enjoyed the song just before I spoke. At Grace Church, they mock my worship song choices calling me "80s Ed." I used to lead worship, but I am banned from it now. Yet, there it was right before I spoke.
So, let the haters hate, but "I Exalt Thee" is one of the top five worship songs of all time, Barry Peters.
Phil Driscoll, 1983, and on Youtube. Pure Awesome. Just sayin'.
The Exchange is a part of CT's Blog Forum. Support the work of CT. Subscribe and get one year free.
The views of the blogger do not necessarily reflect those of Christianity Today.