A while back, I started sharing my experiences at different churches where I might speak. People seemed to find it interesting to learn about other churches and their practices. Before we started Grace Church, I would speak more frequently-- now it is about once a month.
Since, at times, I speak at churches from different traditions, I tend to do a little research before I go. So, I thought I would share a little with you-- perhaps it might be encouraging and educational. I have several churches in the queue and will share those over the coming weeks. If it gets boring, then I will stop. ;-)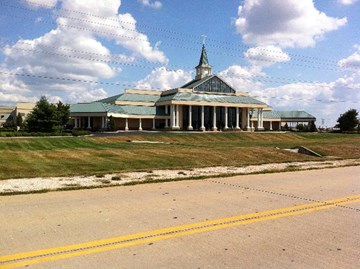 This week, I was at James River Assembly is a church in Ozark, MO, just outside of Springfield. Planted in 1991, it has grown from 85 people to over 8000 attending each week on two campuses. I had the wonderful opportunity to spend time with pastor John Lindell, speaking to their Life Group leaders on Saturday, then preaching during the morning services on Sunday.
If James River Assembly is anything-- and it is many things-- it is hospitable. It's the only church I've ever had the privilege of being in to preach where they created my own parking space for me.
When I arrived, a host stayed with me almost the entire morning answering any questions or concerns I had. They were not just hospitable to me-- they also advertise their "Connect Center" where newcomers can get things squared away immediately upon arrival with the help of "Red Carpet Hosts" who are located everywhere. James River is a church that loves and shows hospitality.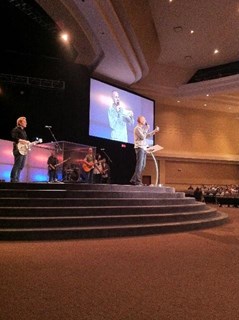 John Lindell is a wonderful communicator and strong leader. He has a heart for those without Christ and has demonstrated remarkable leadership.
John is a committed expository preacher and a sincerely committed Pentecostal. This is not a total anomaly, but expository preaching is not as widely practiced inside Pentecostalism as within some Presbyterian denominations, for instance. This is one of the defining characteristics of the church-- they are serious about teaching through the scriptures. You can listen to John's preaching here.
James River is affiliated with the Assemblies of God. The AoG is a Pentecostal and evangelical denomination holding, among other things, the Divine inspiration of the Bible, the Trinity, the Deity of Christ, salvation through faith in Jesus Christ alone, the Baptism of the Holy Spirit as the believer's empowerment for witness and service, speaking in tongues as the evidence of that baptism, sanctification through the work of the Spirit, a church on mission, Divine healing for the sick available to believers, the return of Christ and a final judgment.
Most Pentecostal denominations are Evangelical, as is the Assemblies of God, and James River Assembly is certainly both Evangelical and Pentecostal. They are evangelicals in belief and practice, but also are distinctively Pentecostal.
As an expression of their belief, they regularly offer opportunities on Wednesday night to receive the Baptism of the Holy Spirit as in the Pentecostal tradition (where the Baptism in the Holy Spirit is considered a distinct experience from conversion). This is probably the main doctrinal distinction between Pentecostals and most other evangelicals.
The Sunday morning service was a remarkable mix of high-energy music, prayer, and expectation of the preaching of God's Word. During the worship time, people were invited to come forward for prayer for healing and other needs.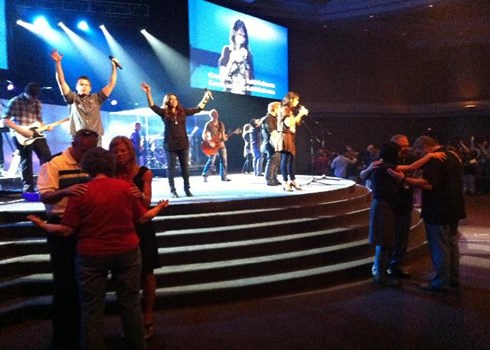 In many ways, the church reminded me of my time at Harvest Bible Chapel (where James MacDonald serves as pastor). The Sunday morning services were similar-- strong God-centered worship followed by expository preaching.
The entire service from start to finish lasted about 1:15-1:20 minutes. I did not preach for 1 hour and ten minutes, as shocking as this may be to some! Interestingly, the service length is stated on the church website so guests will know exactly what to expect.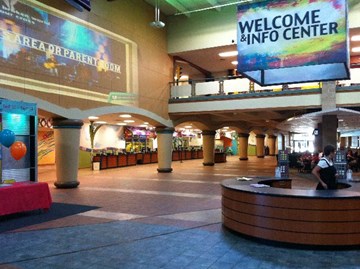 The Sunday I was at James River was the day that people could sign up for Life Groups. A lemonade stand was being used for Life Group registration.
As with many megachurches, James River has a very large atrium-- larger than the terminal at the Springfield airport. It was spacious, well lighted, and welcoming-- everything spoke to excellence and connection. Everything about it said, "We are glad you are here." Interestingly, you can see in the photo below the large banners in the atrium featured pictures of and quotes from church members, not just the pastor's pithy sayings or the church logo.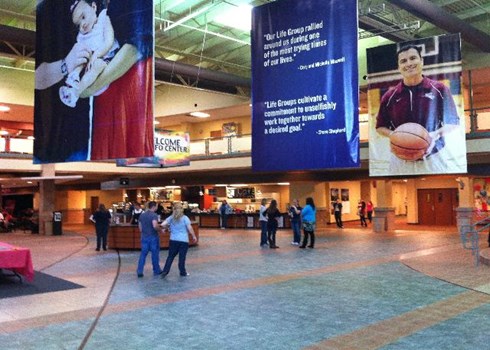 One interesting thing I noticed was their children's ministry area. At my church we have a table with a single person who makes sure the kids get registered properly. James River has a wing for the same purpose. They are reaching scores of young families. It was impressive to watch.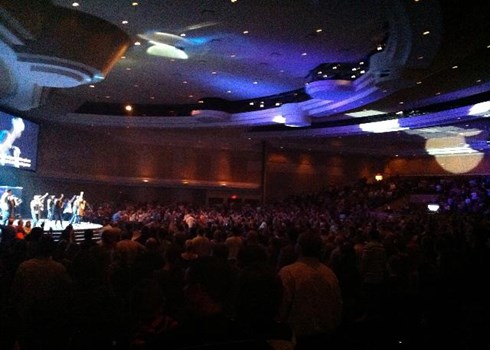 James River was a fascinating place. God is at work in powerful ways and I was so glad to be able to encourage them-- and to be encouraged by them.
Next up, Progressive Primitive Baptist Church, a small church that is part of an historically African American denomination with fascinating roots.
The Exchange is a part of CT's Blog Forum. Support the work of CT. Subscribe and get one year free.
The views of the blogger do not necessarily reflect those of Christianity Today.