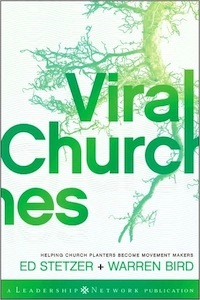 Over the past year, I've had the privilege of planting a church again. One year ago this month, on April 17, 2011, we launched Grace Church in Hendersonville, TN.
I thought I would end my series on Viral Churches with some reflections on that experience. Grace is the sixth church plant that called me "senior" or "lead" pastor (though two of those were really mother church situations--I started it and then brought in a lead planter).
Needless to say, I love church planting.
Yet, church planting is different today in many ways (and in many ways, it is just the same). Though our music has changed, this church is still pretty similar to the church I planted 25 years ago in Buffalo, NY. (Back then, they called me "contemporary" or occasionally "charismatic," since people raised their hands and clapped... then they called us Purpose Driven... for a while Emerging... and now I hear I am part of a Reformed conspiracy... all while doing pretty much the same thing). So, while some things have changed, it sure looks the same over those last 25 years.
But, in many ways it HAS changed. I started the first church plant in Buffalo just going door-to-door. In other churches, we used direct mail, telemarketing campaigns, and just about any other way to get the word out. This week, I met more people who connected to us through our Life Groups than I did who had actually connected through our worship.
So, after 25 years of church planting, what closing advice would I give? Well, simply: don't be afraid. Over the last few decades, I have observed that it is often FEAR that keeps churches, denominations, and leaders from getting engage in church planting.
Churches, denominations, and leaders are afraid that church plants are too innovative, take too much sacrifice, and are too hard with which to cooperate. They must overcome those fears for their church planting efforts to thrive in the future.
Church plants take innovation--and that scares some people.
I recently spoke at a denominational meeting and felt (once again) suspicion toward their church planters from the established church pastors.
The truth is, the very nature of church planting usually puts planters on the forefront of innovation within their generation. One of the reasons they are so effective at reaching unchurched people is because they often allow the "how" of doing church planting to be shaped by the who, when, and where of culture. Giving space for this to happen can be a scary thing for other church or denominational leaders. People tend to be afraid of church planters, and in some ways, they probably have reason to be. If we want to see a church planting movement, however, we need to choose to overcome fear.
Overcoming fear with church planters does not mean that "anything goes" when it comes to orthodoxy. What it does mean is that if someone wants to try a "new life form" of church, doing it in a new way, we can't just kill it and then ask questions and dissect it later. We have to give room for new life to grow and develop. Otherwise, experimentation, which is a hallmark of innovation and always present in church planters, will be destroyed, and we will effectively preach out our church planters.
This fear of the new generation and their church planting remains in many denominations (though thankfully, not all!). I recently read a long article about the church planting conspiracy written by an established pastor whose church has been in free fall-- yet he wanted to say how everyone else's way was bad, particularly those church planters.
I remember when I served on the North American Mission Board a few years back, a positional paper was put out about this small, struggling church called Saddleback in Southern California. Perhaps you've heard of it? At the time, Saddleback was innovating some new strategies that have since officially been named "purpose driven" approaches to organization, evangelism, and missions.
I remember specifically the paper stating something like, "There are many fine strategies that Brother Rick Warren is exercising, but we would not endorse, affirm, or think it is a good idea to take the denomination out of the name of your church." It was as if it said, "Read this soiled document with caution." Now, the same spirit remains, just the issues have changed.
We must get rid of the fear that keeps us "doing church" one way for one time and for one group of people. As long as the church meets a biblical definition, it can look and function many different ways. What needs to drive us is a confessional identity that we believe a certain tenet of things together (which may be different for different denominations) and being committed to confessional identity with missional cooperation.
Church plants take sacrifice--and that scares some people.
Besides being afraid that lay people and church planters will go crazy and subsequently plant churches that are theologically problematic, people also tend to be afraid that their own church will suffer. Jeff Farmer actually did a PhD dissertation on church planting several years ago and found that churches which sent out people and sponsored churches actually were doing better five years later than those who did not. We must overcome the fear of churches losing people.
God's math is not like our math-- when you sow (people, money, time, and resources) you reap a kingdom harvest. Scary? Maybe. Worth it? Definitely.
Church plants take new ways to cooperate--and that scares some people.
If we're going to get to a true multiplication movement, it will also means reconsidering some of ways the means in which we cooperate. Maybe a denominational leader doesn't get up in front of the district and say, "This is the Sunday School curriculum we are going to use because it's the one that everybody uses." In other words, cooperation is not as based on methodology (we all do the same thing, look the same, etc), but it based on common theology and mission cooperation (like everyone always said it was but did not have to live it since everyone's church all did the name thing anyway).
Instead of demanding methodological conformity, we should celebrate sharing common beliefs with a common confession and missional cooperation in different settings. In the process, we can open up new lanes for new church planters and see a revolutionary church multiplication movement in this country once again.
If a denomination cannot find a way to welcome those who share their beliefs but not their traditional methodology, their future looks grim-- and certainly devoid of church planters. They must overcome that fear.
Let me say it clearly: fear is hurting church planting, and it needs to be overcome. Concerns are good, and often valid, but fear is not of God-- and fear is a big part of why churches don't get planted. If churches, denominations, and leaders can overcome these fears, I believe we can-- and will-- see a Church Multiplication Movement as we have described it in Viral Churches.
The Exchange is a part of CT's Blog Forum. Support the work of CT. Subscribe and get one year free.
The views of the blogger do not necessarily reflect those of Christianity Today.