In USA Today, Cathy Lynn Grossman highlights a growing trend among Millennials: worship attendance may be down, but their passion is up.
It appears to me that more young adults who are nominal Christians are opting out of attendance, but those who are committed are living out their faith with more passion. (This is part of the trend we discussed in Lost and Found: The Younger Unchurched and Churches that Reach Them.) One needs to look no further than next week's gatherings of tens of thousands of these Millennials at Urbana 12 or Passion 2013 to see one real-life evidence of this trend.
LifeWay Research provided a statistical breakdown for the story, focusing on Protestant Millennial attendance trends from 1972 to 2010 using the General Social Survey (GSS).
Daniel Price, one of our genius stats guys, did the analysis. Here is what we found regarding identification (they say they are connected to a group that is in one of the categories studied) and attendance (they say they attend weekly-- not just this week, but weekly):
• Mainline Protestant identification numbers dove from 24% to 6% and their worship attendance slid from more than 4% to less than 2%.
• Black Protestant identification held steady in number, less than 10%, and their worship attendance did, as well, at about 2%.
• Young evangelicals rose in number, up from about 21% to 25% identification. For weekly attendance, 9% attended church at least once a week in 2010, up from about 7.5% in 1972.
In other words, for young adult religious identification on the GSS in the last 30 years, mainline protestantism is dying, black protestantism is steady, and evangelicalism is growing. That is probably not what you have heard, but it is what the stats tell-- and facts are our friends. (I will be publishing an article on this soon, but I explain more in this lecture and in this short clip.)
"Black Protestantism" (or variants of that term) is a category that almost all demographers use when explaining American religious groups. Also, Wikipedia has helpful articles defining Mainline Protestant and Evangelicalism. We followed the typology described in "The Measure of American Religion: Toward Improving the State of the Art" to determine the groupings of evangelical and mainline.
Here is the chart that tells the story (and does not bode well for mainline Protestantism):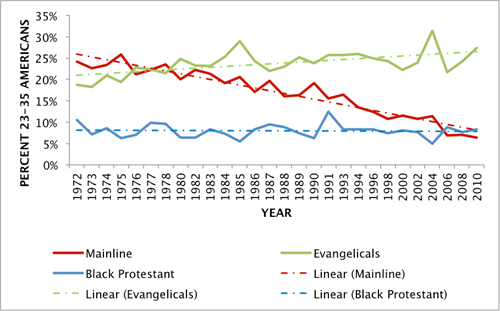 The USAToday article also cited the stats for Catholic Millennials:
In 1987, adults ages 18 to 35 were 43% of U.S. Catholics but only 29% of them attended Mass at least weekly. By his 2011 survey, those in the same age group were 26% of U.S. Catholics and 25% of them attended Mass weekly.
These numbers should not be much of a surprise, but they give us figures to back up what those of us in front line work have been seeing over the past few decades. As I wrote in my USA Today editorial responding to the "Rise of the Nones":
Though new numbers from Pew Research released this month point to a decline in American Protestants, no serious scholar believes that Christianity in America is on a trajectory of extinction. And, as a Ph.D. researcher and practicing evangelical Christian, I say to those who've read recent reports and come to that conclusion, "Not so fast."

You see, many in the USA who identify as Christian do so only superficially. These "cultural Christians" use the term "Christian" but do not practice the faith.

Now it seems that many of them are even giving up the label, and those cultural (or nominal) Christians are becoming "nones" (people with no religious label).

Christian nominalism is nothing new. As soon as any belief system is broadly held in a culture, people are motivated to adopt it, even with a low level of connection. Yet, much of the change in our religious identification is in nominal Christians no longer using the term and, instead, not identifying with any religion.

In other words, the nominals are becoming the Nones.
These are interesting times for Christians in the United States, but we need to be clear about what is happening and how to address it. There is some bad data out there-- saying that evangelicalism is collapsing, for example, but the data does not line up with that assertion. Yet, all is not well in evangelicalism-- but that is for another article on another day day.
Mainline Protestantism, however, is at an historic moment, as reflected by conversation at places like Patheos. If current trends continue (and you can just follow the trendline in the graph to see the path), in two decades it will be hard to find many young adults that identify as mainline Protestants.
The Exchange is a part of CT's Blog Forum. Support the work of CT. Subscribe and get one year free.
The views of the blogger do not necessarily reflect those of Christianity Today.