Well, I've noticed that some people, particularly if they have a reputation for being smart (or like to be seen that way), put out a "what I am reading on vacation" list.
Well, I am not that smart, but I love an opportunity to look that way, so here is my list that I am reading on a beach chair in Florida, as you read this.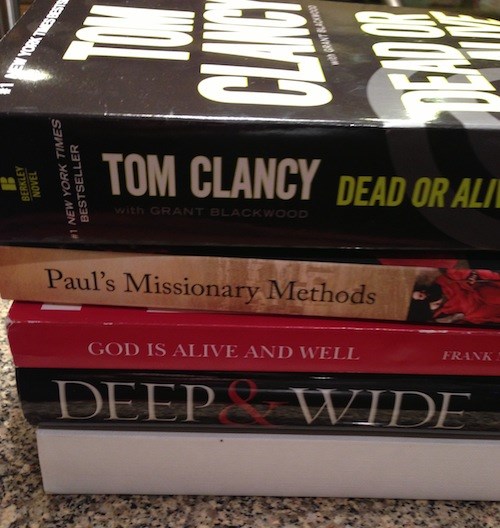 First, in fiction, there is Tom Clancy's Dead or Alive. I've not started it yet, and I don't read much fiction. However, it was a Christmas gift, so here goes. (If it is terrible, please tell me...)
Second, in missiology, there is Paul's Missionary Methods, a new book on Paul being released at Urbana which is meeting right now. I contributed a chapter (co-authored with Lizette Beard) but the other contributors are Michael Bird, David Hesselgrave, Don Howell Jr., Craig Keener, Chuck Lawless, Benjamin Merkle, J.D. Payne, Robert Plummer, Michael Pocock, Eckhard Schnabel, David Sills, Christoph Stenschke, and John Mark Terry. Needless to say, it is a great list of scholars, and I am looking forward to reading the really smart people who published in this volume.
Third, in research, there is God is Alive and Well, Frank Newport's new book. He is with Gallup and writes on religion. It is yet another book, from someone who actually does research, talking about the fact that faith is quite alive and well in the United States. The picture is of my advanced reader's copy that the Gallup folks sent, so your cover may not look the same if you have the final version. (Yes, I know, advanced reader copies are so you can read them before they come out-- sorry.) Frank, and just about everyone who does real research, shares a view that would be similar to what I wrote yesterday about trends in the U.S. church attendance.
Fourth, in church ministry, there is Andy Stanley's book, Deep and Wide. I have reread parts of it and was genuinely moved by it, so I want to finish it this week. I'll believe we'll have Andy discuss it here at the blog and on The Exhcange soon.
Finally there is this book you cannot see by Michael Horton (the long white strip at the bottom). Here is a pic of the cover page: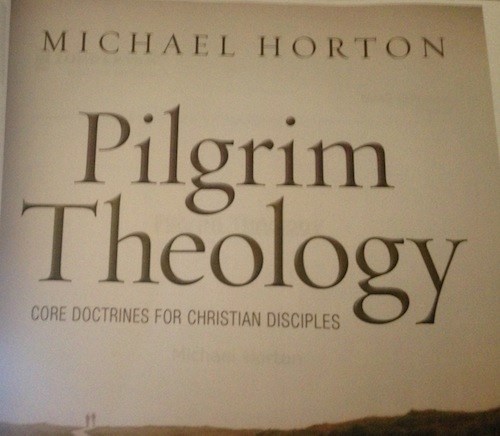 It is also a pre-pub galley copy (which is why it does not have a name on the spine of the book). Publishers send those so you can write about it or endorse it. When I first saw it, I thought it was about, well, THE Pilgrims so it would have been in the history category. I have not read on the Pilgrims in a long time, but since I recently spoke at the Christian Congregational Churches annual meeting (a mainline denomination descended from the pilgrims), I have been thinking about doing so and then this book came along.
But now that I started in, it is not about the Pilgrims. So, I am a little bitter. But, now I am restarting reading it as a book about what Christians believe. It should be interesting as Horton is a brilliant writer.
That's it. See, I am not that smart.
So that's what I'm currently reading. What books would you suggest next?
The Exchange is a part of CT's Blog Forum. Support the work of CT. Subscribe and get one year free.
The views of the blogger do not necessarily reflect those of Christianity Today.