I am in Australia at the moment (Melbourne when this posts and then Sydney later in the day). I'm taking a few days off between speaking engagements to enjoy some time with Donna, my wife.
This is our 25th year of marriage and, although our anniversary is later this year, we are taking this as our anniversary trip. So, I'll be scarce the next couple of days.
Thanks to our team, blog adminstrator Jonathan Howe in particular, the blog will go on as normal, though I won't be able to interact in the comments much.
Here is today's morning roundup.
____________________________________________
I found this, from Perry Noble, to be helpfully provocative. Yes, I know that not all declining churches are declining because they have the wrong approach, but these are values that will certainly cause stagnation.
Five Core Values Of A Church In Decline -- Perry Noble
1 - Laziness - Most people/churches are not "stuck" or in decline because they do not know or understand what the Lord wants them to do. A church that refuses to do whatever it takes and embraces laziness will eventually settle in the desert until that generation dies off.
2 - Fear of Man - God has called His people to set the world on fire; unfortunately, too many church leaders today waste their time trying to put fires out and make people happy!
3 - Pride - When a church and/or it's leaders are not willing to admit a mistake OR that a method that used to work just doesn't work anymore...it's over.
4 - Staff Abuse - When a leader cares more about what his staff does than who they are becoming then he will begin to push them to put in 70-80 hour weeks on a consistant basis. When they begin to show signs of being pushed too hard he will accuse them of being "disloyal" or "not bought in enough to make things happen."
5 - Loss of Focus - When a pastor/leader (or group of leaders) become more obsessed with their "ministry platform" and begin to dive into other "ministry opportunities" and do so with such frequency that they cease to love the people that Jesus has called them to minister to...disaster is right around the corner because the church will become nothing more than a resource for the pastor to promote himself rather than a group of people whom God has brought together and given him responsibility over to love and lead.
____________________________________________
If you are not yet reading Thom's blog, you should be. Here is another helpful entry on leadership.
When Should a Leader Leave? -- Thom Rainer
I interviewed dozens of leaders I respect. One of the simple questions I asked them was: How did you know it was time to leave your previous position of leadership? Their responses were fascinating.
1. The Death of a Vision
2. An Awakening to the Bad Fit
3. Losing a Power Struggle
4. Family Issues
5. The Vision "There" Is Greater than the Vision "Here"
____________________________________________
The Resurgence often provides helpful resources on understanding context. Brad House provides another helpful entry.
Hearing the Beat of Your Community -- The Resurgence
Everyone has a story about why it is hard to hear the neighborhood rhythms, but the reality is that very few are actually looking and listening. We are not accustomed to paying attention. The motivation to do so must come from our love of Jesus and recognition of his grace to us. When we are aware of this, we can get pretty excited about paying attention.
Practically, to hear the beat of your community you need be in it, walking it, and talking to people. Baristas, mailmen, bartenders, and checkout clerks are all observers of life in your neighborhood that you see every day and probably never ask more than an obligatory, "How are you?" If you want to get to know the vibe and the rhythms of your group, ask more questions of these folks. They have a wealth of social knowledge.
____________________________________________
As I have written before, I am not a big believer in the prevailing narrative about how to fight global poverty. Helpful articles like these give a clearer picture of what really does make a difference.
The Best Ways to Fight Poverty--Really -- Christianity Today
The bulk of the fall in global poverty can be attributed to the two developing giants, India and China. They alone are responsible for threequarters of the [expected] reduction of the world's poor.
Not large donati ons, microenterprise programs, or child sponsorship, but rather sheer economic growth, has effected this change. With massive populations, the two nations made a number of interrelated decisions that opened their countries to globalization, which in turn has led to remarkable economic performances, where we've seen GDP growth rates (except for 2009) stay above 6 percent since 2003. The wealth has indeed trickled down to the lowest economic strata of their societies.
Though economists debate specifics, it's a moment bursting with hope. But these dramatic developments, ironically, present the church with a few serious challenges.
____________________________________________
I serve in a wonderful denomination where a few people think that anyone outside our denomination is not worth listening to-- in other words, only we have the truth. So, this cartoon struck me as quite humorous in its accuracy.
The History of Church Movements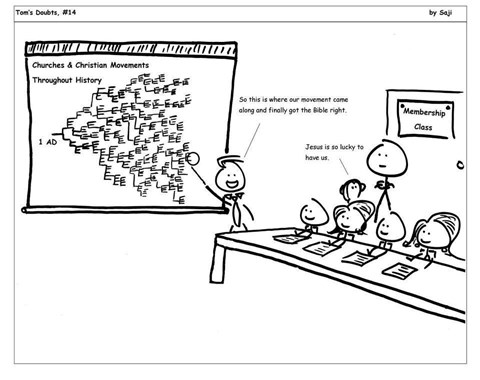 Enjoy your Monday... and thanks for reading the blog.
The Exchange is a part of CT's Blog Forum. Support the work of CT. Subscribe and get one year free.
The views of the blogger do not necessarily reflect those of Christianity Today.