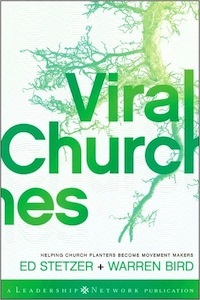 Last week, I began a series through my book Viral Churches. Today's post examines the increasing need to multiply not only churches, but disciples, groups, and ministries as well.
LifeWay Research conducted a study in 2008, interviewing senior pastors in various denominations. Of the 1,004 individuals in the sample, almost all (85 percent) of the Protestant churches indicated that their churches are involved in a missions in some way, from things like congregational prayer at least once a month to conducting short-term mission trips.
When it came to the mission field of church planting, however, only 28 percent indicated that they directly participated in helping a new church. Because that is a fairly broad description, further clarification was needed. Of that group, 52 percent explained that they gave a one-time gift, provided ongoing partnership, equipment, rent, or a mission trip to a new church plant.
Only 12 percent of that 28 percent, however, were actually churches that acted as a "mother church," or accepted direct financial responsibility for a new church as a primary sponsor. That means that in the previous twelve months, only 3 percent of the Protestant churches surveyed accepted primary responsibility for starting a new church. That's definitely a cause for strong concern.
The reality is that we won't see a church multiplication movement until we have all kinds of churches getting involved in primary participation. If we want to "go viral" in church planting, several qualities need to be in place.
First, we need to multiply everything. I actually stole this prhrase from a national gathering of the Wesleyan denomination. Just before I spoke, they explained to their churches that they didn't want to just discuss church planting, but that they wanted to remind everyone to multiply everything: disciples, groups, ministries, and churches.
In a sense, we are on a multiplication mission. It's ironic because one of the first commands God gave to Adam was to "be fruitful and multiply," and yet I think a lot of churches have forgotten it.
Let me explain a little church math principle: too many churches have never experienced addition, nevertheless multiplication. When church multiplication is presented to them and they are asked to start a new church, it's shocking. Multiplication can only be seen as division and subtraction. It's viewed as diminishing people and resources to that local body with an end result of everybody being weaker for it.
Multiplication has to be at every level of a local church body, and it should be there from the very beginning. If multiplication is just being preached from the denominational or district level, then every church will just think of it as something on a larger-scale about which they should be concerned, but not personally involved. They will be too afraid.
I understand the fear. I've experienced it first-hand. The second church we planted included some of this fear. Sure, God blessed our efforts and it grew. At the end of three years we were about 350-400 people and I remember going to our leadership team to present a need to church plant. I had heard an undocumented statistic that if I didn't plant a church within three years, we would never plant one.
So, I announced that we were not going to plant just one, but two churches. On the same day. We said we were having twins. I brought in our new planters and gave them a "fishing license," telling them they could "fish out" whoever they wished to go start a new church with them. (I would be lying, though, if I didn't admit that there wasn't even a small part of me that wanted to guide them away from the big tithers, or best musicians.) Even some of our leaders were concerned about the move so early in our church development. It even became a bit of a crisis point because I made the mistake of not communicating multiplication from the beginning. We planted those churches and they went well-- but it would have gone better if we were living multiplication from the start.
A while ago, I read an informal study in a major publication that I could never find again. It was interesting, though, so I'm going to use it. (After all, 87 percent of statistics are made up on the spot, right?) The publication interviewed their readers and asked, "When is the optimal time to plant a church and what size would your church be before planting?" The readers sent in their answers along with some basic information about their church size.
The overall results indicated that people thought a church should be planted at a number about 25 percent larger than they were. If a church had 100 people, they indicated 125. If they had 1,000 people, they almost always said 1,250. (If you know where that stat came from, leave it in the comments and I will send you a free book.) It's really not that surprising. People always think they're too small to plant when they are not accustomed to multiplication along the way.
The sad reality is that fear is hindering a lot of multiplication and creating a lot of "mules." Mules are sterile animals and can't multiply. In a sense, they are more like a Jerusalem church, rather than an Antioch church. Anytime you read about the Jerusalem church in Scripture, they're always sending people out to check what all the other churches are doing wrong and report back. Jerusalem churches today aren't really engaged on mission, but they make it their job to criticize those who are.
The Antioch church in Scripture, however, is filled with non-Jewish names of people who were reached because they kept reaching outward. It's where the church members were first referred to as Christians. Their outward mission is contagious and critical to "provoke one another to love and good deeds," as Hebrews 10:24 states. They were multiplying at many levels.
Be an Antioch church. Multiply disciples, ministries, groups, and churches. A church multiplication movement can begin with one commitment to multiply everything.
______________________
I will be talking more about this tomorrow at Multiply! in Sydney, Australia and then next week at the ChurchPlanters.Com Velocity Conference, coming up February 27, 28 in North Georgia.
The Exchange is a part of CT's Blog Forum. Support the work of CT. Subscribe and get one year free.
The views of the blogger do not necessarily reflect those of Christianity Today.