Jan 19, 2012
New Presbyterian Denomination Formed in Orlando

According to a press release this morning:
Approximately 2,150 Presbyterians representing more than 500 congregations from 49 states are gathered for The Fellowship of Presbyterians Covenanting Conference in Orlando, Florida. The three-day conference (January 18-20) invites pastors, elders, and ministry leaders to forge new paths to connect and collaborate around the shared mission of making disciples of Jesus Christ. The Fellowship is committed to offering support and structure for congregations both in the PC(USA) and those who choose to leave.

During the Conference, the Fellowship is officially launching a new Reformed body, called The Evangelical Covenant Order of Presbyterians (ECO). ECO is a denominational entity under the umbrella of The Fellowship of Presbyterians that is committed to growing and planting flourishing churches and nurturing leaders. The distinctives of ECO include an emphasis on connecting leaders in accountable relationships, peer review systems for churches, leadership training, and a flatter polity structure than the PC(USA).

The Fellowship offers three different options for affiliation so congregations can pursue what best honors their ministry context. The options are: affiliate with the Fellowship as a ministry association (involves no change in status with the PC(USA)); pursue a union membership with the PC(USA) and ECO; and join ECO as full members (requiring dismissal from the PC(USA).

A pre-conference event was held January 17-18 for 275 pastors and leaders under age 45. One of the core values of the Fellowship is identifying and nurturing young leaders. Currently, only 7% of pastors in the PC(USA) are under age 40 and the Fellowship is committed to raising up a new generation of gospel-minded leaders.
The name is interesting and this graphic attempts to explain it: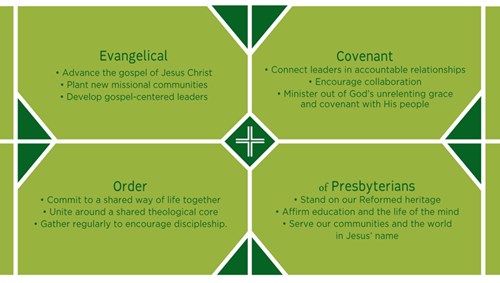 I'm praying for this new denomination, and I hope you will too.
Support our work. Subscribe to CT and get one year free.